Open Carry: Why Don't More People?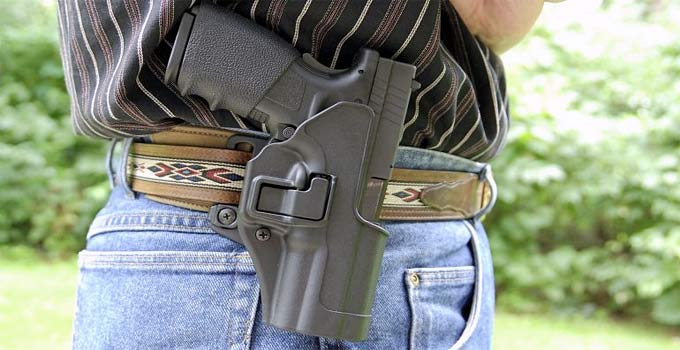 Is it true that if we don't exercise our rights that they may be more easily taken away?
When it comes to firearms carry, I sometimes wonder why I don't see more people open carry in public.
Regarding this, I do completely understand the notion of potentially becoming a target during the unlikely event of a violent encounter. However a potential violent situation may also be averted if the criminal sees someone else who is openly carrying. Maybe, maybe not.
I also understand the potential for a percentage of the common public to become uncomfortable seeing another who is openly carrying. Especially true in population dense areas where many are 'programmed' anti-gun.
That said, I wonder if more people would open carry that others would become more accustomed to that being not so fringe…
I also wonder if you saw another person open carry if that would potentially inspire you to perhaps open carry yourself.
I'm curious to get your input about what you see out there. Have you seen others open carry? How often do you actually see that?
Does it make sense that if more people would open carry that it would become a little bit more 'normal' to the community?
Or (depending on where you live) would it raise trouble, people freaking out, or even police stopping you?
If and when I do open carry in public, I notice that some people give a quick glance. No troubles beyond that, although where I live people are used to firearms.
While I open carry all the time on my property, I will typically conceal carry in public. My question though is wondering whether or not we're "shooting ourselves in the foot" by not open carrying more often? Know what I mean?
Here are a few lists of states with open carry (and those without) as of this post date and my own research. Laws are always changing, so do your own due diligence to discover the specifics for your state and the caveats thereof.
Open Carry States Without Permit
Alabama
Alaska
Arizona
Arkansas
Colorado
Delaware
Idaho
Kansas
Kentucky
Louisiana
Maine
Michigan
Mississippi
Missouri
Montana
Nebraska
Nevada
New Hampshire
New Mexico
North Carolina
Ohio
Oregon
Pennsylvania
South Dakota
Vermont
Virginia
Washington
West Virginia
Wisconsin
Wyoming
Check for caveats!
(e.g. vehicle, rural only, city jurisdictions, other restrictions)
Open Carry States With Permit
Connecticut
Georgia
Hawaii
Iowa
Indiana
Maryland
Massachusetts
Minnesota
New Jersey
North Dakota
Oklahoma
Rhode Island
Tennessee
Texas
Utah
Check for caveats!
(e.g. vehicle, rural only, city jurisdictions, other restrictions)
No Open Carry States
California
Florida
Illinois
New York
South Carolina
Constitutional Carry States
Alaska
Arizona
Idaho (residents only)
Kansas
Maine
Mississippi
Missouri
New Hampshire
Vermont
West Virginia
Wyoming (residents only)
Highly Recommended Books
I have both of the following related books which I highly recommend for anyone who carries a firearm.
The Law of Self Defense: The Indispensable Guide to the Armed Citizen