SIG SAUER P365 – Top Handgun 2022 – Here's the Top 10 List
From a year-end report detailing the Top Selling Firearms of the Year (source linked below). I've listed the subsection of Top 10 Handguns (from 2022). I figured that some of you might find it interesting. So, what's the top handgun? The Sig Sauer P365.
Sig Sauer P365
Sig Sauer P320
Smith & Wesson M&P9
Glock G19
Glock G43
Ruger Mark IV
Beretta Model 90 Pistols
Springfield Armory Hellcat
Springfield Armory XD
CZ-USA CZ 75
Source: first saw the list over at zerohedge, originally from gungenius.com
Image credit (above), Sig Sauer Firearms.
I happen to own three from this list. The Glock G19, G43, and the Ruger Mark IV. Though four from the list if including the .45 version of the Smith & Wesson M&P rather than the 9mm as listed.
From a practical EDC IWB-carry standpoint, the tidy little Glock G43 (9mm) gets the most use. Although the bigger G19 (also 9mm) sure is fun to plink with. Very comfortable in hand. That one is a OWB-carry for me, when applicable to do so. The Ruger Mark IV (.22) sure is an accurate .22 pistol. Also very fun to plink with (especially using the less expensive .22 ammo versus most every thing else!). The only problem I'm having with that one is the magazine doesn't slip right out when I press the release. Not sure why that is…
I am interested in the compact Sig Sauer P365 (P365-380), but I'll ask you readers about it in the comments below.
Top Handgun sold during 2022 – Sig Sauer P365
Looks like Sig Sauer P365 variations come in 9mm or 380 AUTO. And there appear to be lots of models within the P365 lineup. Not just the one shown below.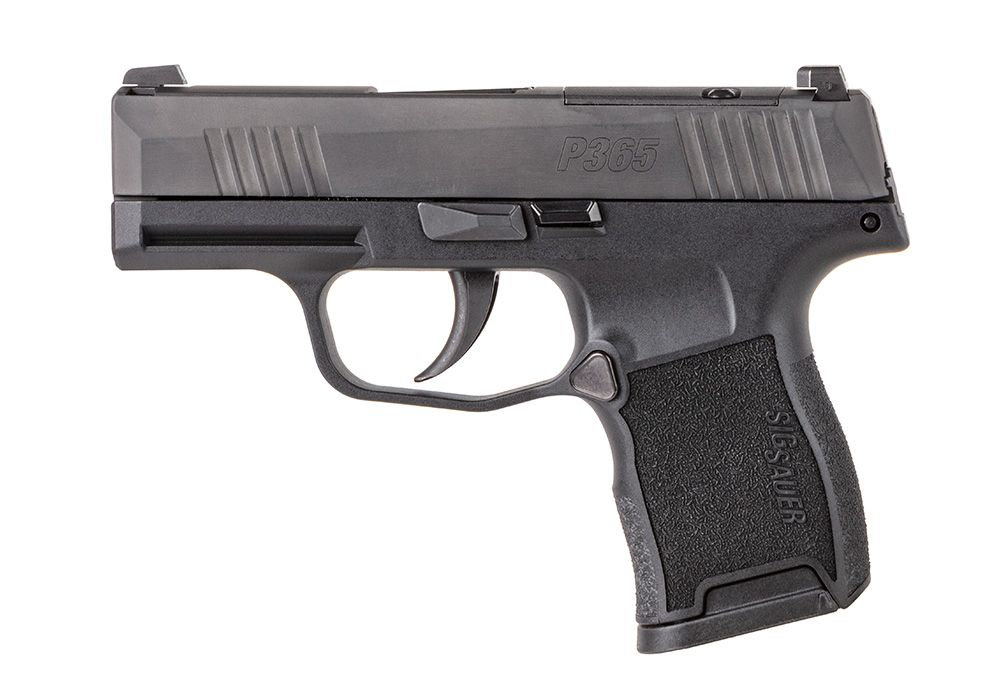 From their site, America's #1 Selling Handgun, "Introducing the game-changing P365 High-Capacity Micro-Compact. The revolutionary new concealed carry pistol that gives you more capacity, more concealability and more capability. It's the one gun you can carry every day of the year."
"The P365 features a patented modified double-stack magazine capable of 10+1, 12+1 or 15+1 full-size capacity. Its ergonomic design makes it more shootable than the typical pocket-sized pistols with a clean, crisp trigger pull you expect from a SIG SAUER."
[ Ken adds: I'm curious about this one in the 10+1 configuration (380 AUTO), which seems like it would be a nice lightweight compact concealable carry gun. In a similar lightweight category I do have the Colt Mustang Pocket Lite 380, but… it's so small that the grip doesn't fit well in the hand (at least for me). It's a single stack, 6+1. ]
About SIG SAUER
"A New Hampshire based weapons systems provider leading the industry in American innovation, ingenuity, and manufacturing. Its predecessor SIGARMS was founded in Virginia in 1985 to import and distribute SIG Sauer firearms into the United States: Its headquarters were moved to New Hampshire in 1990."
"No other firearms manufacturer is so highly regarded and universally respected for the quality, reliability, and safety of its products as SIG SAUER."
"This is a position which SIG SAUER values very highly, and one it will not relinquish to its competition readily or easily… and our customers wouldn't have it any other way."
(I have no affiliation or promotional interest, other than living in the same state…)