Companion Planting Chart For 10 Popular Vegetables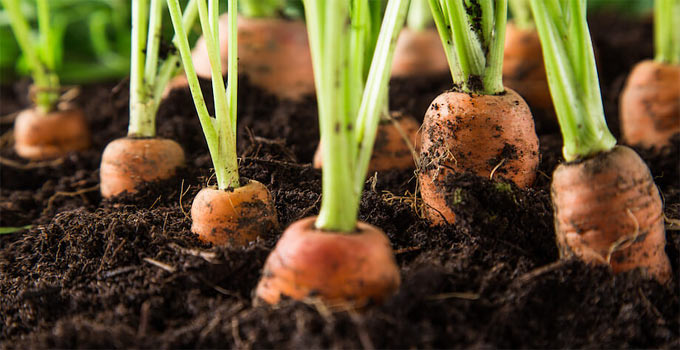 Did you know that…
– Some vegetable garden plants should NOT be planted next to each other.
– Other vegetables LOVE to grow next to each other…
Certain plants, when grown together, improve each other's health and yields.

For instance, some plants attract beneficial insects that help to protect a companion, while other plants (particularly herbs) act as repellents.

Additionally, plants that require a lot of the same nutrients as their neighbors may struggle to get enough for themselves, producing lackluster crops.

– Farmers Almanac

Tip: Flowers, especially Marigolds are as good as gold when grown with just about any garden plant. They will naturally control pests and attract beneficial pollinator insects, which will increase the fruit-set.
Tip: Separate foes and friends on opposite sides of the garden, or at least 4 feet away.
Companion Planting Chart
CROP

NAME

FRIENDS

FOES

BEANS
Beets
Broccoli
Cabbage
Carrots
Cauliflower
Celery
Corn
Cucumbers
Eggplant
Peas
Potatoes
Radishes
Squash
Strawberries
Summer savory
Tomatoes
Garlic
Onions
Peppers
Sunflowers
CABBAGE
Beans
Celery
Cucumbers
Dill
Kale
Lettuce
Onions
Potatoes
Sage
Spinach
Thyme
Broccoli
Cauliflower
Strawberries
Tomatoes
CARROTS
Beans
Lettuce
Onions
Peas
Radishes
Rosemary
Sage
Tomatoes
Anise
Dill
Parsley
CORN
Beans
Cucumbers
Lettuce
Melons
Peas
Potatoes
Squash
Sunflowers
Tomatoes
CUCUMBERS
Beans
Cabbage
Cauliflower
Corn
Lettuce
Peas
Radishes
Sunflowers
Aromatic herbs
Melons
Potatoes
LETTUCE
Asparagus
Beets
Brussels sprouts
Cabbage
Carrots
Corn
Cucumbers
Eggplant
Onions
Peas
Potatoes
Radishes
Spinach
Strawberries
Sunflowers
Tomatoes
Broccoli
ONIONS
Beets
Broccoli
Cabbage
Carrots
Lettuce
Peppers
Potatoes
Spinach
Tomatoes
Beans
Peas
Sage
PEPPERS
Basil
Coriander
Onions
Spinach
Tomatoes
Beans
Kohlrabi
RADISHES
Basil
Coriander
Onions
Spinach
Tomatoes
Kohlrabi
TOMATOES
Asparagus
Basil
Beans
Borage
Carrots
Celery
Dill
Lettuce
Melons
Onions
Parsley
Peppers
Radishes
Spinach
Thyme
Broccoli
Brussels sprouts
Cabbage
Cauliflower
Corn
Kale
Potatoes
Chart source: Farmers Almanac

The Most Popular Companion Planting Guide: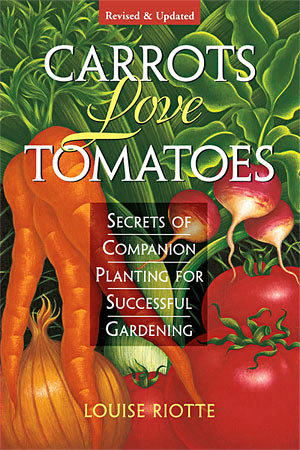 Carrots Love Tomatoes: Secrets of Companion Gardening

More: Beneficial Companion Plants for Tomatoes

What has been your own companion planting experience?
Any other suggestions or tips?