Best Gardening Hat – Features That Matter Most When Choosing One
Gardening hats are one of the most popular kinds of hats. Why? Because people spend more than just a few minutes in the garden and are rightfully concerned about UV damage to their face, ears, and neck. So, choosing the best gardening hat for UV protection is a smart thing!
Another advantage will be keeping you cooler from the shade it provides to your face.
The perfect gardening hat is an indispensable tool. It will keep you cooler, protect your skin, and shade your eyes.
The important things about sun hats… Brim size, shape, and the material itself. Ideally it will be lightweight and breathable.
The size of the brim matters. It should be at least three inches for a good level of protection.
In addition, for even better protection, try to find a sun hat made from material rated UPF 50+. Why? Because that means it will block 98% of direct UVA rays.
The gardening hat (or any hat) must have a UPF of 30 to qualify for the Skin Cancer Foundation's Seal of Recommendation. Anything UPF 50+ gets a rating of "excellent" on their list.
Remember, they're not just for gardening. They are also great protection for other activities including walks, hikes, beach, on the water (fishing?), etc..
Best Choices for a Gardening Hat
Obviously there are lots to choose from! From best-sellers to customer reviews, the following gardening hats are some great choices.
EINSKEY Sun Hat for Men/Women
(view on amzn)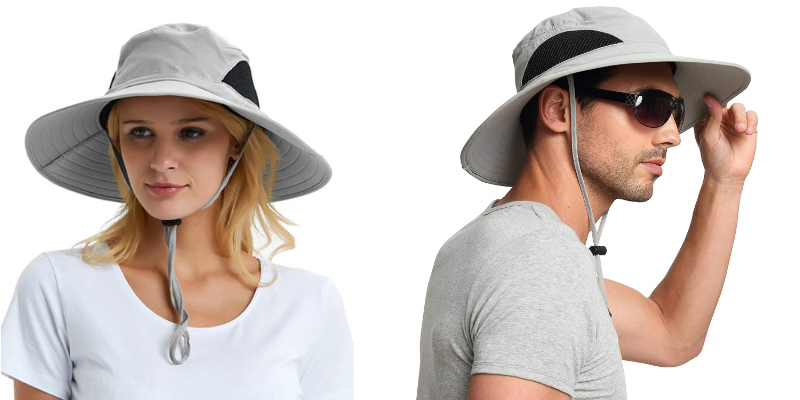 This sun hat may be the most popular. Considered the best by many. The brim is nearly four inches, all around. The brim is perfect width and sturdiness (no flopping). It has a UPF rating of 50. Breathable mesh panels help keep your head cool. You can adjust the band around your head. The hat is adjustable with some elastic in the back for different size heads. Chin straps too for windy days…
Columbia Unisex Bora Bora Booney
(amzn)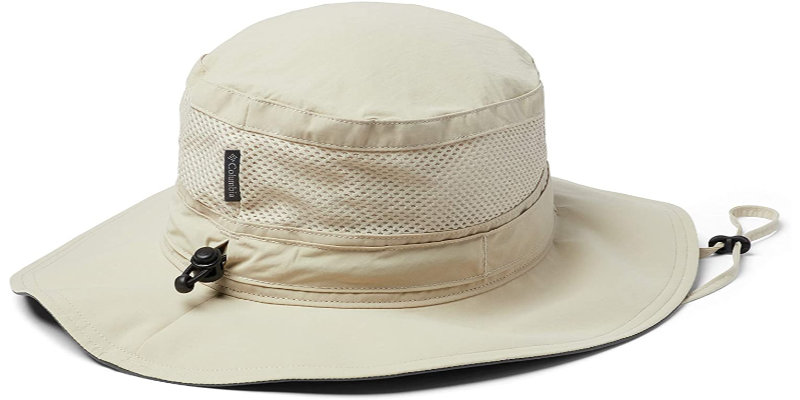 One of the most popular sun hats. UPF 50 protection. Breathable mesh. The brim measures three inches and contains a thin layer of flexible plastic sandwiched between two layers of fabric. It takes on a bit more a floppy appearance rather than being a very stiff brim. That amounts to a personal taste of style…
"Perfect fit!!! I was worried about this being one size men's (I am a woman with a size small head) but the toggle in the back makes this hat perfect for I would say most any head size." said one reviewer…
Wide Brim with Neck Flap
(view on amzn)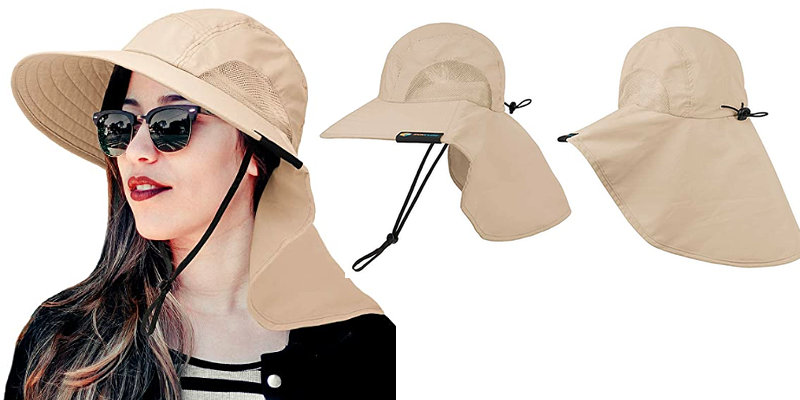 Among my many hats, I also have one similar to this one with an extra long neck flap. For some reason I tend to get extra sun on the back of my neck while gardening (weeding?) so this really helps. This particular hat is rated for 50+ UPF, which is great. The brim is 4″ wide with a neck flap of 8.5″ for total coverage of your face, neck, and ears. It does have breathable mesh side panels and a moisture wicking elastic sweatband. Is this the best type of gardening hat?
[ Read: How-to Purify Water With Sunlight ]