Short List Of Fast Growing Vegetables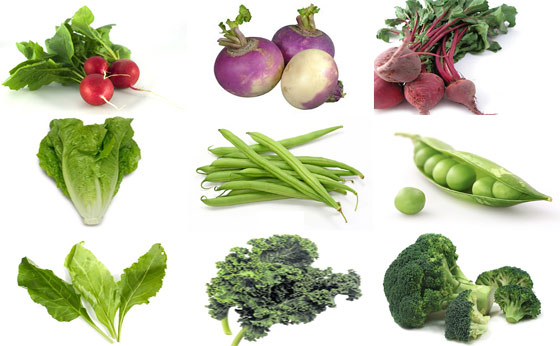 Fast vegetable crops are good to grow because they provide some food on the table in the shortest period of time. They are a good jump-start to the growing season after a winter of grocery store produce.
If you have a limited season (colder climate zones), then you can help maximize your garden's output by growing fast-growing vegetables.
Also, in a post SHTF world, these vegetables will provide quick food from the garden…
(UPDATED)


Radishes
Certified Organic Radish
Days to harvest: 20-30. They grow very quickly! They might be a little spicy-hot, but they are one of the fastest-growing root vegetables. They're one of just a few vegetables that you can plant from seed at the beginning of a month and enjoy a harvest by the end of the month.
When sowing radish seeds, plant some about a half-inch deep and the rest a little deeper. Those close to the surface will germinate more quickly, extending the harvest by a few days. The deeper roots will be later, but larger, than the shallow ones.
Turnips
Purple Top White Globe Turnip Seeds – Non-GMO
Days to harvest: 40 – 60. Turnips grow very fast. Plant in rich, loose soil with lots of organic matter and compost. Mulch heavily and water at a rate of 1 inch per week to prevent the roots from becoming tough and bitter. Fully mature turnip roots are generally ready after 60 days, when they measure up to 3 inches in diameter – although can be harvested smaller.
Spinach
Spinach Seeds Heirloom Pack – Non GMO
Days to harvest: 45-50. Spinach is one of the fastest-growing leaf vegetables. Plant in the spring and start harvesting the leaves in four to six weeks, beginning with the older, larger ones. The spinach plant will keep growing and producing new leaves well into the summer.
Loose Leaf lettuce
Days to harvest: 45-55. Leaf lettuce such as Romaine, can be harvested in less than 2 months after planting. Lettuce is a heavy feeder and prefers a rich, well cultivated soil with good drainage. Loose-leaf types can be picked as soon as leaves are large enough to eat.
Kale
Certified Organic Kale – Non GMO
Days to harvest: 50-60. Kale grows well in nearly any kind of soil, has few problems associated with it and will give you a quick tasty harvest.
Beets
Certified Organic Beets – Heirloom – Non GMO, Non Hybrid
Days to harvest: 50-70. Beets are a cool season vegetable crop and do not like heat. They can survive frost and almost freezing temperatures. Plant seeds 1/2-inch deep and 1-2 inches apart. Pick beets when their shoulders protrude from the soil.
Bush (Snap) Beans
Certified Organic Green Beans – Heirloom – Non GMO, Non Hybrid
Days to harvest: 50-70. Bush beans provide a fast and high yield. In about six weeks after planting, you can start harvesting thin, tender bush beans from your garden. To keep the plants productive, harvest when the beans are small.
Peas
Certified Organic Peas – Heirloom – Non GMO, Non Hybrid
Days to harvest: 50-70. English, Snap, and Snow peas are a great addition to a fast paced garden. Pick the pods when the lumps are filled out and feel defined.
Broccoli
Certified Organic Broccoli – Heirloom – Non GMO, Non Hybrid
Days to harvest: 70-100. Plant seeds 1/2 inch deep, and space your plants 12 to 24 inches apart. Once the main head has been harvested, the broccoli plants will still produce smaller heads from side shoots throughout the season.

Note: Days to harvest are from seed, and will vary depending on your variety and conditions.

What about your experiences? What else do you like that will produce quickly?