Tomato Clip Support System For Raised Garden Bed
I'm always looking for a better way to support my tomato plants. This year I'm trying a do-it-yourself tomato clip (to string) support system for my raised garden beds. I have high hopes! So I thought I would share it with you. Here are several pictures showing what I did…
A Better Support System For Tomato Plants?
We'll see I guess… I'll update later in the season to let you know how it went.
Materials For Project
2x4x8′ pressure treated lumber, electrical conduit pipe and clamps, heavy duty jute twine, and these really neat 'tomato clips'.
Do It Yourself
First I built the conduit support structure for each end of the raised garden bed. 2x4x8′ PT worked well. Used ordinary deck screws to secure to garden bed frame. Also used a Level so it looks purrty and not crooked…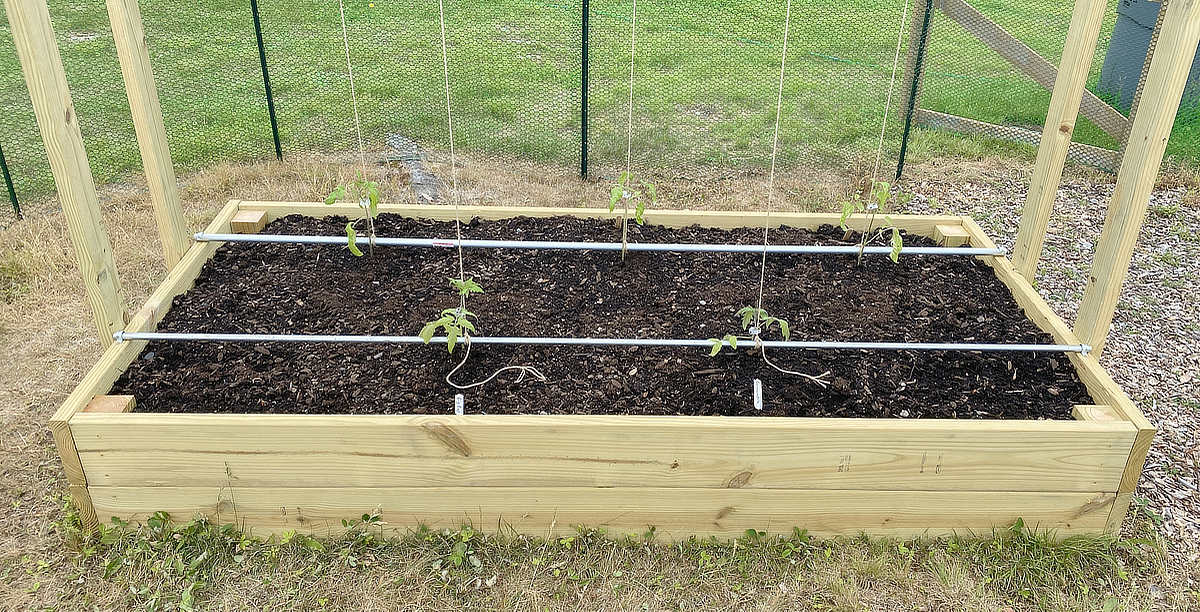 I added a cross-brace on each end as shown below. Before I secured the support pieces to the garden bed, I had drilled holes (as shown) to accomadate the electrical metal conduit. I think I may have used a 1.25 hole saw for that…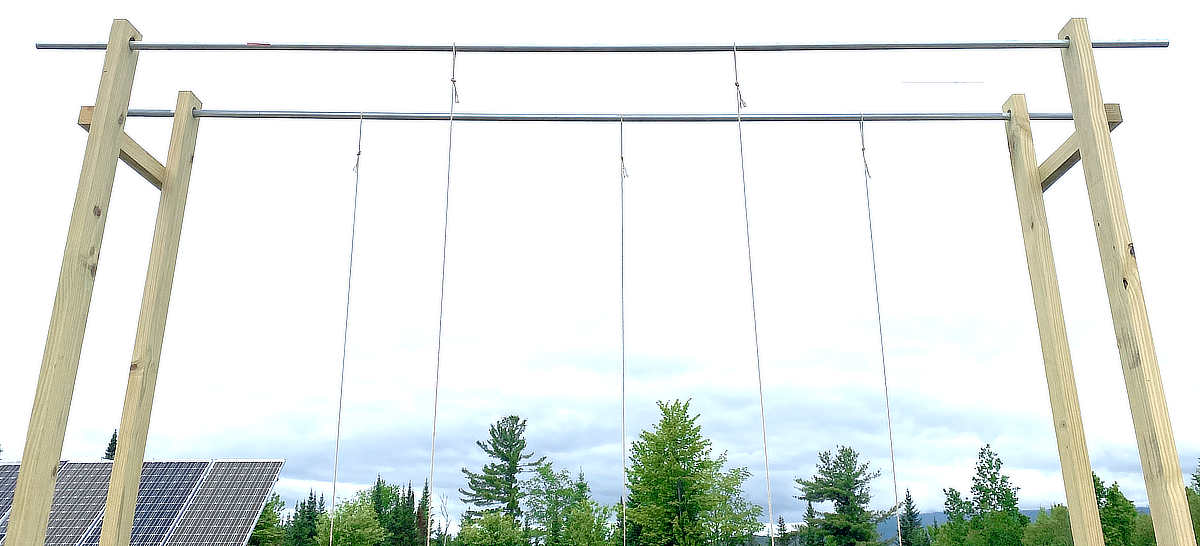 Electrical Conduit Pipe
I chose 3/4″ conduit because it is a lot stiffer than 1/2″ conduit. Didn't want any sag. The following picture shows the simplicity of tieing the jute twine in a loop around the pole. It not only provides the support for a tomato plant, but you can simply slide it to the right position.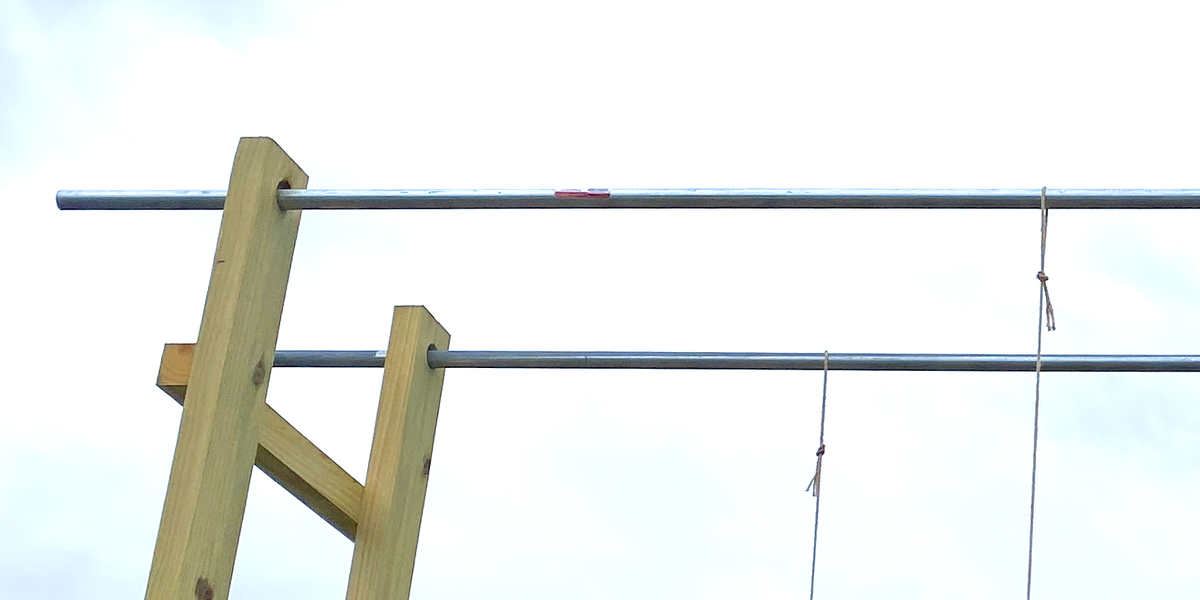 I measured and cut (with a hacksaw) two electrical conduit pipes for the bottom support. I had one 3/4″ 10-footer left, but I also had some 1/2 conduit pipe" which I used for the other lower support. They are attached with ordinary conduit clamps as you can see in the photo below.
I had tried another method before I decided to add these lower conduit pipes. Before this, I had attached the bottom of the twine to landscape cloth spikes pressed into the soil. However, when the wind blew, they would get pulled up somewhat. Although an incrasingly mature tomato plant clipped to the vertical string (see below) will provide adequate support, I feared that the young tomato plants may flail around too much if a got real windy (which it does on occasion around here in the mountains).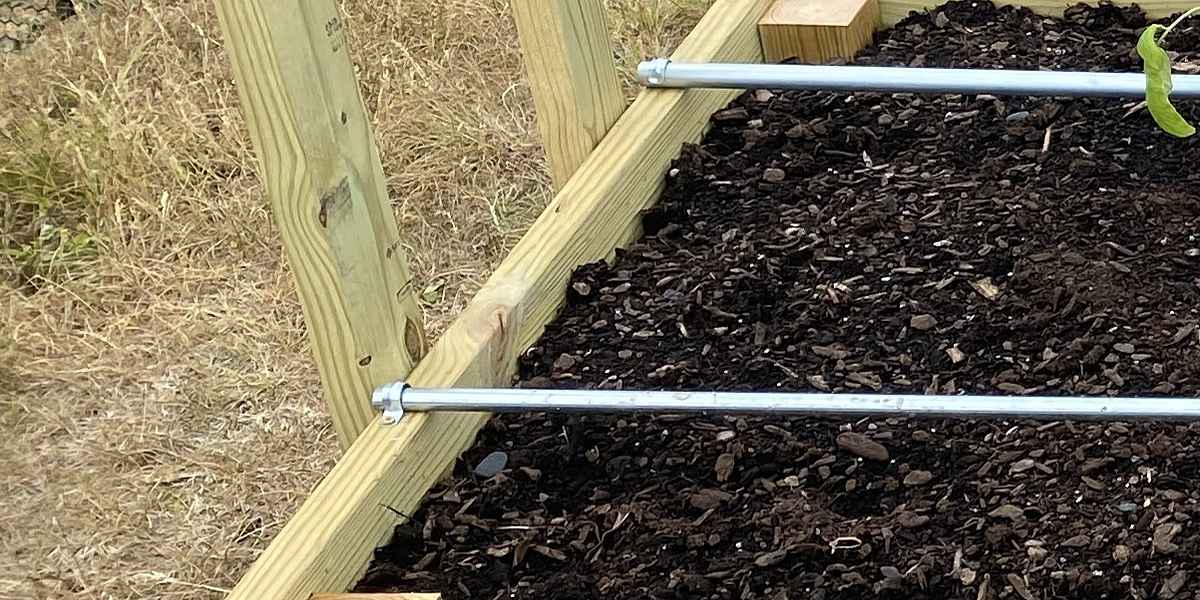 Tomato Clips
Now here's the secret! These really neat tomato clips! They are designed to secure any portion of the main tomato stalk / vine to the support string. It's a clever design. Made of plastic, when opened, insert the hinge into the string. Then close the clamp around a portion of the vine. They easily snap closed. Reusable, they can easily be opened up again too. As the plant grows, I will be adding more on the way up the tomato plant support string.
I will be paying attention to pinching off the suckers, so that the tomato plant doesn't get crazy bushy out of control. I'll try to focus on the main trunk with these tomato clips.
My Tomato Plants Clipped To The Support String System
I've planted three Brandwine tomatoes (best tasting heirloom tomato ever!), one Big Boy (good tasting hybrid), and one Beefsteak (meaty rich flavor – excellent for burgers) in this raised bed. I started them from seed. I have others too, but I chose to put 5 in this garden bed. Three in one row and two in the other row – offset…
An interesting side note… The Brandwine seeds are from my tomato crop during 2020. However, the Big Boy is seed from a packet dated 2009, and the Beefsteak is from 2007. The older seed mostly all sprouted, even though they were 13 and 15 years old! I tend to save my seeds, just in case, even though they're old. I did not expect those old tomato seeds to germinate!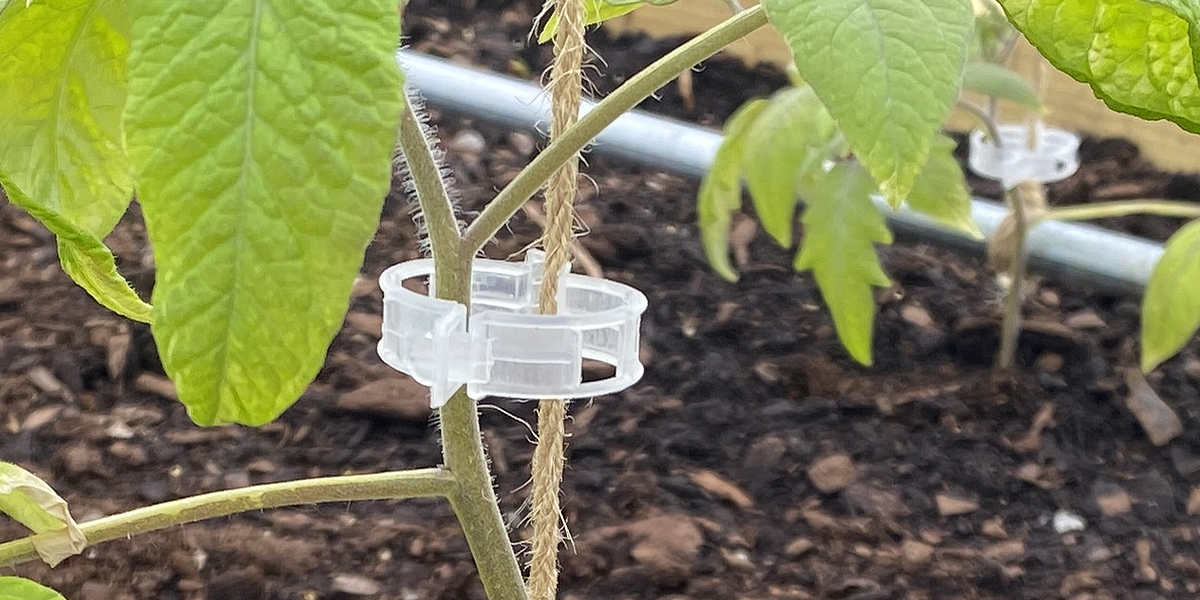 Tomato Vine Clips
This is what makes it possible. Tomato vine clips are commonly used to help support tomatoes, melons, cucumbers, peppers and Vine Garden Vegetables. Simply press the locking tab. These are so easy to clip and reopen.
They don't have to attach to a string. For example, they can also be used to clip around the vine, and a support stick.
THEY WORK AMAZINGLY!! We will totally be buying more of these as we need them! They are reusable, so that is a plus! They are OH SO EASY to attach to the tomato plants and they hold them up very well! So glad to have found these clips.

They are light weight, clear in color, and your string is grabbed by the hinge. The hinge has little grabber teeth and they hold very well. The clip just lightly snaps together. It is not a hard clip at all. I was expecting to have to "snap" them together, and that is not at all how they work. You just push them together and the clip forms a circle around the plant as it presses down on the string or twine in the hinge.

~ Shelley Stewart
Pack of 200 Clips
(view on amzn)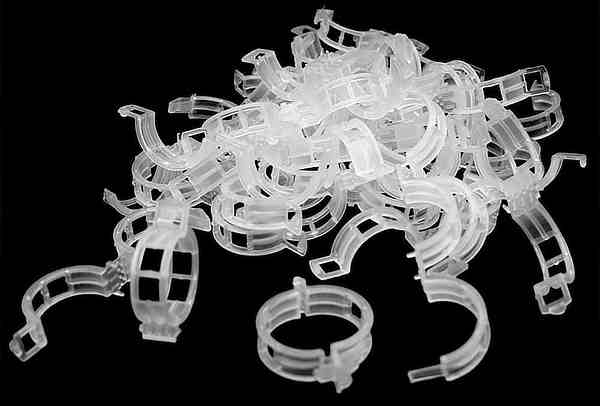 Thick Jute Twine For Tomato Support
I wanted a thick heavy duty string. Better grip for the tomato clips and stronger for the heavy tomato plants. I chose the following 100% jute twine. It appears that it will work well.
4 mm Jute Twine
(amzn)
[ Read: Tomato Companion Plants ]