Ways How To Keep Weeds Down In Your Garden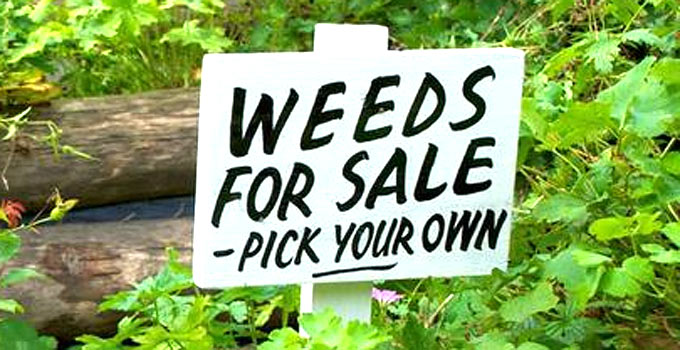 Gardening is fun. EXCEPT for those darn weeds that keep coming up!
Weeding is easier to deal with in a raised garden bed (less bending over), especially if the raised bed is 2 feet tall or thereabouts!
But what about a regular garden? Lots more bending!
Not only that, but the larger the garden the more weeds to pull!
And if you say "the heck with it" and let them grow, not only will it interfere with your garden plants but it will probably turn into a mass of sod – making it even more difficult to deal with later on.
I know we have plenty of gardeners who read this blog, so lets put our ideas together.
What have you done to control (or attempt to control) the weeds in your garden?
What are the various ways to keep weeds down in your garden?

To get the conversation going, perhaps one common suggestion will be to put some material down on the ground to slow down or prohibit weeds from growing up through.
What materials have you used for this? What methods?
One problem that I've had is the wind blowing it off or askew. Would need a zillion rocks to hold it all down for a larger garden.
Maybe I need to try a different type of material or method.
This year I don't have anything stopping the weeds. We're just weeding. Hacking some of it with a hoe and bending over and pulling. Not fun.
I want to have a plan for next year to try something new. So maybe all of your input will help one another with suggestions on what has worked for you and what has not.
Okay, what do you say? (comment below)

Reference book:
The Vegetable Gardener's BIBLE
How To Reduce Weeds In Your Garden
– Raised Garden Beds! Much easier to deal with.
– Mulch, Mulch, Mulch
– Ground cover fabric
– Lawn clippings in-between plants
– Old carpets
– Propane weed burner
– Raised row gardening technique
– Wood chips over a layer of newspaper
– Lasagna Gardening
– With rectangular blade / hoe / scrape soil back and forth around plants every few days. The weeds don't have a chance to grow.
More: Lasagna Gardening