A Place To Store Food For 72-Hour Emergency Kit In Your Vehicle
I came across this short post that I wrote 10 years ago. It's a simple message that's still valid. One pretty good place to keep some extra emergency food as part of your vehicle's 72 hour kit… In a small cooler. Here's the post:
Small Cooler For Your Vehicle
Ever wonder where's a good place to store food for a 72-hour emergency survival kit in your vehicle?
There is a good solution to keeping your vehicle's survival food fresh, the longest. It's simple. Keep your emergency food in a small cooler. Depending on the size of your vehicle's trunk or storage space, buy an appropriate size cooler that will fit the best.
For example, I purchased a small cooler (Coleman 16 quart) that seemed about right to hold a decent quantity of food. Focusing on calories, I included some MRE's. Calorie food bars (Datrex). Peanut butter (high in calories). Foods like that.
[ Read: Datrex Food Bar ]
Stay away from foods that will melt easily! Like, chocolate bars (ask me how I know).
Storing your vehicle's survival kit food in a cooler will help to keep the heat out during the summer. Heat is the worst enemy of food storage life. A cooler will also help to keep the extreme cold out during the winter months.
A cooler will moderate the extreme temperature fluctuation that occurs in a vehicle. It's not perfect, but it's a pretty good way to extend the viability of stored foods in that environment.
I chose a 'mini' small cooler with wheels and an extendable handle. There are obvious practical reasons for that.
Coleman 16-Quart
(view on amzn)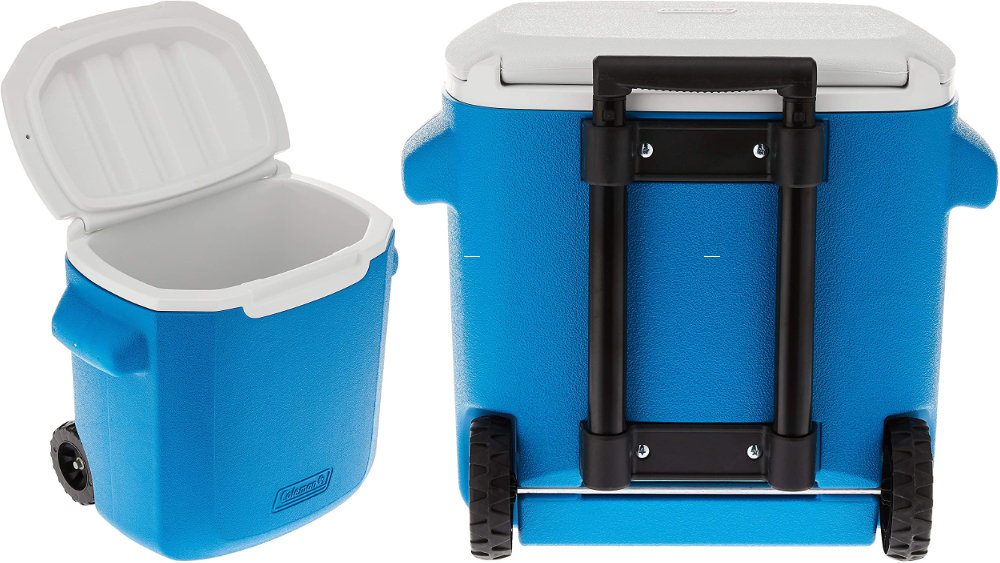 Swap out your emergency food
Having said that, I swap out my car-kit food every 6-months. I realize that especially during the summer, the heat will have shortened its shelf life (even when stored in a small cooler – which still gets quite warm in the summer heat).
Sun Shade for your windshield
TIP: You can drop the ambient temperature inside the vehicle during the summer. Obtain a windshield sun shade.
(Search for one that fits your specific vehicle)
(amzn)
I also recommend keeping a backpack along with your other additional 72-hour kit supplies. Because if you have to hit the road on your feet, you will have a means to carry some food (and water, etc…) with you.
[ Read: Things To Keep In Your 72-hour Car Kit ]
[ Read: 72-hour Emergency Kit ]