Food Brick (Datrex Food Bar)
A food brick. Although the phrase doesn't sound too appetizing, it does sound perfect for a survival kit. I'll explain in a minute…
Way back when – many years ago – I decided to buy one of those so called food bricks. I had to find out for myself. Are they any good? Is there a place for them in my overall survival food plan?
There are many various categories of food 'stuffs' within a prepper's overall stores. We sure have talked about lots of them here on Modern Survival Blog over the years. One of them is the practical, sensible, 'food bar'.
They are not only good for storage at home, but they're perfect for on-the-go, a hiking or camping trip, an emergency kit designed to travel (or your 72-hour kit in your vehicle, at work, etc..).
One such food bar is the Datrex food bar. I first bought the Datrex food bar as a food brick. It is a vacuum-sealed brick of several packages of the food bar. Looks kinda like a… brick.
Here's why I like the them:
An ideal emergency food bar for survival is calorie-dense. Why? Because being dense with calories reduces the overall size and bulk of the product – what you're carrying.
While some of the food bars that you'll see at grocery stores are either marketed towards supposed reduced-calories (100-150 calories), or others which are simply loaded with sugar, there are better purposed food bars for your emergency survival.
Datrex Food Bar
The Datrex food bar contains 200 calories each.
They have a high energy value, are ready to eat, and they are not thirst provoking.
They have a 5 year shelf life. Though in my experience they're fine beyond that time as well.
United States Coast Guard approved (used on lifeboats in their emergency food storage).
They are made from all natural ingredients, and have a bit of a coconut aroma and flavor.
They taste pretty good for an emergency food bar, kind of like a shortbread cookie.
Food Brick
Food bricks of 18, vacuum sealed in a heavy duty waterproof Mylar wrapper. Each of the 18 are individually thinly wrapped, although once you open the sealed brick, the shelf life is no longer applicable (in other words, it's time to eat…).
Each food brick represents 3600 calories. While rationing 1200 calories per day (just as a minimal example), you're looking at 3 days emergency food per brick. Otherwise 1 or 2 days depending on exertion and other factors requiring more calories.
They are dense.However, once I opened an individual food bar wrapper that was years old, it was slightly crumbly. But no big deal.
TIP: I had a half dozen of the bricks, and while re-organizing my food storage – one of the vacuum seals evidently leaked (probably a corner). So I subsequently vacuum sealed each brick with a FoodSaver vacuum sealer (for double protection).
TIP: These bricks are perfect for keeping in my truck for emergency, along with the other items in my 72-hour kit. They happen to fit perfectly underneath the back seat which has a small compartment area for storage. Good during summer AND winter.
Datrex Food Bar Ingredient List
Wheat Flour, Vegetable Shortening, Cane Sugar, Water, Coconut, Salt
Calories (200)
Protein (7%)
Carbohydrate (65%)
Sugar (5 gm)
Salt (0.75 gm)
Total Fat (23%)
Saturated (21%)
Mono-Unsaturated (65%)
Poly-Unsaturated (14%)
Cholesterol (0.378 mg)
Here's a picture of an individual Datrex food bar to show how relatively small they are compared to other food bars.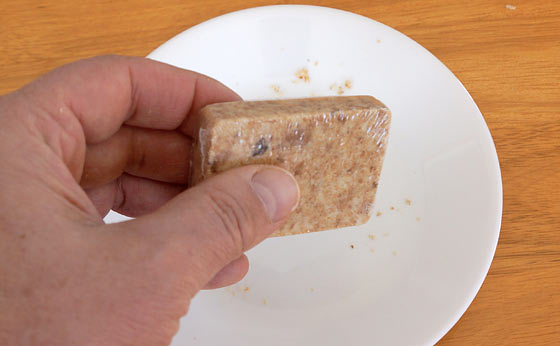 Datrex 3600 Calories (2-pack)
(amzn)
Also, the CLIF bar. I have those too. They do not come in food bricks, so they won't last as long. However, they are convenient, and another great food bar for densely packed energy.
[ Read: The CLIF Bar – One of the best for a 72 Hour Kit ]
[ Read: 72 Hour Emergency Survival Kit ]