MRE (Meals Ready to Eat). Lets talk about MRE survival kit food. It definitely has its own unique place in one's overall survival food preparedness. Let me explain how and why..
MREs are US Military precooked ration packs designed to feed soldiers who are currently engaged in ongoing missions. The MRE and Survival go hand in hand.
Just like regular meals, the military MRE is fortified with vitamins and minerals, enough to nourish and replenish the body.
The MRE does not require refrigeration!
Today's MRE taste a lot better than when they were first introduced! They've come a long way since C-Rats. They are made with a very wide variety of foods and flavors – and are available for civilian use.
Why the MRE is a good add-on for Survival Kit food diversification
MRE meals are a good addition to part of one's overall food storage preparedness and survival kit. Why? Convenience and portability.
As you may know, I advocate keeping a survival kit in one's vehicle. At least the basics. Some water and food for starters. I do keep a bunch of MRE packets as part of a survival kit for my truck (among other foods and other items).
– They are excellent for portability and ease of use.
– They're well purposed for travel. Grab-and-go.
– MRE's are great for bug out bags too.
About the MRE
As of 2023, the military MRE system includes 24 entrées, and more than 150 additional items. I'll list the latest menu at the end of this article.
To preserve the quality and freshness of these specially designed meals, the MRE is sealed inside airtight containment-pouches. All of my MRE meals are sealed in heavy duty Mylar pouches.
They are compact and lightweight, which makes them easier to bring along and can easily fit into the pockets of a backpack, survival kit, or even cargo pants.
How many calories are in a MRE?
Generally, the complete MRE meal kits contain an average of approximately 1,200 calories.
I have simply purchased a variety of MRE entrée 'main course' packets rather than complete meal kits (simply a preference, given my use-case scenarios). I just checked some of the labels. The typical calorie count for just the 'main course' entrée range from 200 to 300 calories.
Here's an example of what I currently have:
12 Pack (entrees only)
(amzn)
Most people prefer the complete MRE meals. They not only include the 'main course' entrée, but additional foods too ('sides'). And all of the portions (individually wrapped) are contained in one larger pouch for convenience.
Here's an example of that:
Genuine U.S. Military (12 Pack)
(amzn)
MRE Survival Food Shelf Life
The shelf life of a military MRE is specified to be 3 years at a temperature of 81 degrees-F.
However MRE meals will store well for 5 years (or much longer) under good storage conditions!
Note: Temperature is the most important factor having to do with general food storage shelf life.
MRE Shelf Life Test
Recently, I conducted a MRE shelf life test. More specifically, I opened up an old entrée, heated it, and ate it. I did not die.
I'm not exactly sure, but I believe these MREs are about 10 years old, however stored in good conditions. This one was Beef Ravioli in Meat Sauce. I was civilized and ate it out of a bowl rather than scooping from the pouch :-)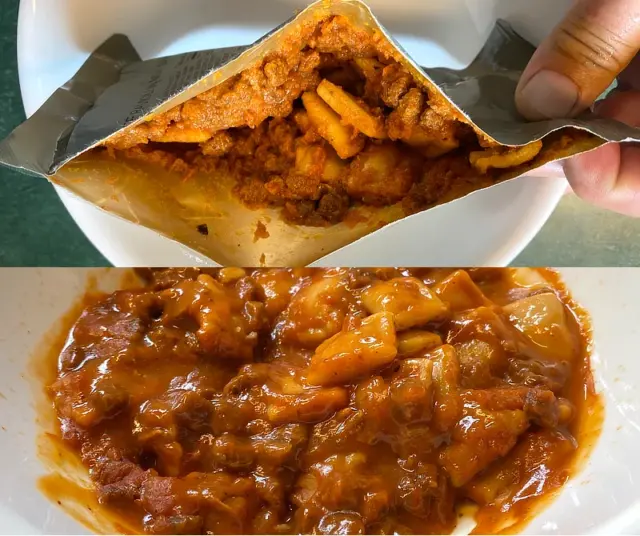 MRE Heaters
Although MRE's can be eaten cold, some main course entrée packets are designed to be heated using a flameless heater pouch.
The pouch is designed to accept an MRE in order to heat it up. Simply add some water into the heater pouch (there's a reference line for how much water) and slip the MRE packet into the heater pouch. Wait for several minutes (typically 10 – 15) for a heated meal!
Where to buy MRE Survival Food
From a survival & preparedness standpoint, MRE meals have their place in one's overall food storage or survival plan. I generally have several cases on hand along with all my other diversified food assets.
MREs can be purchased by civilians from distributors and contractors who supply MRE meals to the United States Government.
Most major preparedness distributors sell MRE meals.

 
NOTE: MREs are not intended for long term regular consumption, week after week.
NOTE: You need to (should) drink lots of water when you're consuming MRE meals day after day to avoid 'binding' (constipation). They may plug you up after longer term consumption.
NOTE: MREs are generally very high in sodium.
MRE Menu Choices as of 2023
| | |
| --- | --- |
| 1 | Chili w/ Beans |
| 2 | Shredded BBQ Beef |
| 3 | Chicken w/ Egg Noodles & Vegetables |
| 4 | Spaghetti w/ Meat Sauce |
| 5 | Chicken Chunks |
| 6 | Beef Taco |
| 7 | Beef Brisket |
| 8 | Meatballs w/ Marinara Sauce |
| 9 | Beef Stew |
| 10 | Chili and Macaroni |
| 11 | Vegetarian Taco Pasta |
| 12 | Elbow Macaroni and Tomato Sauce |
| 13 | Cheese Tortellini |
| 14 | Spinach Mushrooms & Cream Sauce Fettuccine |
| 15 | Mexican Style Chicken Stew |
| 16 | Chicken Burrito Bowl |
| 17 | Maple Sausage |
| 18 | Beef Ravioli |
| 19 | Jalapeno Pepper Jack Beef Patty |
| 20 | Italian Sausage w/ Vegetables |
| 21 | Lemon Pepper Tuna |
| 22 | Beef Goulash |
| 23 | Pepperoni Pizza Slice |
| 24 | Southwest Beef and Black Beans |