Winter Survival Kit Add-ons
Things to add to a survival kit for winter. Add-ons. Mostly common sense, however I'll mention some items that come to mind.
Maybe it's to add in your vehicle. Or maybe a pack. Whatever the case, winter weather will bring more risk.
A look out of my office window this morning reveals a beautiful scene of our first snowfall this winter season. With many more sure to come, it reminds me to check my survival kits for winter things.
Primarily, add-ons for the truck during winter. I also have small kits for my 4-wheeler, snowmobile, and daypacks (serving multiple uses).
The truck is easy because there's plenty of room to add things for winter. The ATV, snowmobile, and daypacks are a little trickier.
With that said, I'll simply brainstorm winter survival kit 'things' that one might consider as add-ons to their existing emergency kit.
Winter Survival Things To Add With Existing Kit
The biggest added dangers during winter are hypothermia, loss of dexterity, frost bite, or even death. Nature can be deadly. It doesn't care that you are there. It just "is". And if you're not prepared for what nature might bring, well, it could cost you..
The assumption here is that you already have one or more emergency survival kits with a variety of practical 'things' (which I won't mention here). The point I'm trying to get across is to think about the additional 'things' you might add specifically for winter weather. And then, get-er-done.
In no particular order, here are some ideas of what to add to existing kit for winter survival.
Blanket (fleece or wool)
Emergency Blanket (Mylar foil type)
Lip Balm (regular Vaseline works too)
Hand and Foot Warmers (for when it's wicked cold)
Gloves (well insulated)
Mittens can be warmer (though without dexterity)
Beanie Hat (warmer type, enough to pull over your ears)
Neck Scarf (multiple uses too)
Neck Gaiter (these really help!)
Face Mask (Balaclava)
Extra Socks (if existing pair gets wet)
Winter Goggles (big difference in cold/snow)
Road Flare (fast Firestarter)
Snow Shovel (vehicle)
Ice Scraper & Brush (vehicle)
Windshield Washer Fluid ('cold' variety)
Jumper Cables (vehicle)
Tire Chains (if applicable)
Winter Tips:
Cotton. It's not a good idea to wear cotton or cotton blends in cold weather. Look for wool or wool blend clothes, or polyester fleece. Cotton does not "breathe". If you start sweating (working), it'll get damp and then you will get even colder. Synthetics are better in that regard, for under-layers. Merino wool is great too (no itch). One very important factor is to STAY DRY.
Wind. Wind makes a HUGE difference outside during winter. That cold will find it's way in to your body quite readily unless protected by a good outer "shell". Before going anywhere during winter, when it's really bad out there, take extra precaution with what you are wearing! Just in case..
Hand Warmers. Rechargeable. I've had this pair for a year so far. Nice! Depending what you're doing, you can just leave them in pockets and wrap your hands around them. They will fit in gloves or mittens only if there's room (not tight fitting gloves).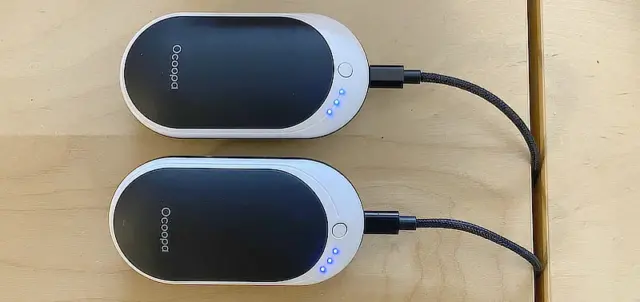 These will soon become an extra set (my truck winter survival kit) because I've just ordered another pair with more extended battery life.
OCOOPA
(amzn)
Stuck in Vehicle – Winter Gridlock. Every winter this happens in lots of places. Maybe it's caused by an ice situation. Or lots of snow. The highway can become clogged with stopped vehicles due to a number of winter related reasons. Sometimes stranded for many, many hours – or longer! This can become life-threatening, especially as vehicle fuel runs out. So please consider this! Food. Water. Warmth. Prepare for winter.
[ Read: Fire Starter Kit List of Essentials]
>> Check out my 'Survival Kit' category linked in the MENU