A Better home-made Wheat Bread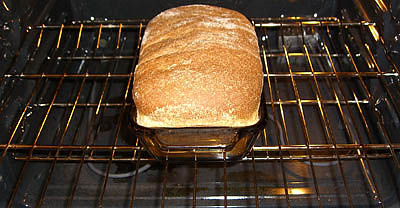 Knowing how to make your own bread is (should be) a staple requirement survival skill for prepper's -or preparedness minded folks. In fact, no electricity is necessary with the right equipment (a hand mill and a solar oven, for example).
We have been making our own wheat bread for some time now, while rotating our stock of wheat berries. Wheat berries are typically available in 50 pound bags and can be found through a variety of sources. They will store for a very long time, and require that they be ground or milled into flour. If you do not have a flour mill, you can often buy or mill your own wheat at a local grocery store.
We have experimented with a number of wheat bread recipes, and this one, our latest, we've been very happy with. The consistency of the bread with this recipe will more resemble 'store' bread, in that it is fluffier and will slice into sandwich pieces that won't crumble as much as some other recipes we've used.
By the way, making your own bread will result in a loaf that tastes SO much better than store-bought, and will not contain additives and preservatives (usually way too much sodium). This bread is the real thing.
Wheat Bread Ingredients
5 oz water (warm)
5 oz milk (warm)
2-3/4 cup, wheat flour
0.5 tsp salt
3 TBSP sugar
1 TBSP wheat gluten
2 TBSP butter
1.5 tsp yeast (Saf or other)
Wheat Bread Instructions
1a. If using a bread machine, you could process the entire loaf or just use the 'knead' and 'first rise' cycles. We make our bread using only the 'knead' and 'first rise' cycle, while cooking it in a loaf pan in the oven instead. We like the loaf shape better this way. First, add the liquid ingredients in the bread maker. Then add the flour and remaining ingredients.
OR
1b. Without a bread machine, add the liquid ingredients and the yeast to a bowl, stirring to dissolve the yeast. Then add remaining ingredients, stirring until well combined. Then remove the dough to a floured surface. Knead for 10 to 15 minutes and place into a greased bowl. Cover and let rise until doubled (45 minutes to an hour).
THEN
2. Remove the dough to a floured surface.
3. Punch dough down and gently knead for a few minutes.
4. Place into a greased (cooking spray or otherwise) loaf pan, cover and let rise until doubled (approximately 45 minutes to an hour).
5. Bake in a pre-heated 350 degree oven for 30 minutes.
Enjoy the real thing…

If you enjoyed this, or topics of current events risk awareness or survival preparedness,
check out our current homepage articles…