Canned Butter For Deep Pantry Preparedness
What Is Canned Butter?
Canned butter is probably something that you don't have on your deep pantry shelves. When considering long term food storage, you might not have known that you can actually get canned butter.
If you have been looking to add REAL canned butter, not powdered or Freeze Dried to your long term food storage program, look no further! If you put this on your butter dish your kids wont even know!
"We have found a canned butter that is imported from New Zealand that actually tastes better than any gourmet butter we had ever tried and with an indefinite shelf life, no refrigeration is necessary!"
"I bought this butter for long term storage but anticipated opening one can to test it. OMG! This butter is fabulous. It's much denser than American butter, it's not watery and doesn't separate when melted. There is no watery milky residue on the bottom of the dish, just pure butter. It's very thick/solid and tastes just fine."
Best price per count, if you buy it by the case (24),
Red Feather Creamy Butter (24)
6-count
(view on amzn)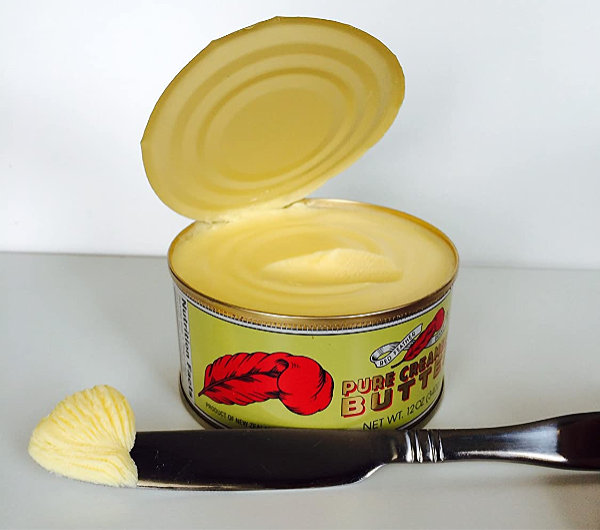 This can contains 12 oz of butter – which works out to three traditional sticks of butter.
Once opened, refrigerate unused portion.
(see storage tip below)
Canned Butter Ingredients
Red Feather Canned Butter Ingredients:
No preservatives with names you can't pronounce! No food coloring's or chemicals of any kind, just naturally made wholesome butter.
Serving Size; 1 Tbsp (14g)
Servings per container: 24
Calories; 100
Calories from fat 100
% Daily Value:
Total fat; 11g 17%
Saturated fat; 7g 34%
Cholesterol; 30mg 9%
Sodium; 100mg 4.2%
Total Carbohydrates; 0g 0%
Protein; 0g 0%
Vitamin A 8%
Why Would You Buy Canned Butter?
Yes, it's expensive. You're paying for a shelf-stable real butter product that does not require refrigeration until you open a can.
Not only is it good for general prepping & preparedness, it has other conveniences too…
Would also recommend for camping or hunting camp. Places where you may not have electricity.It's better than dried powder – hands down…
"Just opened a can of butter that is five years old. Has been stored in the basement where it is cool. Just as good as the day I bought it." said a commenter.
"Finally tried a can of this butter and wow, tastes better than store bought stuff and melts great and even spreads well." said another on the blog.
Red Feather Canned Butter Shelf Life
Here's a quote:
"Sealed airtight for maximum freshness, their canned butter delivers convenience in the form of extended shelf life and easy distribution without the necessity of refrigeration, Shelf stable for 10 years, Imported from New Zealand. Shelf stable for 10 years."
Tip: My experience has been that typical "best by" or "sell by" dates on canned foods are not when they "go bad". Here's an article I wrote about what these terms really mean:
[ Read: Use-by, Best-by, Sell-by | Food Expiration Dates ]
Also, sometimes when you order canned foods online (like I have on occasion), some of them may come in dented. However, is is highly probable that they're fine. Here's another article that I wrote about that topic…
[ Read: Are Dented Cans Safe? Here's How To Tell ]
Butter Storage Tip
– Although they say to "refrigerate unused portion"- I would highly recommend to simply buy a "BUTTERBELL BUTTER KEEPER" – this is what is commonly used in Europe and elsewhere including the Australian bush and many countries who don't have electric. Butter kept in a ButterBell with a tiny bit of water added will last shelf stable up to 30 days. As long as you change the water ever few days.
[Ken adds:] We have been using the following Butter Bell Crock for years. They're great!
The Original Butter Bell Crock
(amzn)