NESCO Snackmaster Pro FD-75A Food Dehydrator – 1st Choice
The NESCO Snackmaster Pro is (in my opinion) a first choice for getting into dehydrating food (or jerky). NESCO has really excelled with their food dehydrator product lineup! I hadn't looked in awhile, but when I did, it surprised me!
Have a quick look, and continue reading for my opinion:
NESCO FD-75A
(amzn)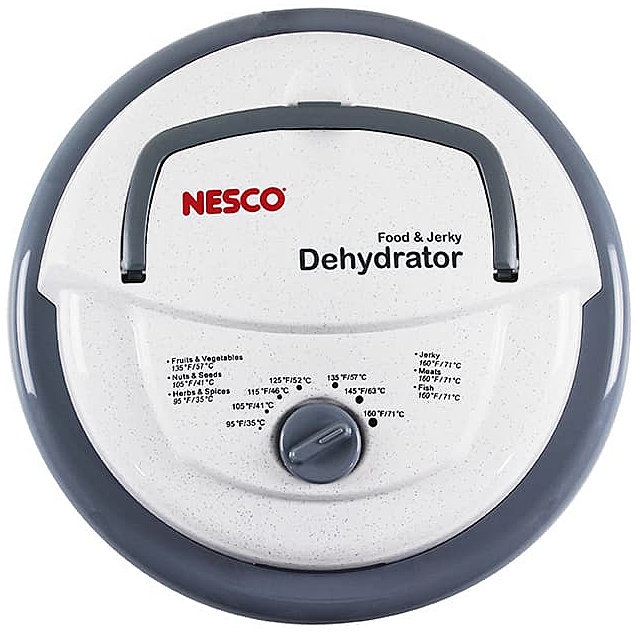 Wow. The Snackmaster Pro is a combination of GREAT PRICE (comparative to when I first bought my own food dehydrator), a really nice tray stacking feature, and the way that their heater fan system works (details below).
I've written a number of articles here on the blog about various food dehydrator topics. Way back in the day, I always recommended a particular brand which really didn't have much competition at the time in the home consumer space. It was (still is) expensive. I bought one. I like it, use it, and still recommend it today, "if" one's budget allows the splurge…
Excalibur 3900B
(amzn)
However, today's NESCO food dehydrator is a "no brainer"! Why? Well, the best reasons are as follows:
NESCO Snackmaster Pro FD-75A
I can't list specific prices (they vary somewhat). But, I can tell you that you are probably not going to find a better food dehydrator price versus features on the market, in my estimation.
NESCO has a food dehydrator product lineup that includes 6 models that I'm aware of. But the NESCO Snackmaster Pro FD-75A is my 1st choice for getting into the fun of dehydrating foods.
The basic difference with the more expensive models is, well, the price. But that extra price goes to more features such as more trays (some up to 30!), a more powerful heater (up to 1,000 watts), timers, etc.. But most people will be perfectly happy with the feature set of the NESCO Snackmaster Pro. Read on…
NESCO Food Dehydrator | Stacking Trays
The FD-75A Snackmaster Pro comes standard with 5 trays. It is expandable to stack 12 trays. Each tray is 13.5 inches in diameter and will hold about 130 square inches of food product.
The 5 trays will hold about 4.5 square feet, while all 12 trays will dehydrate nearly 11 square feet. Each tray is individually removable depending on how much you need to process. Extra NESCO trays can be purchased separately (here).
NESCO Snackmaster Pro Food Dehydrator Fan and Heater
This NESCO food dehydrator model has a top mounted fan. The FD-75A Snackmaster Pro has a 600 watt drying fan. There are two things I like about their drying fan. Top mount, and the way it circulates the air. "EVEN heat distribution".
The adjustable temperature control (95°F -160°F) gives you the flexibility to get the best results when drying different foods that need varying temperature settings.
NESCO Top Mounted Fan
I've seen food dehydrators with fans on the top, bottom, and rear of the unit. There are competing brands that have the fan on the bottom. A bottom fan is not preferable in my opinion because drippings may find their way into the fan unit (gravity). This may be especially problematic with grease/oils (e.g. meats).
The NESCO fan is mounted on top. There's little to no chance that food residues will get in there.
NESCO Patented Converga-Flow Drying System
This is pretty neat. You could have different types of food in the dehydrator (one type on each tray for example) and the air flow will not intermingle. In other words, flavors of one won't get into another while drying because of the way the air flow method works.
Here's a picture of the NESCO Converga-Flow diagram: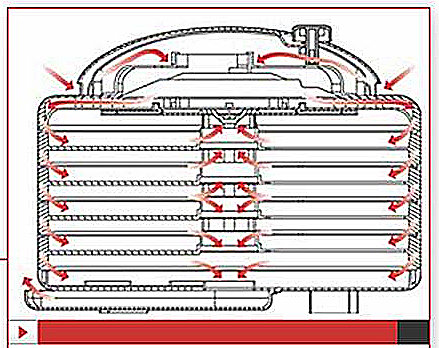 The Takeaway
Yes, you can get a more expensive food dehydrator which may be better, due to features, capacity, etc.. However this particular NESCO Food Dehydrator FD-75A not only is a great entry point, but one that will likely provide your needs going into the future.
I wrote this article with food preparedness in mind. Dehydrating foods are one of many ways to preserve. It's fun too (and great snacks!). I felt that this well-priced food dehydrator might be inexpensive enough to entice some of those who may be "on the fence".
If you were wondering, yes, it's made in the USA ("from global and domestic parts"). Reviews on amzn indicate that some parts come from China (as most everything today – just saying).
[ Read: Food Dehydrator Basics ]
[ Read: 5 Methods of Home Food Preservation ]