Rice and Beans, A Survival Combination
I am going to answer several hypothetical questions within the context of survival and preparedness. How much rice and beans per person per day, per year, as well as why rice and beans are a very good 'staple' survival food combination. Additional facts too, including calories, how many pounds, and more…
Rice is rich in starch, and an excellent source of energy. Beans are rich in protein, and contain other minerals.
The consumption of the two together provides ALL the essential amino acids, and it is no wonder that this combination is a staple of many diets throughout the world.
Here's why they are a good combination for long-term survival food storage… Their calories per pound, corresponding survival days, and nutrition.
First, I will give you the approximate calories for each. Then, a "what if" (if that's all you had) for a one year supply, as well as the daily numbers. It will simply put things into perspective.
WHITE RICE
5 gallon bucket of White Rice (~ 30 lbs of rice)
50,000 calories
25 survival days
1648 calories per pound (uncooked / dry)
660 calories per cup (uncooked / dry)
(Nutrition data listed below)
TIP: For very long term food storage, I would not use brown rice because it might begin to go rancid from it's oil content after awhile (~ 1+ years) .
BEANS
5 gallon bucket of Beans (~ 30 lbs of beans)
47,000 calories
24 survival days
1568 calories per pound (uncooked / dry)
630 calories per cup (uncooked / dry)
(Nutrition data listed below)
Note: There is a slight variation of calories per pound for different bean varieties. Numbers listed above are an average. They are mostly similar…
Note: After many years, beans loose their ability to soften while re-hydrating in water. It's always a good idea to use and rotate your storage, thus minimizing issues like this.
TIP! For old beans. We use a pressure cooker for old dry beans (works great!). We have this one.
Presto 4-Quart Pressure Cooker
(view on amzn)
Now of course, you could purchase your own rice and beans at Walmart or wherever. However, if you're looking to store them long term, you're also going to have to purchase food grade buckets & lids, Mylar bags, oxygen absorbers, and do the work yourself. No big deal if that's what you want to do. I have links how to do that (at the end). Search this blog for tons of related information on this.
However, if you would simply like to purchase ready-made packaged for long term, I do like Augason Farms. Anyway, here's rice and beans to consider, ready for your long term storage…
Long Grain White Rice
(their amzn storefront)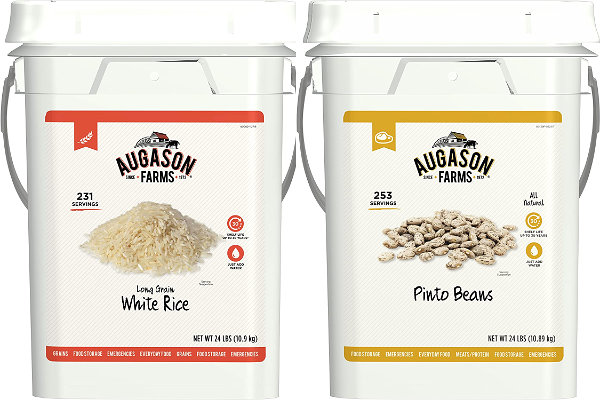 How Many Pounds Of Rice and Beans for One Year
First, logically, a long term food storage should be diversified among many food groups and preservation methods. I don't recommend relying on 'just' this. Talk about food-fatigue… You should diversify with lots of other foods too!
But, "if" that's all you had, here's how much rice and beans you would need…
This is just to give you an idea of how many pounds of rice and beans survival for one year…
Some might like it half and half (rice with beans) or more rice than beans. Typically, a combination of rice-and-beans might be a (dry) ratio of 2:1. The dry rice after cooking will also expand, doubling or tippling in volume.
A 2:1 ratio of (dry) rice-and-beans will actually result (after cooking) into an approximate 3:1 ratio (beans stay about the same after cooking).
So, if all you ate were rice and beans for survival, here are the approximate numbers…
2,000 calories per day for 365 days = 730,000 calories
486,180 calories rice
243,090 calories beans
How much rice per person per year
(10) 5-gallon buckets of rice (about 300 lbs)
Again, this is "if" that's all you would eat! You're going to store more of a variety of foods, right?
How much beans per person per year
(5) 5-gallon buckets of dry beans (about 150 lbs)
How Much Rice and Beans Per Person Per Day
Another way to look at it… Figure out the quantity per person per day. That will also give you an idea regarding general storage.
To simply provide 2,000 calories from these two ingredients from a 2:1 ratio of (dry) rice and beans (the rice will expand after cooking, resulting in approximate 3:1 ratio, or a bit more).
Coincidentally, two cups of uncooked rice and one cup of uncooked dried beans is almost exactly 2,000 calories.
Bear in mind that the rice will expand a good bit after its cooked. Lots of carbs too. Whereas the beans have a good amount of protein. Anyway, lots of this is dependent on your preferences too.
(2) cups of dry white rice (about 1,300 calories)
(1) cup of dry beans (about 600 calories)
After cooking, depending, you might end up with ~4 cups of rice and 1 cup of beans. Or, you might choose 1.5 cups uncooked rice with 1.5 cups of beans instead. This will also get you to about 2,000 calories. Depends on preferences.
The following happen to be available in 10 pound bags (or other sizes), they're organic, and product of the USA (((gasp!))).

(view on amzn)
Diversify
While you will not want to eat rice and beans every day and every meal (!!), the combination is an inexpensive food storage 'staple' as part of your overall food storage diversity. The quantities I've indicated will give you an idea with regards to relativity. To help decide how much you might want to get.
Nutrition, variety, food-fatigue — lots of factors for survival food. I have lots on this blog about food storage… Use the search function, and browse the 'survival kitchen' category (and others).
Some food storage outlets will sell you rice and/or beans already packed and sealed for long term food storage in buckets. However you can also do it yourself by purchasing in bulk. Then use Mylar bags, oxygen absorbers, and your own 5 gallon buckets.
TIP: If you're concerned about possible long term effects from arsenic in rice, here's how to mitigate that, and which rice has the least amount of it:
[ Read: Best Way To Remove Up To 80% of Arsenic in Rice ]
[ Read: How To Seal A Mylar Bag In A 5 Gallon Bucket ]
Rice, White, Long Grain – Nutrition Per Cup, Cooked
Fat (0.44 grams)
Carbohydrates (44 grams)
Fiber (0.6 grams)
Protein (4.25 grams)
Very low in saturated fat, sodium, and no cholesterol
Beans, Pinto – Nutrition Per Cup, Cooked
Fat (1.1 grams)
Carbohydrates (44.8 grams)
Fiber (15.4 grams)
Protein (15.4 grams)
Very low in saturated fat, sodium, and no cholesterol
Very high in dietary fiber and protein
Spices For Rice and Beans!
By themselves, rice and beans are bland. No doubt there are countless spices and other ingredients you can add to increase nutrition and make them more palatable. What are your suggestions?
This article has been updated several times since it's original publish back in 2013. I'm re-posting yet again in 2022, due to current events… If you're new here, or happened across this on a search engine, browse this site for more preparedness information. There are lots and lots of great comments throughout. You might also be interested in the Survival Kitchen category up in the Menu above.
[ Read: Decade Old Beans — Okay to Eat? ]