How To Store Yeast Long Term – Shelf Life and Viability Test
It's a common question when buying extra yeast (e.g. preparedness)… "How to store yeast?" or "How to store yeast long term?"
I've just updated this original post to better reflect the science, and the experience input from our readers. Continue to add your own opinions about storing yeast in the comments below.
Maybe you noticed that your homemade bread isn't rising as much. I recall when it happened to us awhile ago — A number of years ago I had bought a quantity of 1 pound instant dry yeast packs for preparedness. They happened to be Fleischmann's brand, but yeast storage issues could potentially happen to any of them.
The yeast that I had been using was 4 years beyond the stamped date on the package. And the stamp date itself was 2 years after manufacture. So that means the yeast was 6 years old. Whoops. I hadn't realized they were sitting on the shelf that long…
This prompted me at the time to go through our long term storage. I knew that I was storing a number of these 1 pound vacuum-sealed yeast packs. I found another that was 4 years beyond the date, and then found a 2-pack that was dated more recently (it was 2 years old).
So, I figured I would do a yeast efficacy test and compare the two! (A science experiment)
Is My Yeast Any Good? How To Test Instant Yeast For Viability
Add 1/2 Cup of warm water to a small bowl.
Add 1 Teaspoon of sugar and stir in till dissolved.
Then add 2 Teaspoons of yeast. Just dump it on top.
Wait 10 minutes.
It should have foamed frothy on top.
I took a picture. Here's how it should look after 10 minutes: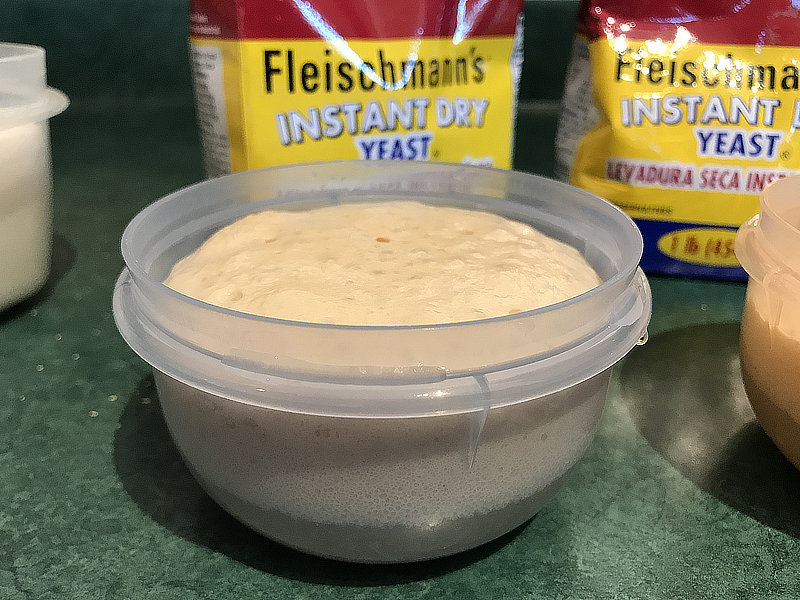 I tested the 2 year old yeast and the 6 year old yeast under the same conditions. (By the way, I adjusted the initial water temperature to 105-degrees-F)
They both rose and frothed. BUT, the older yeast didn't rise as much.
Here's the comparison: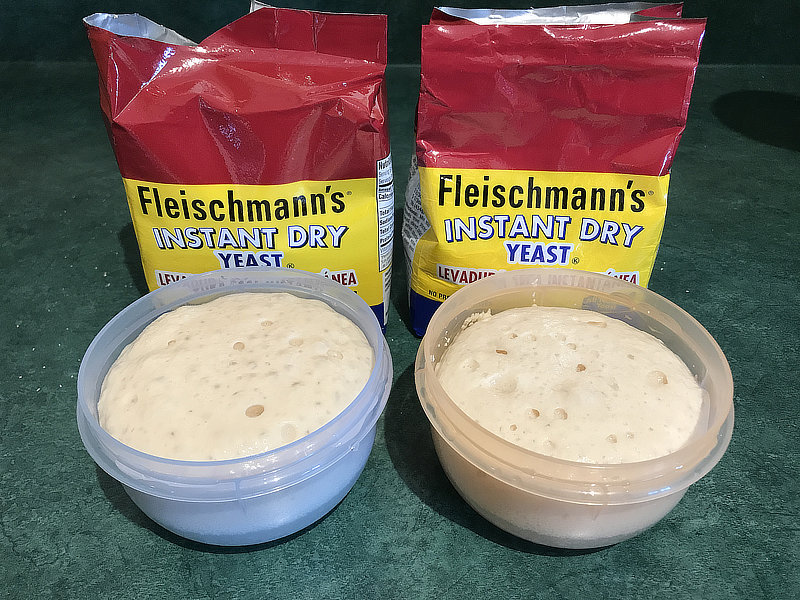 The yeast on the left obviously rose more than the longer stored yeast on the right. It's not a huge difference, but definitely different. It could have been wore if I had not stored them well.
---
Tip: This Yeast Spoon is very convenient for measuring the perfect amount for making bread. It holds the same quantity as a packet of active dry yeast. 2-1/4 teaspoons.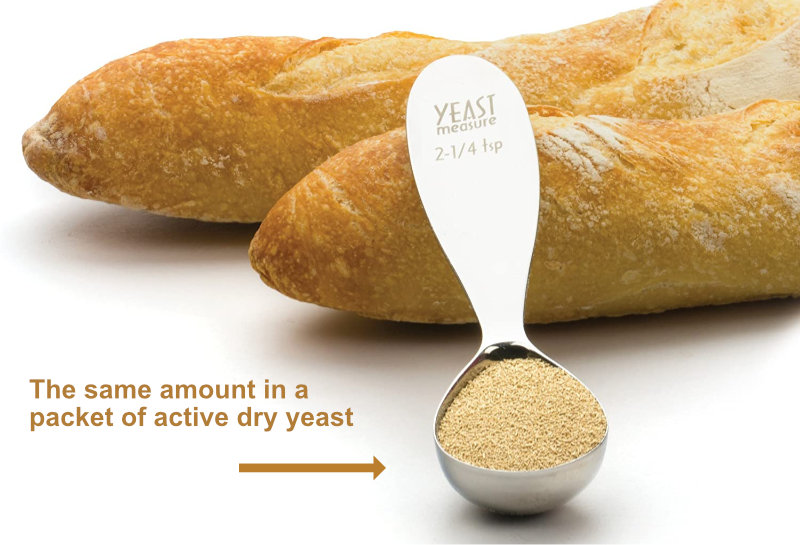 ---
How To Store Yeast and Shelf Life Results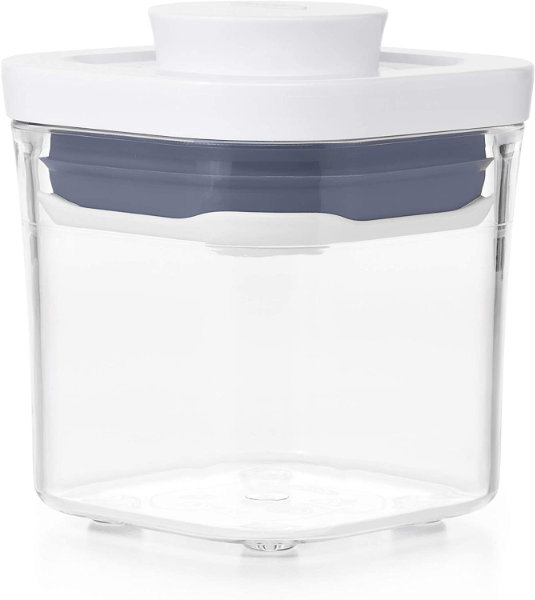 Best: Store Yeast in the Refrigerator
In the fridge.
Apparently the science indicates that active dry yeast is best stored between 33 and 38-degrees-F.
Most yeasts in a package can be stored at room temperature, with the exception of fresh yeast, which should be refrigerated. For best results, use by the date on the package.

For better shelf life of ANY yeast, consider storing in the refrigerator.

Tip: For best results, do not store fresh yeast in the freezer.

Generally, sealed packages of dry yeast can last around two years, with the exception of fresh yeast that's best used within several weeks of purchase.

Keep opened jars in the fridge for up to four months.

~ Fleischmann's Tips
What About Storing Yeast in the Freezer?
I have had some success storing yeast in the freezer. Others too. However I have also read that yeast cell damage can occur if the freezer temperature is too cold.
Maybe we're talking about the difference between storing yeast in a refrigerator freezer versus a subzero chest freezer.
I used to store yeast in the freezer. But I don't do that anymore. I keep bulk quantities (vacuum-sealed) on a shelf in a cool/dry environment. All opened yeast goes in the fridge in a sealed container(s).
Storing Yeast: Keep Air-Tight and Dry
Make sure the yeast container is sealed. Air-tight in a appropriate seal-able container. NO MOISTURE!
Yeast will go bad if exposed to moisture or high humidity.
Yeast Container
Several size choices from OXO. For example, this one is 0.4 Qt, ~ 3 x 4.3 x 4.3 inches. It will hold 1 pound of yeast (my Fleischmann's 1-pound packs measure 4 x 4 x 2). Push the button to engage the airtight seal. The button doubles as a handle for the lid.
OXO Good Grips POP Container – Airtight Food Storage – 0.4 Qt
(view on amzn)
image shown storing baking powder: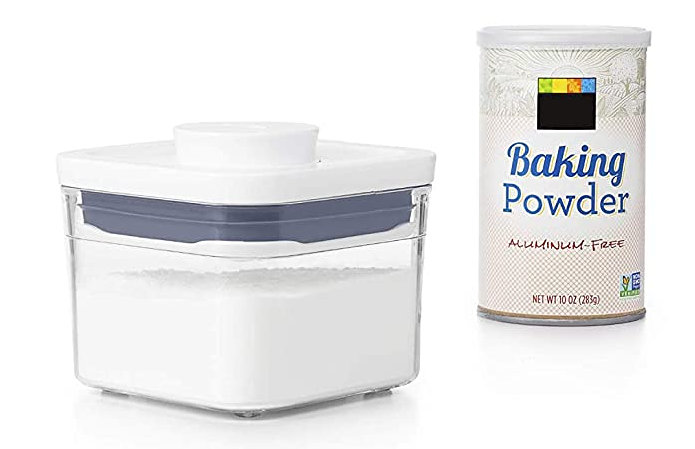 Yeast Shelf Life?
Some say that yeast will keep well in the refrigerator for 6 months after opening. But I know it's much longer than that! What happens over time is evidently a slightly lesser rise. Eventually you may notice.
My experience: Unopened sealed active dry yeast will last at least for several years under good storage conditions.
We have saved a number of the (4-ounce) Fleischmann's jars and use them to dump in the yeast from a 1-pound packet when we open up a new one from storage. One pound will fill four jars, which we then keep in the fridge.
What are your experiences or recommendations how-to store yeast long term?
What is your yeast brand of preference?
I've been using Fleischmann's for many years.
SAF yeast has been good too.
16 Ounce (1 lb)
(amzn)