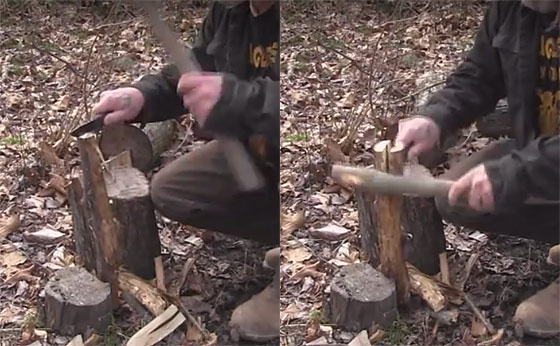 (image: Dave Canterbury)

Some knives are better than others for batoning wood.
Batoning wood is to split or cut small diameter wood while using a baton and a knife. A baton is a makeshift heavy 'stick' (see below).
There's a technique to batoning wood, but it essentially is the process of holding the knife blade to the end of a relatively small diameter piece of wood while using the baton to strike the knife's back – forcing the knife edge to split/cut the wood.
You might ask, "Why would I use a knife for batoning wood?"


Because an axe or a saw might not be part of your ordinary carry items while you're out in the woods, wilderness, or anywhere on a hike or journey during a time or circumstance when you might need to make an emergency shelter or build a fire.

Batoning wood is useful to not only split wood into smaller pieces, but to access the drier center portion for fire building and kindling.
Batoning may be useful for cutting a sapling (young, small diameter tree) for building a shelter.

What is the baton?
The baton is simply a piece of wood that you pick up in the woods for its batoning purpose. A good baton is a piece of wood that's fairly heavy, ideally of hard wood (heavier, more dense, less effort to 'baton'), and several inches in diameter. It is essentially your 'hammer' used to strike the back of your knife blade.

The batoning knife
Knives will have weaknesses inherent to their design. For example the steel of a non full-tang knife (partial tang) does not extend all the way through the handle. It may be a fixed blade knife, but if the blade itself attaches to the handle as a separate piece, there will be a weak point. Same with a folder. So if using such a knife for batoning (it will still work) you must know the limits for the knife that you're using.
A full-tang knife is stronger because the steel blade and the handle are all one solid piece.
Note: If you're batoning (splitting or cutting) hard wood, there will be more stress put on the knife than soft wood. Similarly there's more stress on the blade while batoning green wood versus dead wood.
Note: When batoning wood, strike the back of the knife further out and away from the handle of the knife.
Note: When batoning (cutting) a sapling, do not cut directly against the grain (it's the hardest part). Instead place the knife at an angle (about 45-degrees). Make a cut on all four sides, then pull the sapling over.
Caution: Batoning wood is risky (cutting yourself) so be especially carefully during this process (as you should with any process while using a knife)

So what is the best knife to use for batoning wood?
As Dave Canterbury says,
"The best knife or tool you can have is the one that you have when you need it…"
With that said, he is a strong proponent (for the money / price-point) of the Morakniv (Sweden) Bushcraft Black high carbon steel knife. It has a thick blade 1/8 inch (3.2 mm) and is extremely sharp, durable, and is hardened to 'HRC 56-58' to better withstand stress on the blade when batoning. The black coating helps protect against corrosion. And being carbon steel, the spine of the knife can be used to slowly and forcefully push down against a fire starter to emit sparks.
Morakniv Carbon 'Black' Knife
And now with that said, while the best knife for batoning may be a large full-tang Bowie knife, the fact is that under most normal circumstances (or for legal reasons) most people will not ordinarily carry such a knife. So, really, it's a smart thing to acquire one that will get the job done while still being a practical carry or pack item…
In other words, a full-tang KA-BAR with 7″ blade is awesome for sure…, however even a smaller Mora (above) with its 4.3″ blade will also get the job done – and may be more likely to be carried (food for thought).

The following video from Dave Canterbury is very informative how to baton wood…
Related Posts That You Might Like: