Best Knife For Batoning Wood – How to, and What for…
Some knives are better than others. So, what's the best knife for batoning wood?
(image above: Dave Canterbury)
Batoning Wood – What does it mean?
It's the action of splitting wood while using a baton and a knife. In the bush, a baton is typically a makeshift heavy 'stick' serving as a hammer of sorts.
There's a technique to batoning wood. It's the process of holding a knife blade to the end of a smallish diameter piece of wood while using the baton to strike the knife's spine. This forces the knife edge to split / cut the wood. It can also be used to chip into the sides of wood (typically at an angle).
Why would I use a baton and a knife for splitting wood?
Building a Fire
Batoning wood is useful to split wood into smaller pieces.
Wet wood
Batoning wood is especially useful when it is raining, winter snow, or just plain damp wood. It exposes the inner dryer wood for kindling or simply to ignite much faster.
Making Shelter
Batoning wood may also be useful for cutting down saplings (young, small diameter tree) for building a shelter.
Serves as an Axe
Because you might not have an axe or a saw with you. While an axe will split larger diameter wood, a baton and a good knife will do surprisingly well.
Why not use an axe or a hatchet?
Why not just buy a light hatchet rather than risking a main survival tool by pounding on it?
If you can afford the additional weight and space in your pack or kit, yes a small hatchet is great! A hatchet can be batoned too and it is built to take the abuse.
Though it's still good to know the batoning technique with a knife – in case you don't have an axe and need to split some wood for a fire.
One difference with a knife and baton versus a small hatchet: You can place the knife directly on the wood with precision and hit it with a baton. A hatchet has to be swung and hope it hits the mark you want. Small diameter limbs are harder to hit precisely.
Dave Canterbury Recommends Best Knife for Batoning Wood
Dave Canterbury apparently influenced Morakniv to design a full tang model with specific features for batoning wood:



>> Morakniv Garberg Full Tang Fixed Blade Knife
(view on amzn)
'The Baton' For Batoning Wood
The baton is simply a makeshift hammer – a piece of wood heavy enough to get the job done.
The baton is ideally from a hard wood (heavier, more dense, less effort to 'baton'), and several inches in diameter. It's essentially your 'hammer' used to strike the back of the knife blade (spine).
Full Tang Blade For Batoning Wood
Knives will have weaknesses inherent to their design. For example some knife blades do not extend far enough into the handle for sufficient strength. If the blade itself attaches to the handle as a separate piece, there will be a weak point. Same with a folder knife.
If using a knife for batoning, a full tang knife is stronger. The steel blade and the handle are all one solid piece and extends all the way into the handle.
Batoning Tips
Hard wood vs. Soft wood
If you're batoning (splitting or cutting) hard wood, there will be more stress put on the knife than soft wood.
Dead wood vs. Green wood
Similarly there's more stress on the blade while batoning green wood versus dead wood.
Where to strike the knife
When batoning wood, strike the back of the knife (it's spine) further out and away from the handle of the knife.
The grain of the wood
When batoning (cutting) a sapling, do not cut directly against the grain (it's the hardest part). Instead place the knife at an angle (about 45-degrees). Make a cut on all four sides, then pull the sapling over.
Be careful
Batoning wood is risky (cutting yourself) so be especially carefully during this process (as you should be anytime while using a knife)
Batoning Wood with the Morakniv Garberg
Dave Canterbury says, "The best knife or tool you can have is the one that you have when you need it…"
With that said, he evidently likes the Morakniv Garberg (made in Sweden).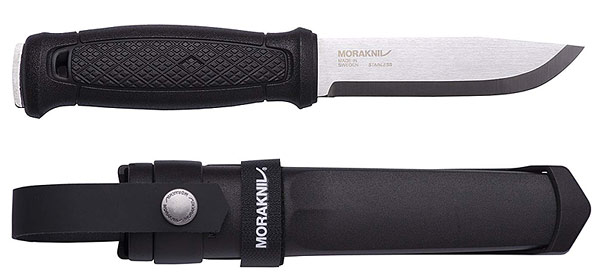 >> Morakniv Garberg
(view on amzn)
Sandvik Steel Blade: 14C28N steel provides razor sharpness, high hardness, exceptional toughness.
Ground Spine: The spine of the Garberg blade has been ground especially for use with a fire starter.
Scandi-Grind: Edge designed to bite into the surface of materials and keep the knife from slipping.
[ Read: Scandinavian Grind is Best Edge for a Bushcraft Knife ]
[ Read: If you could only buy one survival knife, what would it be? ]
Other Knives
There are plenty of good knives suitable for batoning wood! It's largely a matter of preference and budget. The classic KA-BAR comes to mind!


>> KA-BAR Full Size US Marine Corps Fighting Knife
(view on amzn)
 The following video from Dave Canterbury is very informative.
How to baton wood:
[ Read: Sharpening Knives – 101 ]