---
Short List Of Fast Growing Vegetables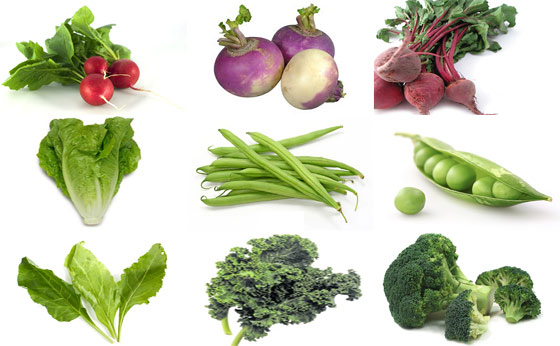 Fast crops are good to grow because they provide some food on the table in the shortest period of time. They are a good jump-start to the growing season after a winter of grocery store produce.
If you have a limited season (colder climate zones), then you can help maximize your garden's output by growing fast-growing vegetables.
Or, if you find yourself in a post SHTF world, these will provide quick food from the garden…


Radishes grow very quickly! They might be a little spicy, but they are one of the fastest-growing root vegetables. They're one of just a few veggies you can plant from seed at the beginning of a month and enjoy a harvest by the end of the month.
When sowing radish seeds, plant some about a half-inch deep and the rest a little deeper. Those close to the surface will germinate more quickly, extending the harvest by a few days. The deeper roots will be later, but larger, than the shallow ones.

Leaf lettuce, such as Romaine, can be harvested in just 30 days after planting. Scatter the seeds so you don't need to thin; start cutting the leaves once they reach a length of about 3 inches.

Spinach is one of the fastest-growing leaf vegetables. Plant in the spring and start harvesting the leaves in four to six weeks, beginning with the older, larger ones. The spinach plant will keep growing and producing new leaves well into the summer.

Turnips grow very fast. In a couple of weeks from sowing, the first baby globes will be ready to pull. Plant in rich, loose soil with lots of organic matter and compost. Turnip greens can be harvested when the plants are as early as 40 days. Turnip roots are generally ready after 60 days, when they can already measure up to 3 inches in diameter.

Kale. Although most varieties of kale take 50 to 65 days to mature, the tender baby leaves can be picked 25 days after sowing.

Bush beans provide a fast and high yield. In about six weeks after planting, you can start harvesting thin, tender bush beans from your garden. To keep the plants productive, harvest when the beans are small.

Broccoli can take as little as 50 days to mature a main head! (check the variety) The good news here is that even after the main head has been harvested, the broccoli plants will still produce smaller heads from side shoots.

Peas. English, snap and snow peas are a great addition to a fast paced garden. The plants produce edible peas in as little as 50 days.

What about your experience? What else do you like that will produce quickly?