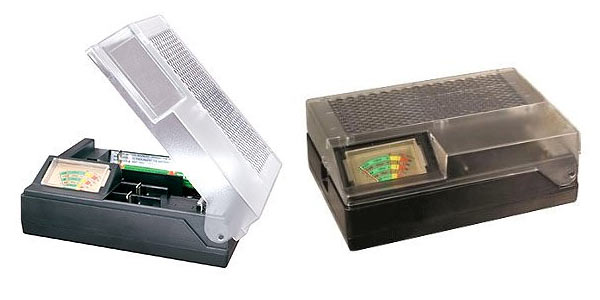 The following solar powered battery charger (pictured above) is a practical preparedness item to have for charging typical consumer-size AA & AAA batteries including C & D.
When the power grid goes down, the sun keeps shining! We can harness that energy. And in this case with a rechargeable batteries solar charger:
( see below for an alternative solar battery charger )
I have two solar battery chargers that look nearly identical to this one (except they're an older version that don't have the built-in meter gauge). They are still working perfectly and I have used them countless times in the sun to recharge batteries for devices including:
– Flashlights
– AM/FM/Shortwave portable radio
– Emergency weather-alert radio
– 2 way radios, walkies
BUILT-IN METER GAUGE
I like the fact that it includes a meter /gauge. The meter provides reassurance of the extent that the batteries are being recharged.
The meter helps optimize the angle of the solar panels facing towards the sun for highest charge rate.
About the C.Crane Solar 11-in-One Battery Charger
This high powered solar charger charges two Rechargeable Batteries of the same type and size (D, C, AA, AAA). It puts out about 150mA at ~ 5 volts.

The solar panel is built in to the hinged cover which can be angled for maximum sun exposure. Its built-in meter indicates the following conditions:

– The relative strength of the sun
– The strength of the current output from the solar panel
– The time required to fully charge the different types of batteries

This battery charger incorporates a built-in blocking diode to prevent reverse flow of electricity from charged batteries during storage.
Rechargeable Batteries Solar Charger
(USB, AA, AAA)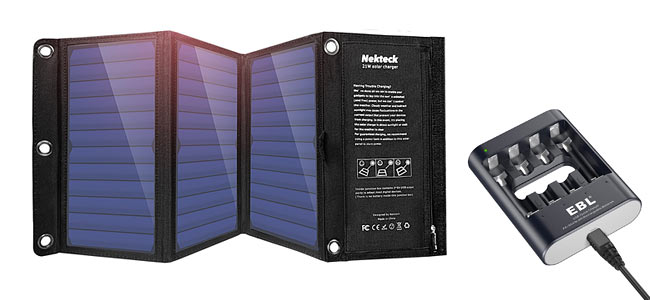 Another option for a rechargeable batteries solar charger (pictured above) for USB devices (and AA, AAA batteries) is the following 2-part combination:
1. 21 WATT SOLAR CHARGER with 2-Port USB
– Fast charging technology maximizes charging speed
– 2 USB port output
– up to 2.0A max per port or 3.0 A max overall (@5V)
– Will work with any USB device within technical specs.
2. SMART USB-powered BATTERY CHARGER for AA AAA
– powered by USB source (use a micro USB charging cord)
– fits AA, AAA size rechargeable batteries
– 40 minutes to charge 1 battery fully
– 2.5 hours to charge 4
– 'Smart' battery charging technology
Note: In reality, charge time may take longer depending on sunlight conditions when using solar panel with USB output.
Rechargeable Batteries
Battery chargers like those listed above will charge 'rechargeable' batteries(Ni-MH Nickel-Metal-Hydride).
Here are some of the latest technology Ni-MH rechargeable batteries:
eneloop AA 2000mAh Rechargeable Batteries
Tenergy C Size 5000mAh Rechargeable Batteries
EBL D Size 10000mAh Rechargeable Batteries

Related article: Off-Grid Charging System For AA-AAA Batteries, Plus USB