Solar Battery Charger for AA Batteries – 2 Good Choices
I will suggest two choices for a solar AA battery charger. One is a nice standalone unit. The other, though more expensive, is a more powerful folding solar panel. A separate AA charger accessory plugs right in. It charges USB too — iPhone, Android, etc.).
Why might you need something like this? Well, for ordinary preparedness. Or, maybe for a camping trip or anywhere without electricity to recharge AA batteries…
Solar Battery Charger | AA, AAA, C, D
First, the following solar powered battery charger (pictured above) is a practical preparedness item to have. It will charge typical consumer-size AA & AAA rechargeable batteries including C & D.
When the power grid goes down, the sun keeps shining! We can harness that energy. And in this case with a solar charger for rechargeable batteries.
SOLAR 11-in-1 BATTERY CHARGER by C.Crane
(view on amzn)
( jump below for an alternative 21-watt solar battery charger )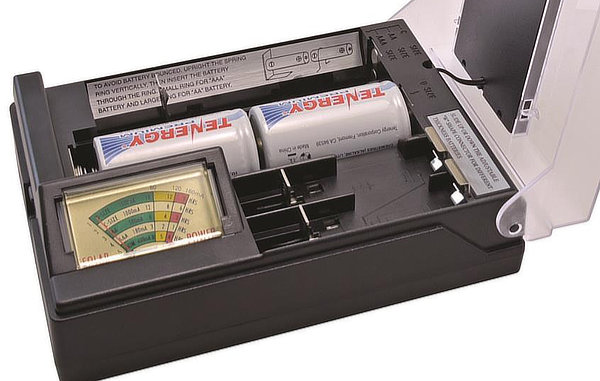 I have two of these solar AA battery chargers. They are still working perfectly and I have used them countless times in the sun to recharge batteries for devices including:
– Flashlights
– AM/FM/Shortwave portable radio
– Emergency weather-alert radio
– 2 way radios, walkies
Solar Battery Charger Feature | Built-in METER GAUGE
I like the fact that it includes a meter /gauge. The meter provides indication that the batteries are being recharged.
The meter helps optimize the charge rate — the angle of the solar panel facing towards the sun for highest charge rate.
About the C.Crane Solar 11-in-One Battery Charger
This high powered solar charger charges two Rechargeable Batteries of the same type and size (D, C, AA, AAA). It puts out about 150mA at ~ 5 volts.

The solar panel is built in to the hinged cover which can be angled for maximum sun exposure. Its built-in meter indicates the following conditions:

– The relative strength of the sun
– The strength of the current output from the solar panel
– The time required to fully charge the different types of batteries

This battery charger incorporates a built-in blocking diode to prevent reverse flow of electricity from charged batteries during storage.
28 Watt Solar Battery Charger | USB, AA, AAA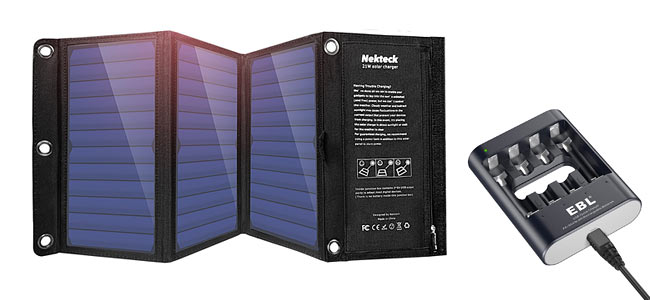 Another choice for a solar battery charger is the following 2-part combination which will recharge USB devices and AA, AAA rechargeable batteries:
1. 28 Watt Folding Solar Panel
28 WATT SOLAR CHARGER with 2-Port USB
(view on amzn)
– Fast charging technology maximizes charging speed
– 2 USB port output (e.g. cell phone or battery pack charging)
– up to 2.4A(5V) max per port or 4.0A (5V) as its maximum charging power.
– Will work with any USB device within technical specs.
2. Battery Charger for Solar Panel
SMART USB-powered BATTERY CHARGER for AA, AAA
(view on amzn)
– powered by USB source
– fits AA, AAA size rechargeable batteries
– Fast 450mA Charging 
– 'Smart' battery charging technology
Note: In reality, solar charge time may take longer depending on sunlight conditions.
Rechargeable Batteries
Battery chargers like those listed above will charge 'rechargeable' batteries(Ni-MH — Nickel-Metal-Hydride).
Here are some of the latest technology Ni-MH rechargeable batteries:
eneloop AA 2000mAh Rechargeable Batteries
Also fyi, a very good AA | AAA charger & analyzer for rechargeable batteries (not solar, but a very good plugin model) is the following: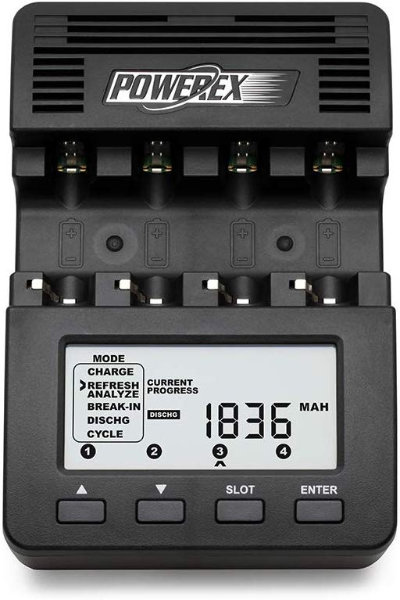 [ Read: Off-Grid Charging System For AA-AAA Batteries, Plus USB ]
[ Read: eneloop Rechargeable Batteries ]