Candles For Preparedness | Cost Per Hour To Burn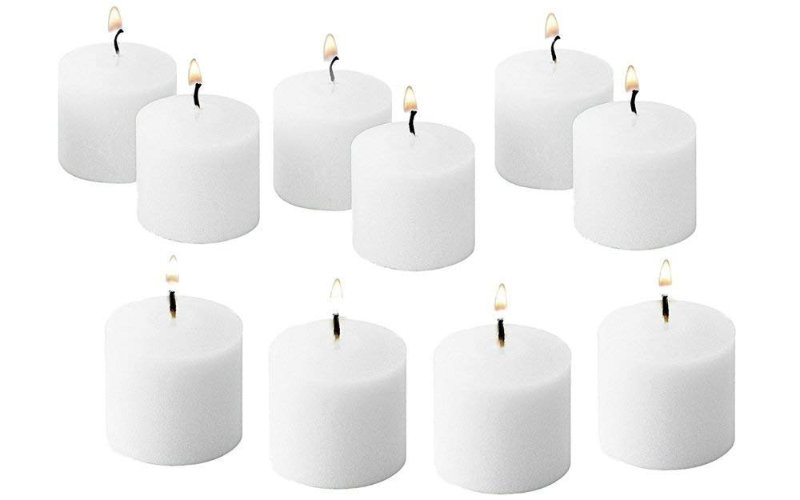 Candles for preparedness. The lights go out when the grid goes down. One of several ways to light up a room is the candle.
There's nothing quite like the warm glow of several lit candles in a room at night. Some may find it to be romantic. Or simply calming. If you've ever sat around a campfire, you know the somewhat mesmerizing effect of watching a flickering flame.
Sure, there are other sources of light that you might use during a power outage or grid-down situation such as the 'hurricane' oil lamp, flashlights, headlamps, solar-powered landscape LED lights, lanterns, etc..
However lets look at the ordinary candle as an option too.
How Much Does It Cost To Burn A Candle?
Awhile ago I figured out how much it costs per hour to burn a candle for each of several different types. Tea light, votive, pillar, and taper candle sticks. I wanted to discover what might be a economical choice for stocking up on some candles for preparedness.
I had a look at lots of the candles available from Amazon and calculated the cost per hour to burn them – while looking for the best price.
Here are my updated results for the lowest operating candle costs…
(2019 prices)
2-cents per hour Votive Candles
Based on current pricing (always subject to change), the least cost-per-hour candle that I could find are the following Votive Candles. They burn approximately 10 hours each.
(18.59/72)/10=.026
10-Hour Unscented Votive Candles (72)
(potential amzn commission at no extra cost to you)
2-cents per hour Tea Light Candles
The following Tea Lights will burn ~4 hours. The burn cost is similar to the votive above.
(11.99/120)/4=.025
4-Hour Unscented Tea Light Candles (120)
8-cents per hour Pillar Candles

If Pillar candles are your style, the best value are the following 5″ 40-hour Pillars…
(39.95/12)/40=.083
40-Hour Unscented Pillar Candles (12)
9-cents per hour Taper Candles
The best value (cost vs. burn time) for Taper-style candle sticks are apparently the following 7″ tall 7-hour candles (1″ base).
(27.95/45)/7=.089
7-Hour Candle Sticks (45)
Candle Safety
Candles are probably the least safe when it comes to alternative lighting. It stands to reason that an open burning flame in your house could present a problem. A few common sense tips include the following:
Set candle on a non-flammable solid base (holder)
Don't burn near anything flammable (curtains, etc.)
Kids in the house? Use extreme caution re: placement
Pets in the house? Be sure the candle is out of reach
It's never good to leave a burning flame unattended
Never leave the house with candles burning
Candle Storage
Store candles in a cool place (out of direct sunlight) so they will not melt or warp. Ask me how I know…
Candles For Preparedness
So, do any of you store extra candles for alternative lighting?
A number of years ago I purchased a lot of candles for this purpose. Votive seemed to be the best general value, so I focused on that style. Although I also purchased a quantity of tea light, pillar, and taper style.
Continue reading: Hurricane Oil Lamp for Preparedness
Fire Extinguishers | 3 or More Locations For House Fire Preparedness