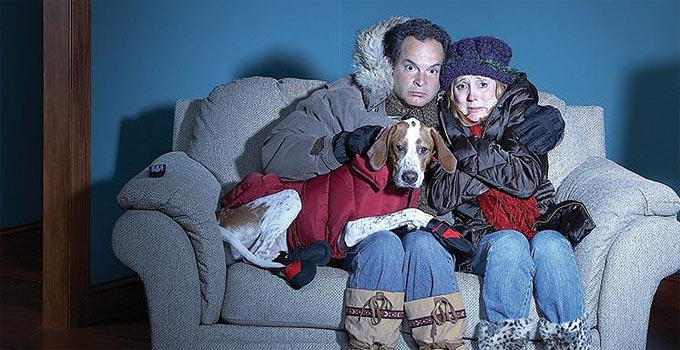 At the time of this writing, winter is approaching. It's a time when I'm thinking about buttoning up outdoor projects and transitioning my thought process to life during the winter months.
PREPARING FOR WINTER
Swapping out my summer & fall clothes and jackets for winter gear. Getting my snow shovels back out from storage and setting them by the doors. Moving the snowblower from the shelter over to near the house. Finding the snow brush and ice scraper to put back in the truck. All that fun stuff…
We had our first snow October 18 with a few inches of the white stuff. Seems a bit early for that! I'm trying to finish up some major projects outside before it gets too nasty out there.
From a preparedness point of view, winter is more daunting than summer, at least for those of us who live in regions where the cold could become threatening without shelter and heat.
Winter storms are common for us. Heavy snow, high winds, ice storms, extreme cold. Any of these could quickly become a very big problem.
One major obstacle during the winter could be the ability to travel. During a major snow or ice storm you could become stuck where you are. If the power goes out (and it often does during extreme weather) the cold will start to set in.
The question is, how will you deal with that? Can you heat your house even if the electricity is not working?
PORTABLE HEATER
Previously I wrote an article about a portable propane heater that I had purchased some time ago. I still think it's great. It won't heat your house, but it will heat a fairly large space (especially if you have the 18,000 BTU unit)
'Mr. Heater Buddy' for Winter Survival Preparedness
WOOD STOVE
Some of you may have a wood burning stove. Problem solved. Got wood?
PELLET STOVE
Maybe you have a pellet stove. Do you have a means to power it without electricity?
How To Run A Pellet Stove During A Power Outage
FILL YOUR TANKS
I feel much better when I top off my propane before the winter. Even though I could theoretically get a delivery any time, it just makes me feel better. Kind of like a squirrel preparing for winter I guess.
FURNACE SERVICE
If you have been putting this off, maybe it's time to get your furnace serviced before it gets too cold outside. Wouldn't be too fun to lose heat during the middle of winter, the coldest night of the year (you know that's when it would happen!).
WAYS TO KEEP WARM IF THE ELECTRICITY GOES OUT
Okay, so it happens. A wicked winter storm during the middle of winter. The power goes out.
At first it's pretty neat. The fury of mother nature rages outside while you're snug as a bug inside looking out. Within a few hours you're starting to get pretty darn chilly. Temperatures inside are dropping.
You can't get in your car and drive somewhere else. The roads are too dangerously impassible. Uh oh…
WARM CLOTHES
Basically you're looking at wearing warm clothes. Out come the thermal underwear. Layers. Long sleeve shirt. A warm sweater. Then a jacket if you have to! Maybe even a pull-over hat and gloves.
WARM BLANKET
Bundle up in a nice fleece or merino wool blanket!
The Warmest Survival Blanket – Wool Or Polar Fleece?
Woolly Mammoth MERINO WOOL WARMTH
HAND & FOOT WARMERS
Slip one of these in each glove and the soles of your shoes. When I'm out snowmobiling I use these! I wrote an article awhile back about it:
Hand Warmers And Foot Warmers For Your 72-Hour Survival Kit
Gloves With Thinsulate™ Insulation
GENERATOR!
The simplest way to get your heat back on is to use a generator. You need to power the furnace. If you have a generator 'transfer switch' integrated into your home's electrical panel, you're all set. Maybe you want to look into that. You don't need to have a whole-house transfer. You can get them for just a few critical circuits.
Otherwise, the issue is that your furnace isn't like an appliance that has a plug which you can simply 'plug in' to an outlet (your generator). The furnace is hard wired into your electrical system.
The following does NOT apply if you have 'electric heat' (e.g. electric baseboards) because the power requirements are too high for a generator to handle:
If you are electrically inclined (caution is advised), you could potentially rig up a 'plug-n-play' for your furnace such that you intercept the power source and insert a plug and receptacle between the furnace and electrical panel.
A furnace will be on it's own electrical circuit (a designated circuit breaker in your electrical panel). If you install a typical 15 Amp plug on your furnace, you could then alternatively plug it directly into a generator. Just a thought.
Best Extension Cord For Your Generator

SUMMARY
This is intended to get you thinking about possible power outage during the winter, and how you would deal with the resultant cold.
Any further ideas?