Baofeng Extended Battery For Longer Life Between Charges
A Baofeng extended battery (authentic model linked below) for mission critical operations. Simply put, a high capacity extended battery could make all the difference in some situations. When radio communications might be most important, the last thing you want is a fading battery pack. Especially when recharge may not be timely, or possible.
I own six Baofeng BF-F8HP radios. They each came with a 7.4 volt / 2100 mAh Li-ion rechargeable battery (Model BL-5). A pair of these are used every day here at the household for comms between Mrs. J and myself. 99% of the time they're both simply receiving. Note it's the transmit time which depletes the batteries much quicker! The standard batteries are fine for our ordinary usage here. However there are a number of good reasons to have the higher capacity extended batteries too (keep reading).
Although we each have cell phones, it's so much easier and quicker to communicate with handheld radios. For example I may spend some time in the shop while Mrs. J is in the house (or wherever). Getting ahold of each other is simply a matter of pressing a button. I may be out on other parts of the property doing 'this' or 'that'. These comms are perfect for quick, instantaneous communication.
With that said, and although our normal usage doesn't require lots of annoying recharge, there are many hypothetical scenarios whereby a higher capacity battery pack would be quite reassuring!
Removing the Baofeng battery is simple. Press down on the button as shown below, and slide out the battery pack.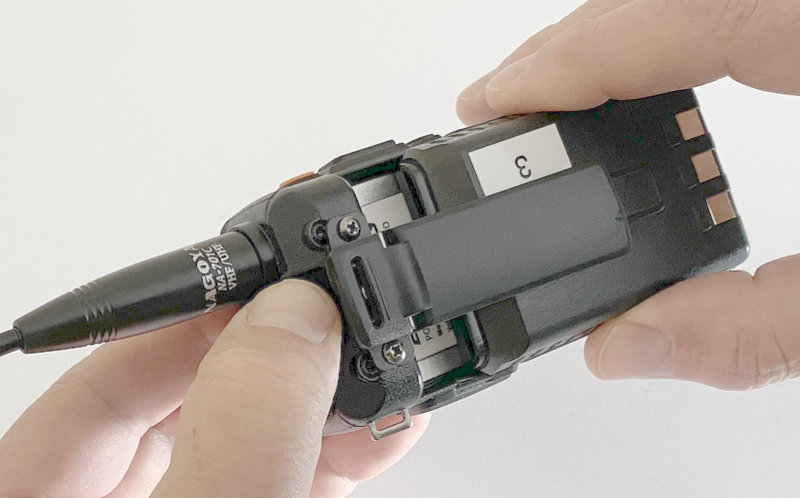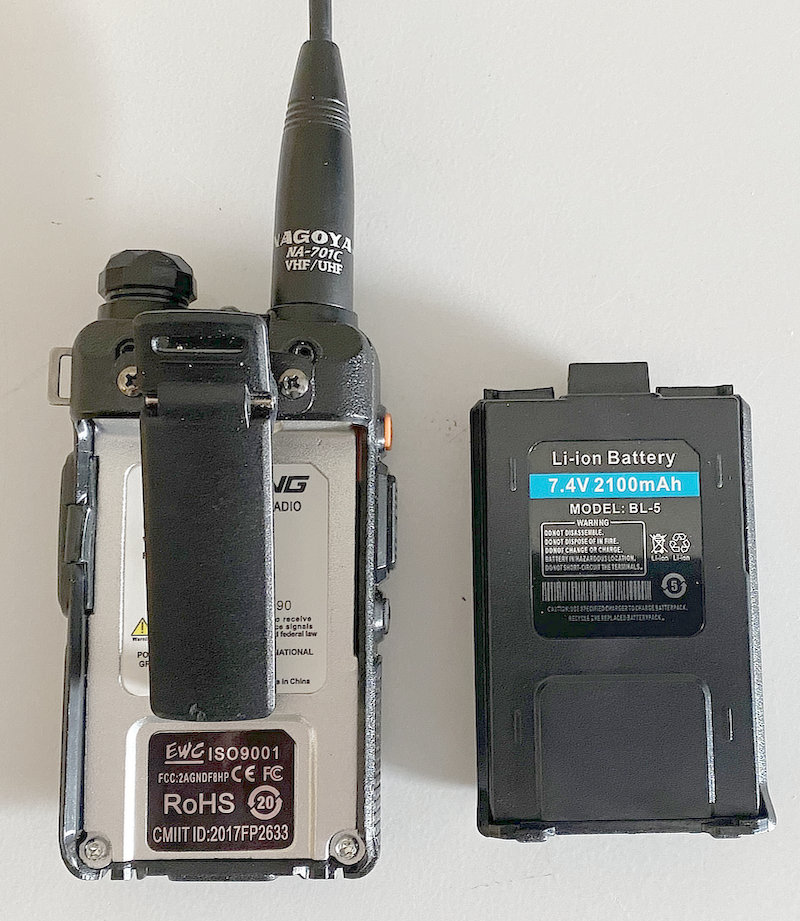 Baofeng Extended Battery for peace of mind
Now what if you're taking the Baofeng with you on a camping trip. Hunting. Fishing. Hiking. Maybe you're using them as part of your security operations. Wouldn't it be nice to have extended battery life? Sure would!
The following genuine extended battery is for Baofeng radio series UV-5R, BF-F8HP, and the UV-5X3.
It is a Lithium-ion battery. Its voltage is 7.4V, its capacity is 3,800mAh, and total watt hours is ~ 28Wh.
The extended battery has about 80% more 'juice' than the standard BL-5.
It has built-in over-charge protection, over-discharge protection, over-current protection, over-heat protection, and short-circuit protection.
It does add 1.5 inches of length to the radio (and 3 extra ounces of weight). Whereas some people may find the extra length to be advantageous (easier handling), for those who don't – its a small price to pay for almost double the battery life from the original.
Authentic BTECH Baofeng
(BTECH is a USA company, providing US warranty and support)
This is the OEM (Authentic Genuine BTECH) extended high-capacity battery for BaoFeng BF-F8HP, UV-5X3, and UV-5R series radios.
It works on:
UV-5X3
BF-F8HP
UV-5R
UV-5R variants such as the UV-5Rv2+, UV-5RTP, UV-5R+ Plus, and more
**It is not compatible with the UV-5RA or other radios like the UV-5RA which do not conform to the base UV-5R style case guidelines.
The BL-5L (this particular Baofeng extended battery) is designed for the Original UV-5R Series. It is designed for the original case style on the UV-5R series radios. This includes the original first and second generation UV-5R*, the third generation BF-F8HP, and with the new BTECH UV-5X3.
*It is compatible with variations of the UV-5R such as the UV-5RTP, UV-5R Plus, and others. It is not compatible with the UV-5RA or other radios like the UV-5RA which do not conform to the base UV-5R style case guidelines.
BaoFeng 3800mAh Li-ion Battery Pack
(view on amzn)
Will the Baofeng extended battery charge on the original stock base unit charger?
Multiple Charging Options
The BL-5L charges on the stock CH-5 battery charger that already is included with the UV-5R, UV-5X3, and BF-F8HP series radios.
The BL-5L also allows for direct DC charging in the 2.5mm barrel plug on the side. Pair with the BTECH BT1013 USB Charge cable for easy charging. If you look at the picture above, you can see the socket at the top of the battery pack.
BT1013 BL-5L Power and Charging Transformer Cable
(amzn)
USB 2.1A, 1A, and .5A transformer compatible.
Advantages of the charging cable instead of stock battery charger
This method is ideal for easier, smaller packing if on-the-go. Takes up less space. Compatible with typical USB wall chargers. And, you could charge your Baofeng radio this way along with a solar panel (one with a built-in USB charger). As well as via a computer USB, car USB, or any USB slot.
[ Read: Charge AA Batteries – And More – With A Portable Solar Panel ]
If you're going to use the charging cable instead of the stock base charger, I do recommend a good quality higher power USB charger like the ANKER brand:
Anker 18W 3Amp USB Wall Charger
(amzn)
[ Read: Best BaoFeng Antenna Upgrade for Ham Radio or GMRS, FRS, MURS Bands ]