Sony Pocket Radio, Best Little Portable AM-FM
The following Sony pocket radio, I believe to be the best little AM FM cheap portable, that actually works quite well!
And I don't mean cheap in the sense of quality. Rather, cheap being inexpensive.
I've had this portable pocket radio for several years. I've got to tell you that I still believe it's the best little AM/FM radio in its class (inexpensive and small).
Sony Pocket Radio
UPDATE: The latest model of this portable radio:
ICFP26 Portable AM/FM
(view on amzn)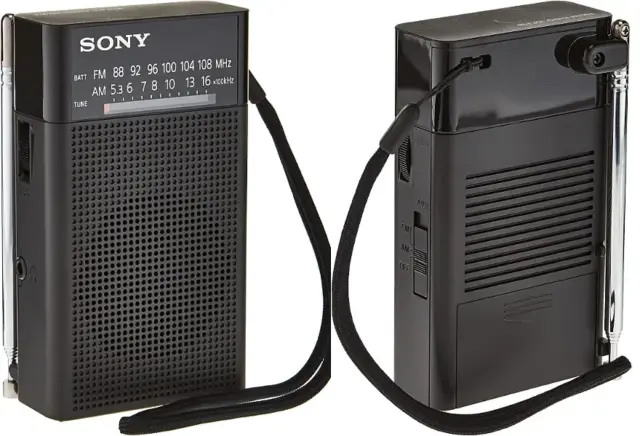 It performs well. Good for discovering news and information (especially during a power outage) and will help keep you informed.
Features
The feature set makes it ideal for many applications, including keeping one in an emergency kit.
It is remarkably priced, especially considering that it's made by Sony (who makes quality electronics).
It's small enough to easily fit in a pocket, pack or kit while measuring only 4.69 x 2.74 x 1.50 inches. It's a "pocket radio".
Runs on AA batteries. You'll get approximately 100 hours of run time. Check the article link below for best batteries that won't leak or corrode.
Battery status indicator. A LED glows bright green with adequate batteries then dims as batteries weaken signaling the need to replace them.
Hinged battery compartment cover so you won't lose it.
When I first bought it after looking at reviews for the best but inexpensive small portable radio, I was quite surprised with it's ability to pull in stations.
It has a nice convenient red tuning LED.
It has a decent sound for it's small size. Pleasing tonal voicing. Good quality sound for a small portable radio.
Standard 3.5mm headphone jack. Headphones will play in both ears, though mono sound.
Sony specs:
Integrated AM/FM radio tuner
Built-in hand strap for increased portability
Dedicated headphone socket for personal listening
LED tuning and battery status indicators
Powered by 2 x AA batteries
Output Power: 100 mW
Input and Output Terminals: Earphone Output; Headphones Output
Weight (including batteries): Approx. 6.70 oz
If you don't already have a portable battery operated AM radio for your home, preparedness kit, camping, or for listening while out in your boat fishing, this inexpensive small pocket radio might be just right for you.
[ Read:
Best AA batteries that don't leak or corrode
Best AM Radio For DX Long Range Listening