Bivy Stick – Iridium Satellite 2-way Messenger Communicator
Have you heard of the Bivy Stick yet? I'm hearing about it more and more as it gains popularity within the prepping /preparedness community. In short, the Bivy Stick device turns your cell phone into a satellite communicator (text messaging, GPS tracking, SOS, weather, and other features). It's very popular in the hiking /adventure community where cell service is often non-existent. It's feature set is also attractive for those into disaster preparedness. I'll explain more in the article.
The following is an overview of the Bivy Stick. I am writing this article for your own potential interest in such a product. Also, their storefront link (disclosed below) is associated with our long time advertiser here, ReadyMadeResources (at no extra cost to you). So if you ever decide to purchase a Bivy, I ask that you return here and enter through their link (which indirectly helps support Modern Survival Blog), thanks…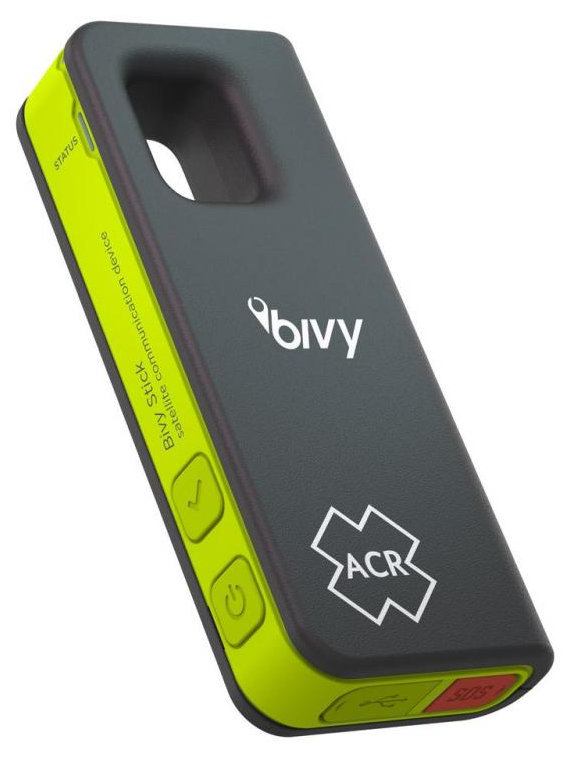 The Bivy Stick is the smallest and simplest-to-use Iridium global satellite communication and tracking device in the world. ACR Electronics is also the same manufacturer who makes life-saving EPIRBs and PLBs, so you can rest assured knowing that the device you are using to send important or critical text messages, GPS, and weather updates is being produced at the highest standards.
Made in the USA, manufactured in the state of Florida.
Bivy Stick Uses
Text messages via Iridium Satellite Network anywhere in the world
Comes with a unique dedicated cell phone number, share # with others and they can text you
Able to send text messages to phone numbers or email addresses
Full featured App for iPhone and Android
Hiking off-grid, Hunting in the wilderness, Boating offshore, literally anywhere
Maps, TOPO Terrain, Trails, Waterways
Download maps for offline /off-grid use
Quick Check-in button with your own pre-configured texts (e.g. "Yes I'm fine, all is well")
Tracking data for others to follow your path, pace, mileage, altitude, more…
Track and save routes, Waypoints, share with others
SOS Distress Call Button – International
When typing your message, you can also choose to share your location with that text and your GPS coordinates will become part of the text with a URL that will let the recipient see your exact location on a Bivy map.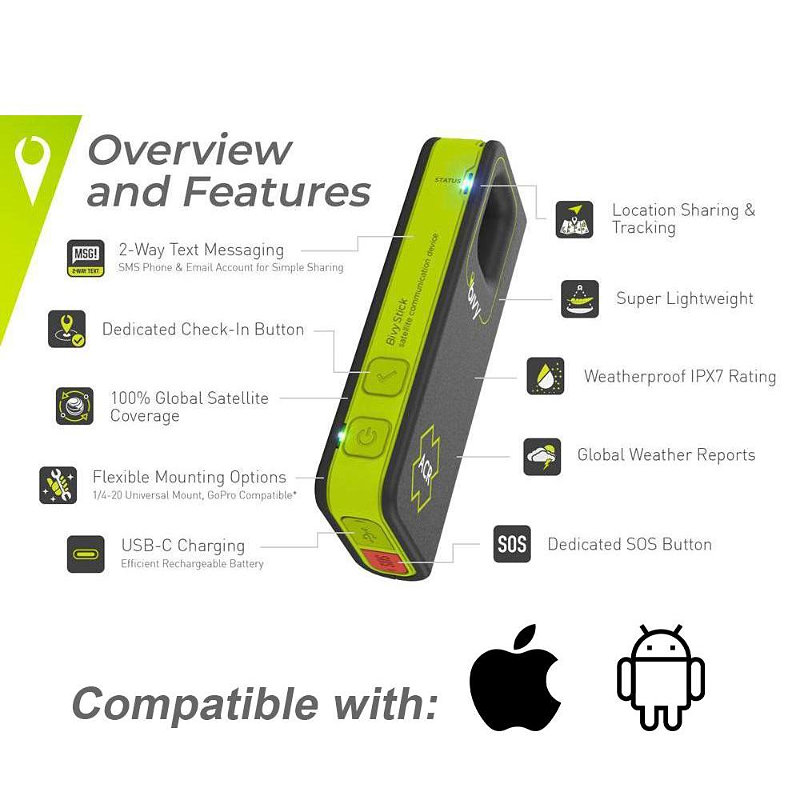 Bivy Stick for Disaster Preparedness
There are more features, but you can dig into it more yourself. Here's a use-case scenario for the Bivy Stick within the context of disaster preparedness…
No matter what the causation, "if" the cell network were to go down or become overloaded in your region (due to disaster), this is a perfect way to communicate. Let your family /friends know of your condition, and what's going on. Find out more about the disaster by receiving messages from outside.
The Bivy Stick Turns Your Cell Phone Into A Satellite Communication Device
Anywhere you have a view of the sky, you can communicate with the Bivy Stick. Two-way text messaging, SOS, location sharing, detailed weather reports are sent straight to your cell phone from space via the Iridium satellite network (described below). When you you are off the grid, without cell service, the Bivy Stick keeps you in communication with your loved ones, and provides peace of mind.
About the ACR Bivy Stick
How to use it
How it Works
Where to Buy the Bivy Stick
I disclosed above that the following link to the satellite phone store is by way of affiliate ReadyMadeResources (at no extra cost to you).
There are a number of products shown there. However, to view more about the Bivy Stick, on the landing page, click on the Bivy Stick product photo. Then you will see a number of packages listed. Since nearly everyone already has a cell phone, those people will only need the Bivy stick itself – so select that package for more information. Then you can scroll down for more product info., including package pricing.
ENTER THE SATELLITE PHONE STORE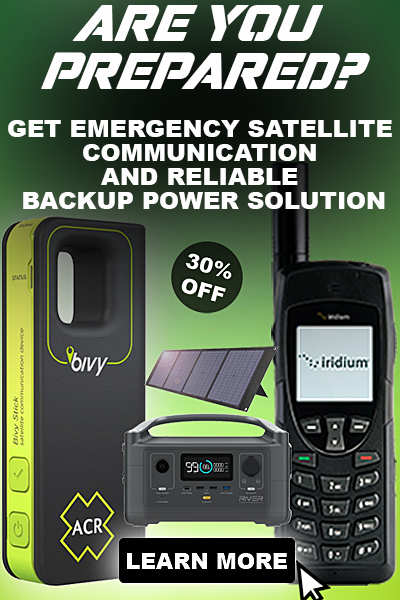 As of this article's original post date, August 2022, you will see the "ACR Bivy Stick Unlimited Text Plan" which is currently $59.99 /mo. (and the Bivy Stick currently at $249.99).
However, upon further research (someone can correct me if I'm wrong), it appears that after 4 months of initial service, you have the option to reduce your monthly pricing to other packages which currently range from $14.99, to $29.99, up to the unlimited plan ($59.99).
Quote from Bivy Stick, "After the initial 4 month commitment, plans can be changed or deactivated online any time."
If you don't have the Unlimited plan, they get into monthly 'credits' (which rollover to next month if not used). For example, 1 text equals 1 credit. But you can get the details upon your own further due-diligence.
About the Iridium Satellite Network Constellation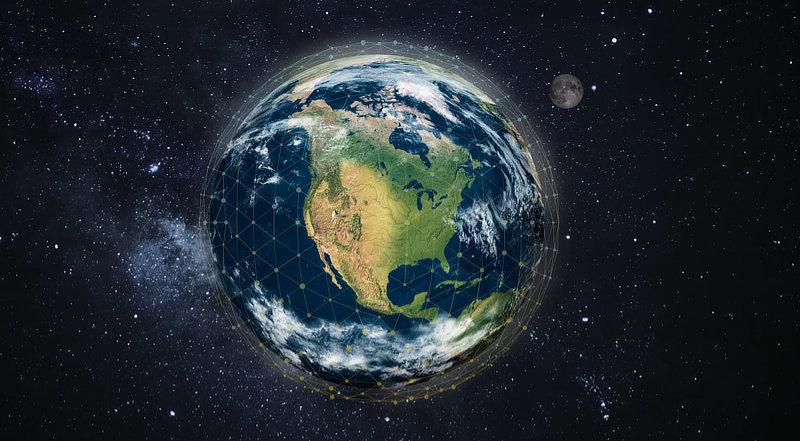 The satellites of the Iridium network cover the entire earth. It consists of 66 active satellites used for worldwide voice and data communication from hand-held satellite phones and other transceiver units.
The global mesh of the Iridium constellation is in Low Earth Orbit, approximately 485 miles above the earth. This provides stronger signals and faster connections through smaller antennas with lower power requirements.
The Iridium network uses L-band frequencies which are more resilient to weather than the frequencies used by most GEO networks.
Each satellite is cross-linked to four others, providing reliability, resiliency, optimization, and redundancy.
The Iridium network gateway processes the message, then delivers it to the carrier, internet, or customer.
[ Read: Best BaoFeng Antenna Upgrade for Ham Radio or GMRS, FRS, MURS Bands ]