Smartphone Communications During A Power Outage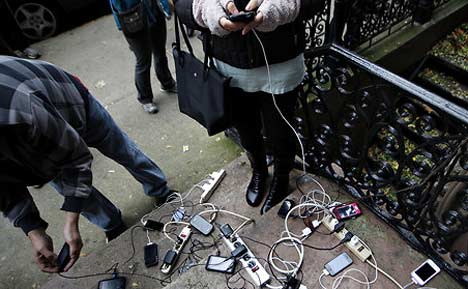 During a regional (or wider) disaster (e.g. major storm) and subsequent power outages, one of the main things that people will be trying to do is communicate with others via their cell phones / smartphones, and searching for information about the event.
Back during Hurricane Sandy, many people walked long distances from areas that lost power in a desperate search for working electrical outlets to charge their cell phones, smartphones, and gadgets. Images of people crowding around smartphone charging stations were widely circulated, as in the image above…
Note: One of the first things that gets fixed when emergency electrical crews go out are cellphone towers, because they are an integral link in today's network of modern communications. Generally speaking, cell towers will get fixed before the power lines in your neighborhood.
But if your cell phone or smartphone is dead (dead battery because there's no power at your house) – then what are you to do, or what could you have done ahead of time??
Charge it ahead of time!
Keep your phone charged up! Sounds stupidly simple, but all you need to do is be sure you fully charge your phone if you know a storm is coming (for example).
Hand Crank Emergency Radio Charger
You might acquire an emergency radio which also has a cell phone charger outlet (typically a USB connection for charging external devices).
Examples:
The American Red Cross FRX3 Hand Crank Radio
Get it here…
The Sangean MMR-88 Hand Crank Radio
Get it here…
USB Car Charger
You can charge your cell phone with a USB adapter for your car…
Car Charger, Maxboost 4.8A/24W
Solar Charger
If the sun is shining, this solar charger will charge up your cell phones and gadgets…
Portable Charger External Battery Power Bank
A stand-alone pre-charged USB external battery will provide many subsequent recharges for your cell phones, smartphones, and many other USB devices. I personally like this device due to its compact size vs. many available recharges.
A Portable Generator At Home
A small portable generator will be enough to supply power to some of your home essentials. It doesn't necessarily have to be a monster whole-house generator!
Yamaha EF1000iS, 900 Watt, Gas Powered Portable Inverter
Yamaha EF2000iS 2,000 Watt Gas Powered Portable Inverter
(The Yamaha generators are SUPER QUIET, but they're expensive…)
Or maybe something significantly less expensive such as the basic…
WEN 1500 Running Watts, Gas Powered Portable Generator
TIPS:
Txt messaging can sometimes get through when voice calls will not. They use a different type of transmission technology that is somewhat more robust.
It may be worthwhile to either have a wifi hotspot for your network or know how to turn on your WiFi sharing on your smart phone. The data and voice networks are seperate and you might be able to access the internet before being able to make a reliable voice call.
Most cell phones will consume and use power faster when searching for service or roaming (this can be significant), and will drain the battery when out of service. Turn it off if the service is out, and check back once in a while…
Consider a land line rather than relying solely on your cell phone for communications
2-way radios are a great method for short distance communications and do not rely on any external network.