TERK AM Advantage Antenna
The TERK AM Advantage Antenna works for any AM radio. I have owned this indoor AM radio antenna for many years, and it has done its job boosting AM radio signals for better reception. It's passive – meaning, no electricity required.
The antenna is a simple aid to MW (Medium Wave) reception (the AM radio band). It's a wound wire loop with a variable capacitor for tuning.
How Well Does the TERK AM Advantage Antenna Work?
First, it will not perform miracles. However, it will improve reception most of the time. Occasionally it will not do much at all. Other times, it may be the only thing that makes reception possible. It is, by nature, a mixed bag, owing to physics, the science of propagation, and all that jazz. Thus, no guarantees, but in most instances, it is a useful and worthwhile aid to MW reception.

said a reviewer of the TERK AM Advantage Antenna
I agree with the review/statement above. I definitely (usually) notice an improvement in reception after I perform the tuning steps listed below. It will optimize with the particular station I'm listening to. The extent of that reception improvement varies. Sometimes it's a pretty big difference. Other times, lesser. Depends on conditions and such, I suppose.
Why Did I Buy It?
I like it as a prepping & preparedness gadget in order to pull in distant AM radio stations for news and information. Or, for simply listening to a favorite talk show…
Communications. Gathering news and information. It's all part of an overall preparedness plan. A portable battery operated AM/FM-Shortwave Radio will enable reception of important information from local and far away stations. And this particular TERK AM Advantage antenna does a good job at amplifying and boosting distant signals for the AM band of any portable radio, if used properly…more on that in a minute.
Not only do I enjoy the peace of mind having a number of communications radios, I occasionally enjoy listening to distant AM radio stations during the evening when the propagation is often terrific. The TERK AM Advantage helps during the day, and at night. During the evening/night, distant stations come in pretty well anyway due to propagation. But the TERK helps keep those distant stations tuned in and sounding better, with more stable reception and less drift in-and-out.
TERK Storefront
(view on amzn)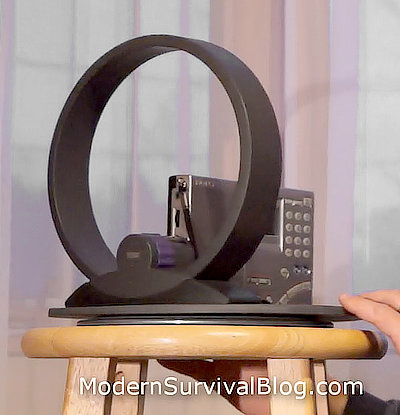 How To Use The TERK AM Advantage Antenna
There are three important factors for success with this antenna…
The orientation of the AM Radio with the TERK antenna
Use of the tuning dial on the TERK antenna
The direction of the TERK AM Advantage antenna itself
Orientation Of The AM Radio With The TERK AM Advantage Antenna
Place your AM radio right next to the TERK antenna. The antenna loop that is wound inside the TERK 'induces' it's signal into the small coil antenna that is built into your AM radio (inductive coupling).
Depending on how your radio's internal antenna is oriented, will affect the proper orientation that you should use when you place your radio next to the antenna.
As you can see in the image above, I orient my AM radio in a perpendicular 90-degree direction as shown. This is likely the way for most radios. However, be aware that yours might be different in that you get better results if positioned parallel with the antenna. Once you discover the best way, use it the same every time.
TERK Tuning Dial
The antenna has a tuning dial (variable capacitor). It needs to be turned/tuned depending on the AM radio station frequency that you've selected on your radio.
There are markings on the TERK dial. This will get you in the vicinity – matching what station frequency you're listening to. Then, tune the TERK dial slightly back and forth to audibly maximize the signal. It will become obvious when you've reached the right spot on the tuning dial.
Let's say for example that you are trying to tune in WJR (Detroit) on AM-760 (760 kHz)… not only do you tune your AM radio to that frequency, but you also tune the dial on the TERK antenna to that approximate frequency. Then play with the TERK dial for best reception.
TERK Antenna Pointing Direction
The TERK antenna direction needs to be oriented facing the geographical location of the AM radio station you're trying to pull in. While also maintaining the proper radio orientation as in step-1 above.
Tip: I use a 'Lazy Susan' turntable. I place both the TERK antenna and the properly oriented AM radio on it, so everything rotates together in unison.
My Favorite AM Radio
It's an awesome radio for AM long range listening. CCRadio-2E by C Crane.
[ Read: Best DX Radio For AM DXing – Long Range Listening ]
Also, if you're looking for a good decent (but cheap) AM radio…
[ Read: Best Cheap Pocket Radio For AM/FM Band ]
1,000 Foot Loop Antenna – Art Bell
Given the subject of this post (AM loop antenna), I couldn't resist mentioning the ultimate AM loop antenna. I recall when the late Art Bell (Coast to Coast AM) built a 1,000 foot loop antenna on his property in Pahrump, Nevada. I was intrigued.
It's amazing to realize that the frequency wavelengths of the AM radio band are huge. For example, the wavelength of 980 on the AM dial (980 kHz) is 1,000 feet! A quarter wave is 250 feet. Wow…
I added two pictures of this antenna down in the comments below.