5 Things That Raise Your Skin Cancer Risk And How To Prevent It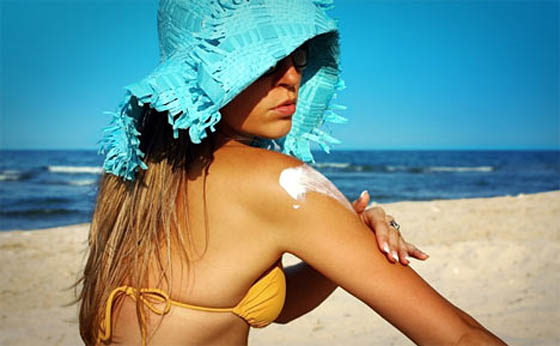 Practical modern survival during the summer –
The following list of things which can raise your risk of skin cancer can be mostly avoided or minimized by observing this advice:


FAMILY HISTORY
If your mother, father, siblings, or children have had a melanoma, your risk is 50 percent greater than the average person's. There's not much you can do about family history, except to know you are at higher risk and take extra precautions through your life.
A BLISTERING SUNBURN
Just one sunburn in childhood or adolescence more than doubles your chances of developing melanoma later in life. Even five mild sunburns over the course of your life can also double the risk.
TANNING BED USE
Indoor tanners are 74 percent more likely to develop melanoma than those who have never used a tanning bed. They also have a 69 percent increased risk for early-onset basal cell carcinoma.
FAIR SKIN OR LIGHT EYES
Pale women have less melanin, the skin's natural sun protection. Those with baby-blue or green eyes are also more prone to skin cancer than women with deep-brown irises.
LIVING IN A SUNNY OR HIGH ALTITUDE AREA
Tropical climates expose you to strong UV radiation year-round. As for altitude, for every 1,000 feet above sea level, you increase your UV exposure by 4 to 5 percent.

I know I said "5", but here's #6…
MEDICATIONS
There are many common medicines that that cause photo sensitivity or photo toxicity. Most people who take these common medications are unaware that they must protect themselves from sunlight and U.V. radiation. Search the side-effects of your meds to discover if this is an issue for you.

What can you do to reduce your risk of skin cancer?
PLENTY OF SUNSCREEN
For proper protection, you need to apply a full ounce of sunscreen from head to toe.
Picture the amount in a shot glass.
Most people use only a third to half as much sunscreen as they should be using, and they apply it unevenly.
SUNSCREEN EXPIRATION DATE
Just as you wouldn't drink expired milk, you shouldn't keep sunscreen from 3 summers ago.
After the expiration date there's no guarantee that you're going to get the full SPF promised on the label.
If you still have sunscreen from last year, you were not using enough…
THERE'S NO SUCH THING AS WATERPROOF
There really is no waterproof or sweat-proof sunscreen – which is why you'll no longer find either of those claims on sunscreen bottles — the FDA now forbids it.
Manufacturers can label products only as "water resistant" for 40 to 80 minutes — the amount of time a particular sunscreen has been tested and proven to offer protection in water.
ANYTHING UNDER SPF 15 IS USELESS
Anything lower than SPF 15 can no longer claim to be broad-spectrum. Low-SPF sunscreens provide little to shield UVA rays, which are the culprits of skin cancer and premature aging.
References: WomensHealthMag.com, FOXNews/ Womens Health