The Berkey Guy | Authorized Dealer of Berkey Water Filter Systems
His online persona name is The Berkey Guy. Actually, his name is Jeff. Much of the preparedness community has known 'The Berkey Guy' and his company for many years.
I recall way back in 2011, a year after I started Modern Survival Blog, when I began promoting Jeff's Berkey Water Filters. Time flies! Here we are nearly a decade later – and not only is The Berkey Guy still around, but my blog as well! I guess we're doing something right…
Why You Should Buy A Berkey Water Filter From The Berkey Guy
I'm putting this out there, sincerely. If any of you ever consider purchasing a Berkey Water Filter, I highly recommend you get it from Jeff. Here's why…
The Berkey Water Filter is not cheap. It is a high quality countertop filter 'system' containing expensive engineered filtration elements. I don't know about you, but when I'm buying something expensive, I'm not looking to save a few bucks off the price. Rather, I'm looking for confidence and reputation in the seller. Longevity. Trust. Perhaps serviceability.
Reputation | Longevity
The Berkey Guy has been authorized to sell Berkey Water Filters for a very long time. He runs a small family business here in the USA. I trust him. Yes, he advertises with us. But I wouldn't be saying this if I didn't have a long history with the company.
I have Berkey Water Filters. I KNOW they're the best in the countertop category. And I suggest that if you're in the market for one, that you buy yours from a reputable and authorized dealer who has been around for awhile!
Lifetime Warranty by The Berkey Guy
Jeff has a lifetime warranty for Berkey water filtration systems. That's pretty awesome. That's another reason you want to buy from a company that will be around in the future!
Spare Parts | Replacement Filter Elements
As you may already know, the Black Berkey filter elements will process 3,000 gallons of water each. There are typically two, or four (depending on Berkey size) installed in the stainless steel container. Though that's a lot of water!, eventually you may need to replace them. So again, I recommend The Berkey Guy for your replacement filter elements too.
I keep a spare set of filter elements. Why? For preparedness. Also, I know that prices never go down. They always go up. So I've already got mine…
A spare water spigot is a good idea. I actually bought the one where you can see the water level of the bottom container and installed it instead of the standard spigot.
Check out his site for all the gadgets.
Final Thoughts
Even when I have linked in the past to a Berkey Water Filter here on the blog via Amazon, I have specifically pointed to The Berkey Guy's store/product there. With that said, I recommend that you visit his site directly because he carries the complete lineup, and often has Sale prices. Plus, I just want you to check it out!
The Berkey countertop water filter system is simply the best. And if you're ever going to buy one, I recommend getting it from the best and authorized dealer.
Oh, one more thing! If you do end up buying one there, let him know that you came from Modern Survival Blog, your favorite preparedness website!
Okay, now before you do anything else, go visit the home of The Berkey Guy: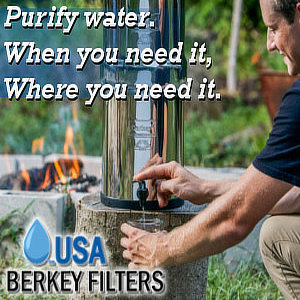 Continue reading: How To Clean A Berkey Water Filter
Berkey Water Filter IS Worth The Money
Black Berkey | Red Dye Food Coloring Test