Turmeric Home Remedies – A Super Spice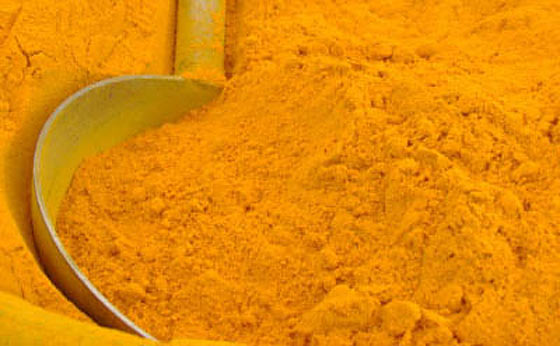 Turmeric, native to southeast India and used often in Indian cuisine, is considered to be a 'super spice' due to it's apparent health benefits.
While not everyone enjoys the unique flavor of turmeric, the various apparent health attributes and home remedies may be a good reason to incorporate it into your diet.
Organic Turmeric Powder
Note: Turmeric is very high in ORAC antioxidant value!
(#6 on my list of Top 100 ORAC Foods & Spices)

Turmeric is part of the ginger family and contain chemical compounds called curcuminoids – natural phenols with a pronounced yellow color.
Some research shows compounds in turmeric to have anti-fungal and antibacterial properties among others, and ground turmeric is one of the highest rated spices for it's ORAC value (Oxygen Radical Absorbance Capacity).
Turmeric is a spice that gives curry powder its yellow hue and peppery flavor and has been used for thousands of years as both a cooking spice and a medicine. It enjoys widespread popularity as an ingredient in various home remedies. Medical research into turmeric's curative effects even includes fighting cancer and lowering cholesterol.
Home Remedies With Turmeric

Indigestion Remedy
A teaspoon of turmeric mixed into a cup of yogurt (or other) makes a good home remedy for indigestion. According to the University of Maryland Medical Center website, the curcumin in the turmeric stimulates the gallbladder to produce bile, which may aid digestion.
Antiseptic Properties
Mix turmeric powder with honey to make a paste, and apply over freshly-washed cuts and scrapes to prevent infection. Turmeric has antibacterial and antiseptic effects; it can also be used to control bleeding from fresh cuts.
Home Remedy for Arthritis
People suffering with arthritis can turn to turmeric to treat their symptoms of painful, stiff joints. A paste made by mixing a teaspoonful of turmeric with extract of ginger is applied to affected areas. According to the National Library of Medicine website, curcumin in turmeric lowers levels of inflammatory enzymes.
Cold and Respiratory Infections
To combat colds and respiratory infections, mix 1 tsp. of turmeric powder and 1/4 tsp. of crushed black pepper into a cup of milk. According to the National Library of Medicine, turmeric may have antiviral properties.
Migraine headaches
Take one half teaspoon turmeric with 1/4 teaspoon of black pepper and swig it down with some liquid. Within 15 minutes it's working to alleviate your pain. Also works wonders on joints and muscle pain in this way.
Antidepressant
Research at Baylor University Medical Center held clinical trials to show that curcumin (curcumin is extracted from turmeric) is nearly as powerful as Prozac, when it comes to easing depression symptoms.

NOTE: Buy your turmeric from reputable brands and sellers. I have read that there have been issues with some turmeric being counterfit. This is also true of many other spices as well. When I first read about this awhile ago, I stopped buying my spices based on price alone (discount stores, little known brands and labels, etc.) and now I mostly buy from known brands and companies (I always look at online reviews such as from Amazon).

Do you have your own home remedies or experiences while using turmeric?