Emergency Preparedness Merit Badge Requirements & Commentary
I love the Scout motto, Be Prepared!
It fits right in with the theme of our site here on Modern Survival Blog and the things we often talk about.
Lets have a look at their Emergency Preparedness Merit Badge.
Why? Because I think it's cool that they have such a merit badge topic and I'll bet that we can learn something as a result.
I'm going to list the requirements, and comment about them. There's a link to the Scouts page at the end for the exact requirements (though I believe I've captured the bulk of it here).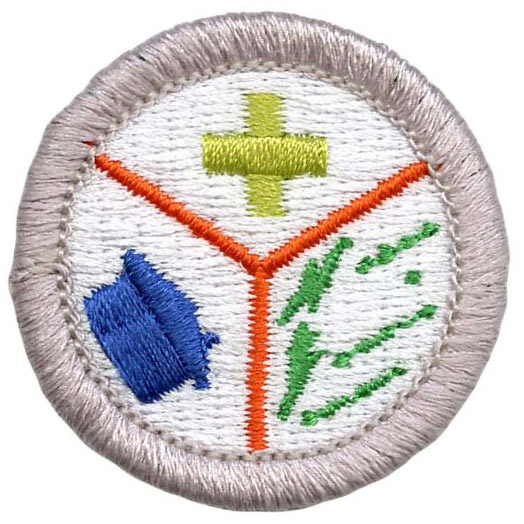 Why get the Emergency Preparedness Merit Badge?
1. This merit badge is an option for the Eagle Scout rank.
2. It's an option for the National Outdoor Badge for Adventure.
3. The badge is also an option for the Emergency Preparedness BSA Award.
Plus, it's just good to know!
How do you get the Emergency Preparedness Merit Badge?
First Aid merit badge comes first
Here's what I find interesting and insightful:
The FIRST requirement is you MUST earn the FIRST AID merit badge.
This puts emphasis on the importance of knowing basic First Aid.
First Aid is one of the more likely skills that a prepared person may have to call upon during a real disaster.
People get hurt. We're first concerned about the well being of people. Not the 'stuff'. Have a good foundation in at least the basics of First Aid!
There are books, reference manuals, and if you look for it – there are often courses that you can take. Some are quickie sessions while others are more in depth. Talk to your local Fire Department about it.
5 Mandatory Requirements for the Emergency Preparedness Merit Badge
1. Home kitchen fire
2. Home basement/storage room/garage fire
3. Explosion in the home
4. Automobile crash
5. Food-borne disease (food poisoning)
Each of these topics need to be covered with the following aspects:
Prevention
Protection
Mitigation
Response
Recovery
I want to pause for a moment on this…
Pretty much every in depth preparedness topic that we talk about here on the blog should be thought about in context with this list of five aspects (prevention to recovery). It helps you to think about each topic in a logical way / timeline.
The first three topics focus on fire (in the home). That makes good priority sense. We spend a lot of time at home. A home fire is a very real threat and perhaps more likely to happen than some of the many other risks out there.
Related: How to Put out a Grease Fire
House Fire Tips
The next requirement (auto accident) is also sensible. Again, a scenario that any given person may eventually experience in today's busy world.
The final mandatory topic for the emergency preparedness merit badge is food-borne illness or food poisoning. Makes sense…
5 Additional Requirement Topics
After completing the five topics above, the Scout must choose five additional subjects from the following list:
– Fire or explosion in a public place
– Vehicle stalled in the desert
– Vehicle trapped in a blizzard
– Earthquake or tsunami
– Mountain/backcountry accident
– Boating or water accident
– Gas leak in a home or a building
– Tornado or hurricane
– Major flooding or a flash flood
– Toxic chemical spills and releases
– Nuclear power plant emergency
– Avalanche (snowslide or rockslide)
– Violence in a public place
Again, each chosen subject must be covered with the context from Prevention to Recovery, and all that's in-between.
Build a Kit, Make a Plan
"Meet with and teach your family how to get or build a kit, make a plan, and be informed for the situations (listed above). Complete a family plan."
[Ken adds: How many times have we talked about having a emergency plan? A kit (kits for varying purposes?) LOTS!]
Show how you could safely save a person from the following:
(a) Touching a live household electric wire.
(b) A structure filled with carbon monoxide.
(c) Clothes on fire.
(d) Drowning, using nonswimming rescues (including accidents on ice).
[Ken adds: Excellent practical knowledge! ]
Show three ways of attracting and communicating with rescue planes/aircraft
Transport Injured Person
With another person, show a good way to transport an injured person out of a remote and/or rugged area, conserving the energy of rescuers while ensuring the well-being and protection of the injured person.
(Not as easy as it might sound! Rescues can be hard work and require enough people to deal with it – depending…)
I watch a television series called North Woods Law (some of it filming in my 'backyard' -almost literally). The show originally started in Maine (Warden Service). Though it's currently about the New Hampshire Fish & Game Department dealing with the various issues that they encounter. Some of which have been mountain rescues. I've watched a few episodes (on trails that I've been on) where they've had to stabilize and then carry an injured adult 2 miles down a mountain slope to a waiting ambulance. Now that's work!
Okay, back to the requirements:
Emergency Preparedness Merit Badge
Do the following:
(a) Describe the National Incident Management System (NIMS) and the Incident Command System (ICS).
(b) Identify the local government or community agencies that normally handle and prepare for emergency services similar to those of the NIMS or ICS.
Explain to your counselor ONE of the following:
(1) How the NIMS/ICS can assist a Scout troop when responding in a disaster
(2) How a group of Scouts could volunteer to help in the event of these types of emergencies
(c) Find out who is your community's emergency management director and learn what this person does to prevent, protect, mitigate, respond to, and recover from emergency situations in your community.
[Ken adds: I especially agree with knowing "who" in your town is the responsible party when it comes to local emergency situations. In my little town, it's the Fire Chief (all volunteer FD).]
Emergency Preparedness Merit Badge
Do the following:
(a) Take part in an emergency service project, either a real one or a practice drill, with a Scouting unit or a community agency.
(b) Prepare a written plan for mobilizing your troop when needed to do emergency service. If there is already a plan, explain it. Tell your part in making it work.
Emergency Services
Tell the things a group of Scouts should be prepared to do, the training they need, and the safety precautions they should take for the following emergency services:
– Crowd and traffic control
– Messenger service and communication.
– Collection and distribution services.
– Group feeding, shelter, and sanitation.
Prepare a personal emergency service pack for a mobilization call. Prepare a family kit (suitcase or waterproof box) for use by your family in case an emergency evacuation is needed. Explain the needs and uses of the contents.
Emergency Preparedness Merit Badge
Do ONE of the following:
(a) Using a safety checklist approved by your counselor, inspect your home for potential hazards. Explain the hazards you find and how they can be corrected.
(b) Review or develop a plan of escape for your family in case of fire in your home.
(c) Develop an accident prevention program for five family activities outside the home (such as taking a picnic or seeing a movie) that includes an analysis of possible hazards, a proposed plan to correct those hazards, and the reasons for the corrections you propose.
All that for a Emergency Preparedness Merit Badge!

RESOURCES for the Emergency Preparedness Merit Badge:
Requirements list – directly from scouting.org
Merit Badge Requirements & Resources from meritbadge.org

I wonder how many of you knew the extent to which it takes for a Scout to earn such a merit badge. The more young people that know this stuff, the better.
This, along with much of the rest of Boy Scout culture, makes for more self reliant individuals! That's a good thing!
Scouts Oath, Scout Law, Motto, Slogan
Boy Scout Oath or Promise
On my honor, I will do my best
To do my duty to God and my country and to obey the Scout Law;
Help other people at all times;
To keep myself physically strong, mentally awake and morally straight.
Boy Scout Law
A Scout is:
Trustworthy,
Loyal,
Helpful,
Friendly,
Courteous,
Kind,
Obedient,
Cheerful,
Thrifty,
Brave,
Clean,
and Reverent.
Boy Scout Motto
Be Prepared!
Boy Scout Slogan
Do a Good Turn Daily!
The Outdoor Code
As an American, I will do my best to –
Be clean in my outdoor manners
Careful with fire
Considerate in the outdoors, and
Be conservation minded.
CONCLUSION
[Ken adds: When I was young, I was involved in a similar program to that of the Scouts. It was called the Cadets and was part of the church we attended during that time. I really enjoyed the activities, being outdoors and learning some of those early lessons such as making a fire, shelter, map reading & navigation, etc.. Good memories.]
This kind of learning is great for our kids.
Have any of our MSB readers been involved with the Scouts?
Note: We're not going to talk about the politics of the Boy Scouts of America and how they've integrated with having girls being able to join up. I see pros and cons there, but not for this discussion. Thanks.