Midland WR400 NOAA Weather Alert Radio Honest Review
I've recently added the Midland WR400 Deluxe NOAA weather radio to my collection of 'weather alert radios'. It has now been in operation long enough for me to provide my opinion. An honest review. I was hoping for perfection. But alas, it is an endless quest..
Years ago I had the WR300 and really liked it. I also had the WR120. While apparently afflicted with a desire to find the best weather alert radio, I also had purchased a Sangean CL-100, which to this day has the best sounding audio of any in its class. However there was something about the Sangean that it lacked. A particular feature that the Midland WR400 does have. This led to a renewed itch to purchase Midland's latest – the WR400.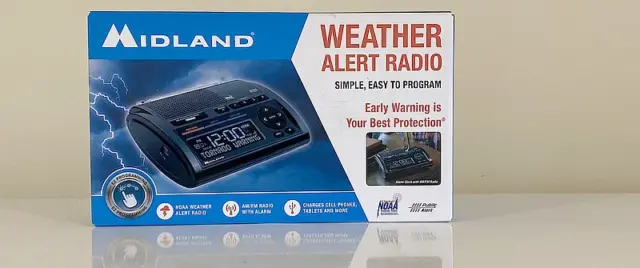 >> Check latest price on amzn
(but keep reading this review!)
Why did I get the Midland WR400, especially since I have the best sounding audio weather alert radio, the Sangean CL-100? Because the CL-100 can't do one of the things that the WR400 can do. That is, pick and choose which alerts will trigger the weather alarm.
Although there are a number of fixed alerts that cannot be overridden (for good reason!), I wanted the ability to shut off anything to do with a flood (watch, warning, advisory, statement, etc..). Since we've had a very wet and rainy summer, this alert has been sounding too frequently (some in the middle of the night!). I do live in the mountains where rivers and streams are certainly affected, and this warning is very important for hikers, waterside camping, or anyone living on rivers edge. However my home location will never be affected. So I want the ability to shut it off. Therein comes the Midland WR400.
Midland WR400 – Key Things That I Like, and Don't Like
I'm not going to list all of the features here. You can browse through it all in the owners manual which I've linked below (PDF), or the product link (above). But I will briefly hit on a few key takeaways from having used the WR400 for awhile now..
What I don't like about the Midland WR400
First, unlike most reviews which begin with all of the good stuff (or only present the good stuff), I will start with what I am somewhat disappointed about in the Midland WR400.
While the audio quality is not bad, I would actually call it just 'good' for what it is. It's not comparable to the rich sound from the Sangean CL-100 (check it on amzn). If you're going to use the AM/FM radio a lot, the Sangean might be your preferred choice (although with its own caveats too).
There is one volume control on the side. A thumbwheel. It adjusts the volume from the radio, and, the volume of the weather alert spoken report or announcement. Unfortunately, after setting the AM/FM radio for a good listening level, it leaves the weather alert (spoken announcement / report) too quiet. If the volume is adjusted for a good listening level of the spoken weather report (which is activated by pressing the 'WEATHER' button), then when returning to the AM/FM radio, it's too loud. Just a volume offset annoyance. They could have done better.
The weather alert siren/tone/alarm volume is fixed (85dB), and cannot be adjusted (you could do this in the WR300). This may now be some sort of regulation. Yes, it is loud, but thankfully not as loud as the WR120 (which in my opinion was ridiculous). Bottom line, I think they got the alert siren volume in the right dB range that fits most uses. Not a big deal.. But I would like to set the siren a bit lower (~ 80 dB?) if used in the bedroom – thus hopefully avoiding a potential cardiac event when it sirens.. but most all of them are this way.
What I do like about the Midland WR400
Okay, now some of the things that I like about the Midland WR400.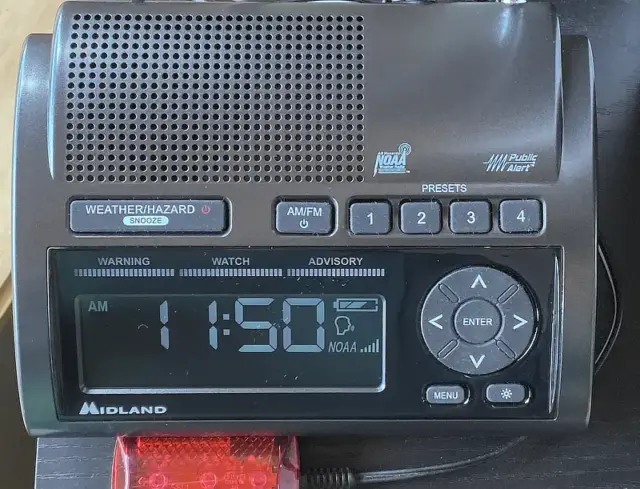 Mainly, the ability to select which alert events will sound the siren alarm. This is important to me. And it may be for you too.  Turn off alerts for things that you don't care about. Conveniently, there are several preset programs to choose from. ALL ON, ALL OFF, ALL DEFAULT, or EDIT EVENTS. It's the "EDIT EVENTS" feature that inspired me to purchase the WR400.
>> Selectable Weather Alert Reference Chart
Setting your local area for weather alerts. Though not personally a big deal for me (a sort of tech geek), the WR400 has the convenience of not having to know (or find out) the 'SAME' county code for your area during setup. All you have to do is select your state in the menu, and then your county name. Done. And if you're traveling with it, it's just as easy.
>> YouTube (MidlandUSA) how to program the WR400
USB charge port on the side. I don't use this particular radio in my bedroom. But if you did, say on your nightstand (it also has a clock and regular alarm via radio or tone), you could charge your phone overnight. That is convenient.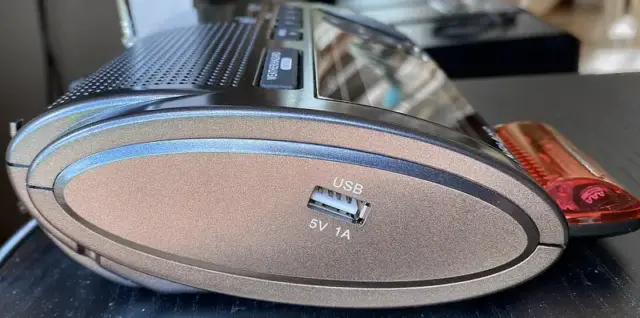 External accessory jack for strobe light and/or pillow shaker. I do utilize the accessory jack for a strobe light. Although I'm not hard of hearing (though perhaps a touch of 'selective hearing' if you ask Mrs. J), the strobe light is a cool add-on accessory feature. It certainly adds a visual 'urgency' when it's triggered! Here's a kit that includes both a strobe light and a pillow shaker.
>> Bundle Kit
(amzn)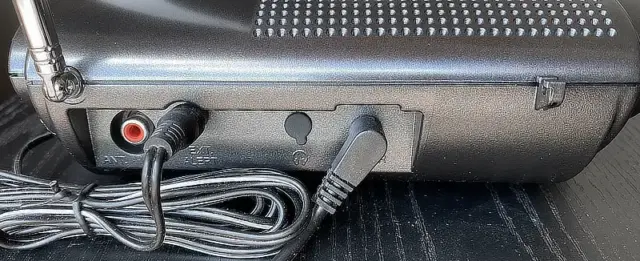 Something I noticed about the WR400 vs proximity to tower
The nearest NOAA broadcast station antenna is probably about 15 miles away, direct line of sight. I can actually see the antenna tower complex at the mountain top location with binoculars or spotting scope. I've noticed that the WR400 weather audio reception actually sounds a bit better with the telescoping antenna lowered. When all the way up, I get the feeling it's overloading just a tad. This suggests that the radio front end might be having a bit of trouble with closer proximity RF energy (although I'm not all that close)? On the other hand, it may also mean that the radio will fare better for those further away? I don't know. It's just something that I noticed. So I leave the antenna down, which only protrudes about 6 inches.
The nerd in me is always on the hunt for the best weather alert radio with all the features and performance that I want. The problem likely is the cost of manufacturing such a 'best' weather alert radio (grin). So, there's always compromise. Anyway, there are several good ones out there. It's a good idea to have one (even though today's cell phone apps are capable of providing these alerts).
[ Read: NOAA Frequencies and Weather Radio Station Near Me (Maps & List) ]
[ Read: Lightning Dangers, Facts, Risks, Tips ]