The Highest Threat Volcanoes in the United States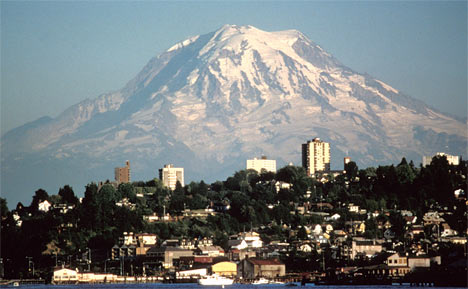 In the years since the cataclysmic eruption of Mount St. Helens, scientific and technological advances in volcanology have enabled new models of volcanic risks and assessment.
One such assessment and monitoring model proposed by the USGS, the 'National Volcano Early Warning System', contains a very interesting list.
It is a categorization and risk assessment of volcanoes in the United States, including these which are classified as the highest threat of them all…

The NVEWS is an assessment of the United States volcanoes and their monitoring needs based on the threats posed by the 169 volcanoes which are geologically active within the nation.
Roughly half of the Nation's 169 young volcanoes are dangerous because of the manner in which they erupt and the communities within their reach.
Volcanoes produce many kinds of destructive phenomena and operate on individual time scales, some progressing to eruption very quickly (days to weeks), others needing months to a year or more.
While we most often hear of volcanoes and eruptions in other parts of the world, there are potentially dangerous volcanoes within the United States.
The USGS NVEWS list was created by analyzing and weighing many factors of each individual volcano. Some of these eruptive hazards and factors include…
Volcano type
Occurrence of unrest
Frequency of past eruptions
Tendency toward explosivity
Airborne-ash hazard to aviation
Carbon-dioxide degassing from soils and lakes
Far-reaching lateral blasts
Scope of volcanic mudflows
People and property risk
Exposure factors
Power generation/transmission hazards
Most Dangerous Volcanoes in the U.S.
Washington
Glacier Peak
Mount Adams
Mount Baker
Mount Rainier
Mount St. Helens
Oregon
Crater Lake
Mount Hood
Newberry
Three Sisters
California
Clear Lake
Lassen Volcanic Center
Medicine Lake
Mono-Inyo Craters
Mono Lake Volcanic Field
Mount Shasta
Wyoming
Yellowstone
Hawaii
Hualalai
Kilauea
Mauna Loa
Alaska
Akutan
Amak
Amukta
Augustine
Black Peak
Bogoslof
Chiginagak
Churchill
Cleveland
Dana
Douglas
Dutton
Edgecumbe
Fourpeaked
Hayes
Kaguyak
Kasatochi
Kiska
Kupreanof
Makushin
Recheshnoi
Redoubt
Seguam
Spurr
Vsevidof
Wrangell
Yantarni
Yunaska

Do you live near any of these volcanoes? Even if you don't, you could be affected by an eruption. It's always good to know the threats around you…