Plan For, And Escape Smoke & Fire In Your Home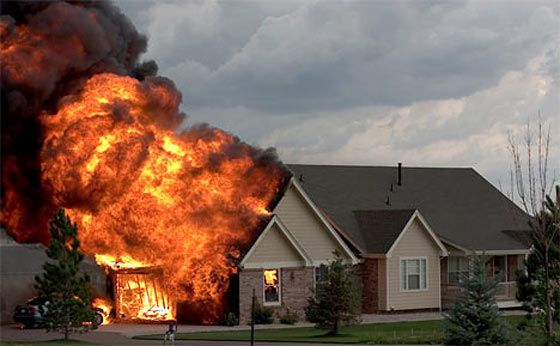 image: public domain
Even a small fire can spread rapidly. An entire house can be engulfed in 3 minutes. You need to have a plan and be ready to act fast.
Here are some important tips to stay safe during a house fire…
REPLACE SMOKE DETECTORS EVERY 8 YEARS
Smoke detectors have a shelf life. They should be changed every 8-10 years according to the U.S. Fire Administration.
TEST YOUR SMOKE ALARMS; CHANGE BATTERIES
Smoke alarms should be on every level of the home. Make sure your smoke detectors work. Press the 'test' button. Change batteries annually, even if they are powered by your house AC wiring (most have backup batteries). Use a major holiday as a reminder – New Years for example, or when changing the clocks (daylight savings time, etc..).
KNOW HOW TO PUT OUT A GREASE FIRE
The safest way to put out a grease fire burning in a pan is to remove the oxygen.
Here's how…
FIRE EXTINGUISHERS
Keep several fire extinguishers in the home. At least one in or near the kitchen and one in your bedroom.
HAVE AN ESCAPE PLAN AT HOME
At home, imagine yourself in each and every room, and understand how you would protect yourself or get out if a fire was near or blocking a doorway. Plan secondary escape routes in advance.
WINDOW ESCAPE LADDER
Keep a quick-escape ladder in every 2nd-story bedroom. Most are designed to quickly attach to a window ledge while the rungs hang down outside. These can be stored under a bed and ready to use if you are trapped and have no other safe alternative. Practice deploying the ladder.
Window Escape Ladder
TEST DOORS FOR HEAT
If a smoke alarm goes off while you're in a closed room, first feel the doorknob, hinges, or the door itself for heat before opening. Use the back of your hand because it's easier to accurately determine the temperature this way. If the door is warm, use your secondary exit. Know that doors can get hot enough to actually burn you without appearing to be very hot at all.
HAVE AN ESCAPE PLAN WHILE STAYING AT A HOTEL
If traveling and staying at a hotel (or wherever), take a few seconds and think about how you would escape a fire. Know where the nearest exits are. This is important (most people don't give it a thought). Always bring a flashlight with you and keep it next to your bed.
REACT
When a smoke alarm sounds unexpectedly, your primary objective is to get out of the building safely. Do not give a thought to collecting any of your things. Seconds count – so get out.
STAY LOW TO THE GROUND
If the door is cool, open it slowly and take a look at the conditions on the other side. If there is a lot of smoke and it's banked up towards the ceiling, stay low to the ground and crawl to get yourself out. Hot smoke is toxic, scorching, and rises towards the ceiling so keeping close to the floor can help you avoid inhaling or being burnt.
PROTECT YOURSELF FROM SMOKE INHALATION
If necessary, cover your nose and mouth with a wet t-shirt, rag, etc.. to help to filter the products of combustion which lead to smoke inhalation. Smoke inhalation causes people to become disoriented and can even render a person unconscious.
GET TO WHERE PEOPLE CAN SEE YOU
If you are trapped in an upper floor room, do whatever you can do to get to an area where people will be able to hear you or see you. You can take a sheet or something else – and hang it out the window to signal that you need help when the first responders get there. Be sure to close the window because leaving it open draws fire towards the fresh oxygen. Use a towel or anything else at the bottom of the door to prevent the smoke from coming underneath.
STOP, DROP, ROLL, COVER
If you are on fire, stop, drop, and roll and cover your face.