Covid-19 Management & Vitamin Supplement List (Ivermectin Update)
Supplement Recommendation Measures For Immune System as it relates to Covid-19, and important information about Ivermectin.
UPDATE: I have just added lots more information about Ivermectin, which is proven to dramatically hinder the progress of Covid-19, if infected…
"Prophylaxis" : measures designed to preserve health (as of an individual or of society) and prevent the spread of disease.
Someone here on MSB recommended a link to a PDF from Eastern Virginia Medical School. It is titled, "Critical Care COVID-19 Management Protocol" (summary to a more detailed paper).
It's a PDF (linked below) which lists treatment for Covid-19. It includes preventative efforts as well as treating mildly symptomatic Covid-19 at home, and at Hospital.
The reason I'm posting this is because I found it interesting that I'm taking most of the same supplements as recommended in their document.
[ Read: My Daily Vitamin Supplements For Health and Well Being ]
Prophylaxis for Covid-19
Vitamin C 500 mg BID (twice daily)
Quercetin 250 mg daily
Vitamin D3 1000-4000 u/day
B complex vitamins
Zinc 30-50 mg/day
Melatonin (slow release): Begin with 0.3mg and increase as tolerated to 2 mg at night
Ivermectin for post-exposure prophylaxis (200 ug/kg immediately, then repeat on day 3) and prophylaxis in high-risk groups (200 ug/kg day 1, then day 3 and then every 4 week s)
(New Ivermectin Information Below)
I have researched this since Covid-19 came on scene. There are many sources of information for recommendations to help one's-self for better resilience of Covid-19, and better immune system in general.
The list of supplements are widely agreed upon to varying extents by many reputable sources.
*It is always good (better) to consume foods which contain the nutrients you're looking for. When you can't get enough that way, then supplements are the next best thing.
ZINC
For example, I wrote about foods that are high in zinc. Meat has a good amount of zinc (as one example). But to get the 30 mg as listed above, that would equate to about ~ 20 ounce steak a day. While that might be delicious, a supplement would be helpful. I take a 30 mg supplement every day.
>> Nature's Way Zinc Chelate, 30 mg
(view on amzn)
[ Read: Foods High In Zinc For Your Body Immune System ]
VITAMIN D
Most people are vitamin D deficient. Especially during the winter! I take a 5,000 IU supplement of vitamin D3 each day.
>> Nature Wise D3, 5000iu
(amzn)
[ Read: Low Vitamin D ]
VITAMIN C
There are some fruits and vegetables that provide a decent amount of vitamin C. However it is well known that vitamin C supplementation is favorable to one's immune system. I use vitamin C powder and add it to a glass of water and make each dose 500 mg. I drink two glasses of this a day.
[ Read: Vitamin C Fruits and Vegetables Highest in Vitamin C ]
B-COMPLEX VITAMIN
Again, this is widely recognized as a good thing. I take one tablet of "B Super Complex" each day.
>> Super-B Complex
(amzn)
Quercetin
I discovered Quercetin during my early research of Covid-19 and immune system support. I take a 250 mg tab each day.
>> Life Extension Optimized Quercetin
(view on amzn)
MELATONIN
This was interesting. So, melatonin is a sleep aid. We keep a bottle of 3 mg tablets, just in case. They make it in a variety of strengths. I definitely would not take this unless I wanted to get sleepy! So not during the day for sure! Anyway, it's listed for Covid-19 from 0.3 mg to 2 mg. Maybe a small dosage at night before bed?
>> Nature's Bounty, 3mg
(amzn)
This is by prescription only here in the United States. Consult your doctor.
Unfortunately not all doctors are prescribing this. Which in my view (and the opinion of many, many doctors) is ridiculous, and even unethical. Watch the video I've included below this section. Hundreds of thousands in the U.S. alone have probably needless died because they were not prescribed Ivermectin during early onset of the disease.
Ivermectin Dose for Covid-19
The Ivermectin dosage for Covid treatment is widely established. Worldwide. Search yourself and you will find MANY reputable sources to establish this fact. Just don't use 'G r o o g l' because they unfortunately hide this type of information. Which is also ridiculous because this information is NOT controversial. It's proven fact. All over the world. Do you due-diligence and you will see for yourself…
As listed above (and anywhere else you'll look), for normal adults,
"200 ug/kg immediately, then repeat on day 3"
Let me translate that…
200 micrograms per kilogram of your weight. Or…
90 micrograms per pound.
If you happen to weigh 185 pounds, that's 90 x185 = 16650 micrograms.
16650 ug (micrograms) / 1000 = 16 mg (milligrams) (rounded)
A tablet of Ivermectin (Stromectol) is typically 3 mg.
So in this example, the 185 pound human would take 5 (or 6) of these tablets per dose of Ivermectin.
"Stromectol should be taken on an empty stomach with water."
Stromectol (Ivermectin) Dosage and Administration
Here's a chart from drugs.com for Stromectol (Ivermectin) which lists this exact dosage, although for treating a different condition (Ivermectin works on lots of other disease too). So I will use this chart to translate/equate to American units (pounds) versus number of tablets.
| | |
| --- | --- |
| Body Weight | Single Oral Dose |
| (kg) (pounds) | Number of 3-mg Tablets |
| 15-24 kg (33 – 53 pounds) | 1 tablet |
| 25-35 (55 – 77 pounds) | 2 tablets |
| 36-50 (79 – 110 pounds) | 3 tablets |
| 51-65 (112 – 143 pounds) | 4 tablets |
| 66-79 (145 – 174 pounds) | 5 tablets |
| ≥80 (>176 pounds) | 200 mcg/kg (90 mcg/pound) |
Getting Out The Ivermectin Message
There are many, many doctor voices and organizations screaming out to push this important message. They've been trying here in the U.S. for a long time. But very powerful politics and agendas are in their way.
One organization of doctors is called Front Line COVID-19 Critical Care Alliance, Prevention & Treatment Protocols for COVID-19. Very interesting information if you're interested to check it out.
Here are some current results of Ivermectin trials under way as of this post update: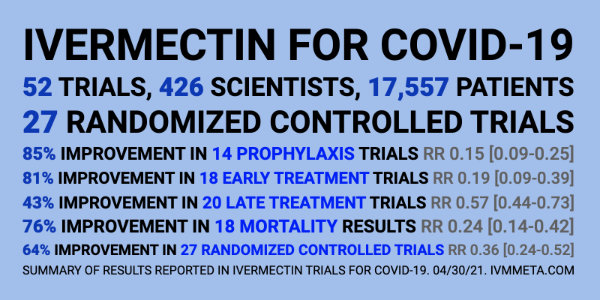 Here's another:
Ivermectin for COVID-19: real-time meta analysis of 52 studies
And more:
Review of the Emerging Evidence Demonstrating the Efficacy of Ivermectin in the Prophylaxis and Treatment of COVID-19
Contributors to the above study include:
Front-Line Covid-19 Critical Care Alliance
Memphis VA Medical Center, Univ. of Tennessee Health Science Center, Memphis, TN
Hackensack School of Medicine, Seton Hall, NJ
Chief of Critical Care at United Memorial Medical Center in Houston, TX
Center for Balanced Health, New York
Recovery Without Walls
Volda Hospital, Volda, Norway
Princess Elizabeth Hospital, Guernsey, UK
Lung Center of America, Dayton, Ohio
Eastern Virginia Medical School
Doctor Ryan Cole
He recently spoke about the subject of importance for Vitamin D as well as Ivermectin (among other Covid topics). I highly recommend you watch it (28 minutes).
However if you want to jump to the Ivermectin part, it begins at the 14:30 mark.
[ Read: VIITAMIN-D Should Be The Public Health Message For Covid ]
OKAY, I HOPE THIS HAS BEEN OF INTEREST…
Maybe this will be of interest to some of you. Prevention is a good thing. A healthy body and immune system is a very good thing!!!
Fortunately Covid-19 has a very high survival rate for most people.
Age 0-19: 99.997%
Age 20-49: 99.98%
As you all should know by now, the highest risk groups are the very elderly with comorbidity issues / other health problems. But even with that said, a 99.5% survival rate for those 50 – 69 years of age (including those with comorbidity issues). And 94.6% for 70+ with the caveats mentioned.
"An ounce of prevention is worth a pound of cure." Which is why I supplement as indicated above.