Bandana uses. There are many! Because of this, the bandana is a great multipurpose preparedness item.
I keep an assortment of various size bandanas with a variety of prints. I have used them for all sorts of things.
Besides one obvious use (forehead sweatband), I also use a pair of bandanas to wrap two Baofeng radios that I keep in my truck door. I mean really, there are a bazillion uses for them!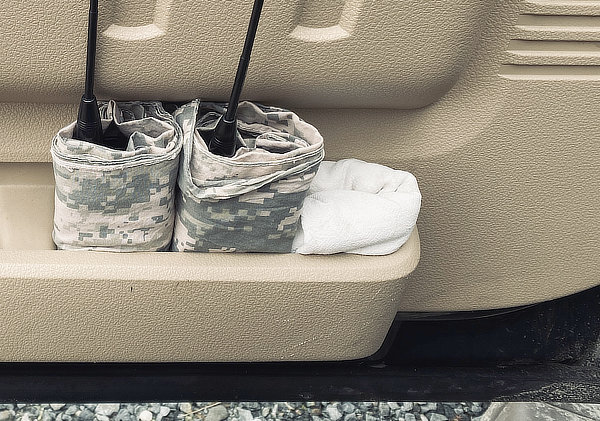 Here's a list of the many uses for a bandana. Add your own uses in the comments below:
Bandana Uses
Forehead wrap to absorb sweat.
Head cover (shade from the sun).
Neck scarf / gaiter.
Nose & Mouth filter.
Camouflage your face.
Hide your identity.
Handkerchief.
Tie things together.
Wrap things to protect them.
Towel (all purpose rag).
1st-stage water filter to strain out sediments.
Strainer (general purpose).
Hold small objects (hobo bag).
Marker or Flag.
Splint.
Weapon (fill with rocks, tie into bundle, throw, sling, or wield).
Wound dressing for emergency.
Kindling fire-starter material, or to make ash cloth.
Grip (wrap for a more secure grip on things).
Pot holder (for a hot pan handle).
Dish rag.
Blindfold.
Handcuffs.
Tourniquet (twist tight with a stick).
Pressure Bandage (apply pressure – stop bleeding)
Coffee filter.
Bib.
Pillow (fill with leaves, etc. and tie closed).
Gag (to silence someone).
Egg Carrier.
Fanny Snapper.
Group Identifier (wearing the same color/print/placement)
Napkin.
Eye cover (while napping).
Feminine hygiene.
Diaper.
Hair tie up (ponytail, etc..).
Shoulder pad (extra cushion under backpack straps, etc..).
Emergency flag for broken-down vehicle (tie to antenna, hang out window).
Place-mat.
Tie-down (general purpose).
Toilet 'paper'.
A sporty neck wrap for your dog…
A sling for a broken/injured arm.
Water-boarding.
Belt (may require several bandanas!).
Pocket pistol wrap (reduce 'printing').
Emergency socks.
Soak in cold water to cool down.
Wrap cell phone (protect screen from scratches in a bag / pocket).
Covid face diaper.
Clean your glasses.
Counter-pressure for headaches (tie tightly around forehead)
Bikini top.
[ Read: Other Uses For A Toilet Wax Ring ]
[ Read: The Many Uses For A Game Cam ]
>> Rothco, Large, 27" x 27"
(view on amzn)
>> Made in USA – Military Army Trainmen Paisley 22″ x 22″

Factoid: The popularity of the bandana and kerchief was at it highest point in the 1970s, 80s and 90s depending on one's location.
What are some of your ideas for uses of a bandana?