Gas Siphon Pump – 3 Excellent Choices For Fuel Transfer
How many of you at one time or another wished you had a gasoline siphon pump? Ever got a mouthful of gas doing this? So, what's the best gas siphon pump? Read on…
Making it easy to transfer gas, oil and other liquids from a tank to a container. There are plenty of scenarios where it may be useful to transfer gasoline from one tank to another.
Best Gas Siphon Pump
Siphon or pump the gas from another tank
Helps with draining old gasoline
Winterizing / drain gas tanks / run engine till stall
Lawn mowers, tractors, snow blower, ATV, etc..
Get gas from another vehicle
Transfer gas from car to can or lawn mower
Empty stale gas
Siphon gas from car into your generator
Preparedness (see below)
Actually I'm going to show you five products. I have three of them. A traditional gas siphon with squeeze bulb, one with a hand pump, and a battery operated pump.
I have this gas siphon with the rubber 'bulb'. Simple. Effective. Gets the job done.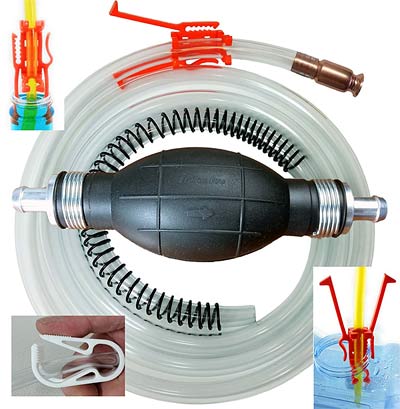 Gasoline Siphon Pump ( Manual pump )
Siphon Pro XL – Largest Siphon for Gas – Diesel – SEE VIDEO – USA
(view on amzn)
This transfer pump has the largest siphon bulb of all.
Note: Siphoning requires that the source tank be higher up than the container you're filling (gravity does the work once the flow is started).
That said, this particular siphon will enable pumping higher than the source tank by utilizing a shut-off clamp and the large siphon bulb. There's a video showing how it's done.
Also, with a long enough hose (you can always buy a longer hose from a hardware store if needed), a gasoline siphon pump could also potentially work to remove gas from another vehicle's gas tank into yours.
This particular siphon has 8 feet total and it's 5/8 hose.
Note: A capless gas tank funnel might be needed to push through the 2nd flap depending on your (modern) vehicle (e.g. newer Fords).
Ford Fuel Filler Funnel
(view on amzn)
Gasoline Siphon With A Hand Pump
I have one almost exactly like this one. They work the same way… It utilizes a manually-operated hand pump to get the flow going. I also use this to pump out the gasoline from my lawn equipment before winter. Also for draining fuel from the generators.
Tip: The hose gets somewhat pinched / crimped in the packaging. Lay it out in the hot sun (stretch out, weight it down) to help restore it. Or, place the coiled up hose in a bucket of hot water for awhile. Then work out any kinks. Hey, this thing is not expensive, so I'm just saying…
Koehler Enterprises RA990
(amzn)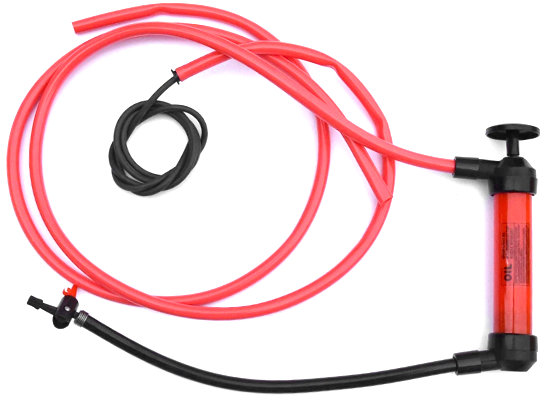 I do not have the next one. But I mention it because it sure would be nice to have (grin).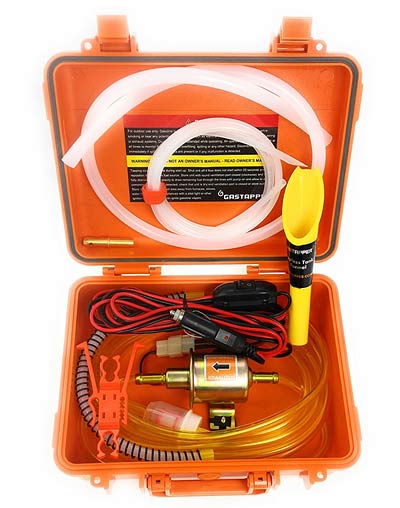 Gasoline Pump ( 12 volt )
12V Gasoline Transfer Pump/Siphon
(view on amzn)
For easy and efficient transfer, you might consider an electric (12 volts DC) siphon pump. Use your own vehicle's battery power to get the job done.
It will pump (rather than siphon) gas (or diesel) from another tank.
The nice thing here is that you don't have the requirement of the source tank being higher up than the capture tank, and you'll avoid getting a mouthful of gas from a traditional siphon.
It also apparently has the added capability of being able to transfer fuel out of many modern cars (adapter included).
I do have this battery operated gas pump for gas cans. It's not really a siphon. But Mrs. J likes it because she doesn't have to tip the heavy gas can into the mower (or whatever).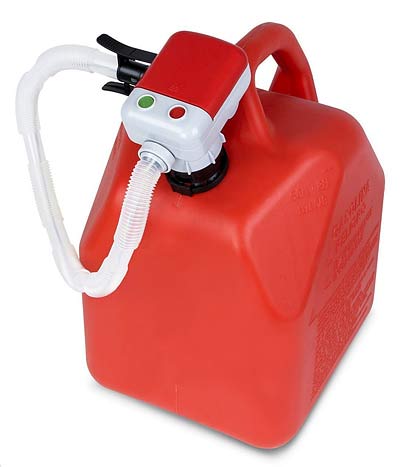 Battery Powered Gas Can Transfer Pump
No More Gas Can Lifting / Fuel Transfer Pump
(view on amzn)
Here's another nice product that I purchased last year. Mrs.J really appreciates it… A battery operated (4-AA batteries) pump that fits on to a 5-gallon gas container.
It eliminates the requirement (and strength) to hold the heavy gas can (about 30 pounds for 5 gallons) in position while filling something… instead you just pump it in (3 gallons per minute).
Great for filling up the lawn mowers, snow blower, whatever…
Perfect for filling a generator too.
UPDATE: Now they have a variant of this. Same technology. See photo below. However you simply put the pump end into the gas can (temporary).
'Jumbl' Automatic Fuel Transfer Pump with Auto-Stop (like the one above). It does have a more powerful battery (two D size batteries). Longer fuel hose. 2.3 Gal/Minute.
Jumbl xfer pump
(amzn)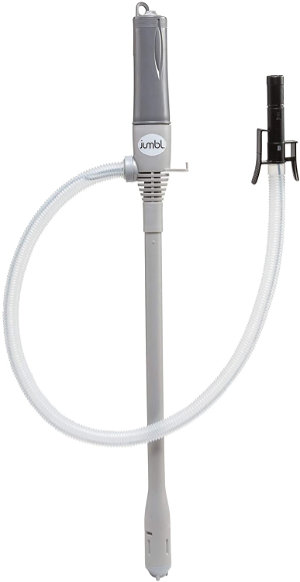 Gasoline Siphon Pump For Preparedness
The scenario: The grid went down. No electricity.
Among the many problems that you are now facing, one of them is non-functioning gas pumps (no electricity). And when your tanks run dry, and when you've used up your storage of gas cans, that's it… you're out.
But maybe not! There will be gasoline in other vehicles, gas storage tanks, and anywhere else with gasoline-operated equipment. You just need to get it out…and transfer it to where you need it.
During emergency situations such as this, Generators will be the #1 consumer for gasoline during this time. And it won't take long before people run out of their typical 5-gallon gas storage.
Don't forget the Fuel Stabilizer!
Sta-bil Fuel Stabilizer
(view on amzn)
[ Read: How To Fix New Gas Cans So They Actually Pour Right ]