How To Fix New Gas Cans So They Actually Pour Right
New gas cans are horrible, right?
New Gas Cans Are Horrible
Over these past years, the technology of gas cans seems to have become more and more complicated. The rickety triggers and valves on nozzles which (I'll guess) look like they had been designed by a committee of bureaucrats who had absolutely no idea of the purpose or application of a gas can.
The spouts are complicated and so cheaply made, they never seem to work, even if you follow their logic. And they seem to require three hands to operate. Plus the venting is bad. Bottom line: I wind up spilling more gas with the new ones than the old – what a waste. The law of unintended consequences at work, I guess.
From my point of view, a gas can should safely hold gas, which the user can then safely pour into whatever tank it needs to be in, without wastage.
So, how to pour gas out of a can the easy way?
How To Fix New Gas Cans
First suggestion is to find and use older gas cans. The ones with the uncomplicated spouts and a separate air hole to vent the tank as the gas glugs out so it doesn't massively take a breath and spurt gas all over the place as you pour.
I find them at yard sales and thrift stores. Sometimes, neighbors set out old ones along with the trash on the curb, which can be recycled. IMO this is the best option.
Second suggestion, if 'used' is not an option, you can replace the nozzles and add 'real' air vents.
Gas Can Modification
The kits are essentially two parts. One is the spout, the other is adding a vent.
SPOUT
The Original EZ-POUR Replacement Kit
(view on amzn)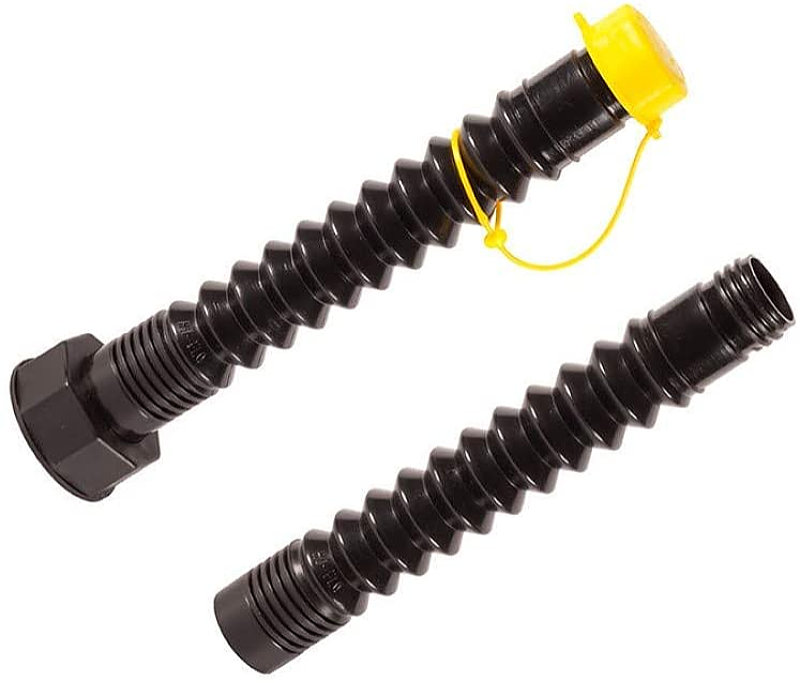 The new spout just screws on to the gas can where the original spout was. This particular kit comes with two different threaded fittings. One or the other with fit nearly every gas can out there.
Not only is this spout kit the 'original' (not a knock-off), it comes with an 8″ Spout Extension For Those Hard To Reach Tanks. Nice… It will help prevent spillage from a full gas can while getting it started (getting that spout in the tank filler hole) in some hard-to-reach tanks. The extender will help with that!
GAS CAN VENT
New gas cans are vent-less. Actually, their vent is built-in to the nozzle, which never seems to work right. You need to add a 'real' vent for this modification.
The spout kit shown above does not come with a vent. The BEST vent is shown below. With that said, some of these kits come with a plastic vent. That's all fine and good. However, since several years have passed since I first purchased my gas can spout modification kits, the plastic 'hinge' part of the vent (that keeps you from losing the push-in vent plug) have all broken from use (just so you know).
That's why I'm updating this post, and buying the newer better vents shown next!
UPDATE!
There's now an excellent gas can / jug vent cap replacement to Allow Faster Flowing (Without Lanyard-Attached Cap). Better than the plastic ones. I'm getting these for all of mine because eventually the plastic 'lanyard' piece breaks off after bending back and forth so many times.
And, this one is useful to prevent gas can 'bloating'. (just leave the screw-on cap 'slightly' loose).
Stainless Steel Caps
(amzn)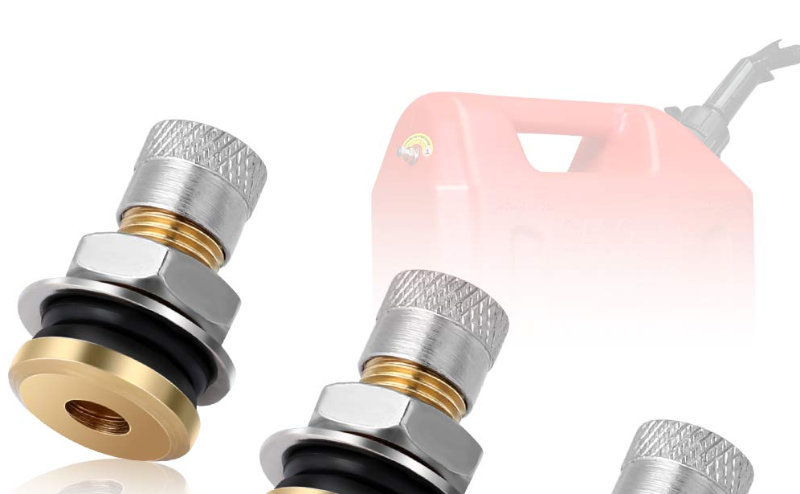 Adding a gas can vent. You need to drill a hole…
TIP: "It's best if your can is completely empty and dry before you drill the hole for the breather. Most of the time you get at least a few shreds of plastic falling into the can, and it's easier to get them out if the can is dry. Alternatively, you can add a quart or two of water to the can, and rinse the scraps out, repeating as needed…after which you can wait a week for the few drops of water to evaporate." said a reviewer. That's actually what I did…
TIP: "When you drill out the hole for the breather-valve, DON'T DRILL THROUGH A SEAM IN THE CAN! The instructions may or may not tell you to drill the hole in the center of a flat area near the top of the can, but it won't make any difference if you drill it an inch off center, and you won't have a leak when the little breather-valve can't seal on that rough, ugly seam." said the same review. I also did it this way…
End result? Gas flows better and the world is a better place!
How to pour gas from a gas can (or jug) with this modification? Simply unscrew the nozzle cap, and open the gas can vent for more flow. Pour! No more waiting!
I have converted ALL of my 'new style' gas cans (actually plastic jugs) with the modifications linked above. I did this several years ago and what a difference! I've only had to replace one spout since then (o-ring seal got pinched). But like I said earlier, I'm upgrading to the new vent caps.
Also, here are some gas can spout cap replacements, in case you lose one. Good to have on hand:
About the New Gas Can Spouts
Here's the OSHA spec regarding gas cans:
"OSHA-approved cans need to be properly sealed. First, they must have a spring-closing lid. This is a lid that automatically closes when released, so users cannot forget to close the gas can and leave the site vulnerable. Also, the can must have a spout cover that closes automatically. Finally, the entire can must be capped with a child-resistant cap, and the system must be designed to release minimal vapor and reduce pressure inside the can."
So, how is this design actually usable without three arms, three hands and a short assistant? This is one of those regulations that makes perfect sense on paper but it's simply not practical for the home owner. Each new variation of these cans is worse than the last. So glad somebody bypassed the insanity.

These (replacement) spouts are great. And, in my opinion, they are safer to use than the hundred-dollar, OSHA approved safety cans. 

~ said another reviewer
How-to Operate New Gas Cans
There are several different kinds. Each of them suck. Here's what you've no-doubt experienced…
First, remove the child-proof cap at the end of the spout. Good luck. There are different kinds of mechanisms for this. Have fun figuring it out…and having it actually not be stuck or so poorly designed that it's just a major pain in the…
Second, position the nozzle into the tank filler hole, while also positioning part of the spout (a part of it which is intended to rest on the edge of the filler hole). This enables you to push against it, which begins releasing the fuel (in theory). Chances are that it will slip off the edge many times during your 'fill-up' and spilling some fuel and/or nearly dropping the gas jug in the process. Some kinds also have a trigger assembly for further complications and coordination challenges. Definitely swearing by now…
Third, be prepared to WAIT a very long time as the fuel slowly, ever so slowly gurgles and burps its way into the tank at a trickle. There will most definitely be more swearing throughout this period of wait time.
Fourth, Given the length of time to unload say, 5 gallons, your arms will be getting quite a workout as you hold that jug in position. At this point, yeah, probably more swearing…at least in your head…
Fifth, By now you're totally frustrated with the new style gas can spout. So, you say to yourself, "I'm going to buy the replacement kit shown above (and install the new vents)".
Parts of this article were originally contributed by MSB'er, 'Bogan'.
[ Read:
Safe Storage of Gas & Combustible Fuels
Gasoline Siphon Pump – 3 Excellent Choices
Sea Foam: All Purpose Fuel & Motor Treatment For The Prepared