A Hand Pull Saw For Your Carpentry Preparedness Toolbox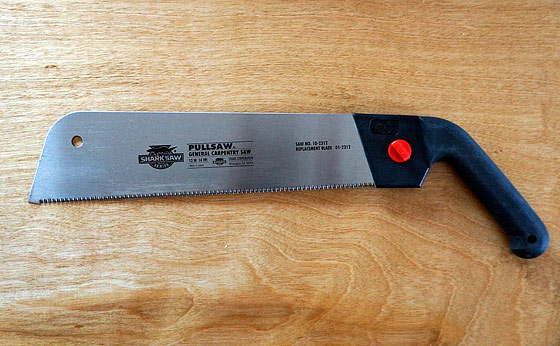 I used my pull saw again this weekend. I have had it for a number of years and it is the most versatile saw in my carpenters toolbox… It is one of the best hand saws for quick and general purpose cutting of lumber that you can possibly have.
From a preparedness point of view, while there are all sorts of hand tools to consider having in one's toolbox (particularly some of those which do not require electricity), when it comes to saws, this particular pull saw is excellent.
I thought I would point out its simple and effective attributes:
Pull Saw: Fast Cutting Razor Sharp Teeth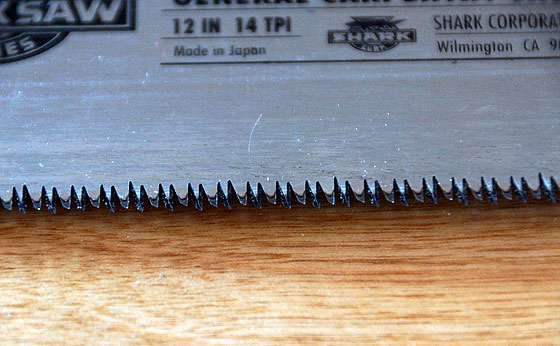 Look at those teeth! This pull saw rips through lumber with surprising ease. The way it works, and the reason it's called a pull saw is because the teeth efficiently cut mostly on the pull stroke rather than when you push – which I really like – it gives you better control. I find this method to be very natural. And did I say that this saw cuts fast? This weekend I was cutting some 2×8 boards, and remarkably the blade is still holding up amazingly well given the number of times I've used it. They seem to have found the sweet-spot with the design and its 14-teeth-per-inch.
Pull Saw: Thin Blade
Another attribute is the fact that the blade is relatively thin (made of Japanese 'Kerf Carbon Steel'). This fact coupled with the design of the teeth makes for a very clean cut compared to some other saws. Also, the flexibility of this blade allows you to make flush cuts.
Pull Saw: Replacement Blade
The blade is easily replaceable. The handle is just that – a simple handle with an ergonomically correct angle which is suited well for the job.
Pull Saw: very little mess…
Actually, one of the reasons that I often choose this saw is because it hardly leaves a mess compared to other saws and especially a powered circular saw. If I'm making a few cuts in my shop area of the house with a powered circular saw, the dust and shavings are flung everywhere! While you might say that a shop is going to get messy, my point is that this type of saw just drops the wood shavings straight down to the floor. Easy peasy cleanup.
Conclusion
I've used this pull saw for cutting framing, plywood, 2×4, 2×6, 2×8, 4×4, plastic pipe, and more. Like I mentioned above, it's a great tool to have in one's preparedness toolbox. If you're only going to own one hand saw this is the one you need for all of your jobs.
Note: Caution: The teeth are EXTREMELY SHARP – the sharpest of any saw I've had.

This short post is purposed towards preparedness in that it hopefully will get you thinking about practical non-powered hand tools within the basic categories of carpentry (if you're so inclined to work with your hands in that area…). Converting one's excess paper fiat currency into practical tangible assets is always a good thing (in my opinion).
Shark Corp 10-2312 12-Inch Carpentry Saw

Carpentry hand tool categories to consider:
-Cutting
-Sawing
-Hammering
-Drilling
-Clamping
-Measuring
-?