Best Tire Air Compressor Pump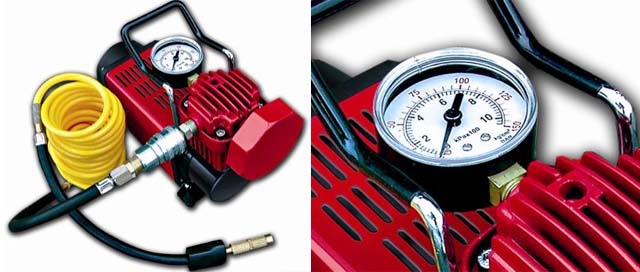 Several years ago I purchased what I believed to be the best 12-volt tire air compressor pump for-the-money on the market. Today, I still believe it to be true.
UPDATE – Since the original publish date of this article, their current equivalent is this model:
SuperFlow Portable Air Pump by Q-Industries
UPDATE – If you're willing to pay more, the following tire air compressor pump has the most reviews and great ratings:
'Viair' 12-volt Portable Air Compressor

Recently I had the opportunity to use it once again, and I realized that this handy 'tool' is another one of those 'good-to-have' survival preparedness prep items in one's arsenal.
Tires leak air. Period. Over time, all tires will require more air. Keeping tires properly inflated is more important than many people realize, particularly when it has to do with trailer tires.
If you own, rent, or borrow a cargo trailer or travel trailer, you better pay attention to the tire pressure – particularly if you are loading it above 50 percent capacity.
All tires are rated as to how much weight they can safely carry, and these ratings are based on their maximum tire pressure. Anything less will drastically reduce their carrying capacity and will become dangerous if they are overloaded.

So, back to the 12-volt air compressor…
First, the fact that the compressor runs on 12-volts means that its power will come from your vehicle's battery. Ordinary battery 'alligator' clamps at the end of the power cable makes it easy to clip on to your battery terminals. The pump draws 30 amps at full power, and is powerful.
Second, the fact that this compressor is 'high-volume' means that it is strong enough to pump higher pressures than are required for a typical car tire.
A ST (Special Trailer) tire of load-range D (2,540 pounds carrying capacity) will require 65 psi of air pressure.
Load-range E trailer tires (2,910 pounds carrying capacity) will require 80 psi of air.
Your run-of-the-mill cheap air compressor will not come close to reaching these capacities on such a tire.
Third, this compressor is compact, stores easily, and has a long 16-foot detachable air hose to reach the tires.

Here's a scenario you may not have thought about… If you ever get a flat tire, will you be in trouble when you realize that your spare tire is very low on air? If you have a portable 12-volt air compressor – you will be all set.
I've used this compressor for years while topping off my vehicle's tires, my boat trailer tires, and my cargo trailer tires. In my opinion, it's a great idea to keep it in your tow vehicle or passenger car at all times.
Be prepared.
Accutire MS-4355B Programmable Tire Gauge
I also keep a product similar to this one in the trunk, for emergencies…
Slime 10011 Tubeless Automotive Tire Sealant – 16 oz.