Canned Food That's Best For Survival Storage
My opinion on the best canned food for survival storage that can be bought from the grocery store, or even online. Some (of the many) examples shown above. Keep reading for recommendations.
One of the easiest and quickest ways to establish some survival food storage is canned food. I'm not going to get into more advanced prepping as it relates to wide ranging food diversification and storage methods. Rather, I'm going to keep it simple..
I'm focusing on canned food that meet several criteria which in my opinion are particularly important for survival, and efficiency of storage.
Calorie density
Protein
Nutritional food diversification
Canned Food Calories #1 Priority For Survival
Since we're talking survival, the number one priority is simple. It's calories. Regardless of nutrition (at least initially), you must consume enough calories to survive. And the general guideline is approximately 2,000 calories per day.
Some canned foods contain surprisingly few calories. While others are packed with lots of calories and are much more beneficial to survival in and of itself.
Something to keep in mind when considering which canned foods to stock up on… In addition to the food type, you should also be considering the calories per can.
Calories Per Can
You might (should!) check total calories per can. Usually the calories are listed "per serving". But sometimes they include calories per can on the label. If not, then look for calories per serving, and then the total number of servings in the can. Multiply, and now you know the total calories per can.
Example: I picked up a can of Chef BOYARDEE Mini Ravioli which indicates "Servings About 2" and "Calories 220", which total about 440 calories per can. Simple.. And now you have a better idea of calorie density of that particular canned food while determining what's best for your own survival storage.
Calorie-dense canned foods will be advantageous in survival situations where food may be hard to come by. As in, a time of SHTF. And/or food scarcity due to a number of possible factors. We are definitely living in uncertain times.
Most people have limited space for their survival food storage. So that's why I'm focusing on, and recommending that you also focus on calories first. The more calories in canned food, the better for storage efficiency. Here's a glaring example..
I just checked one of my cans of green beans. It only has about 50 calories. That's all.
Corned Beef Hash (and Roast Beef Hash)
I also just checked one of my canned corned beef hash (and roast beef hash which has the same). Each can boasts 760 calories!! And we're talking the same size can as the green beans.. See what I mean about what's best in this regard? Calories and calorie-density versus can size.
As a bonus, a can of corned beef hash contains about 36 grams of protein. These factors (in my opinion) makes it one of the best, and one of my favorite canned foods for survival storage. Calorie dense, and plenty of protein. And it even tastes good..
(Pack of 12)
(amzn)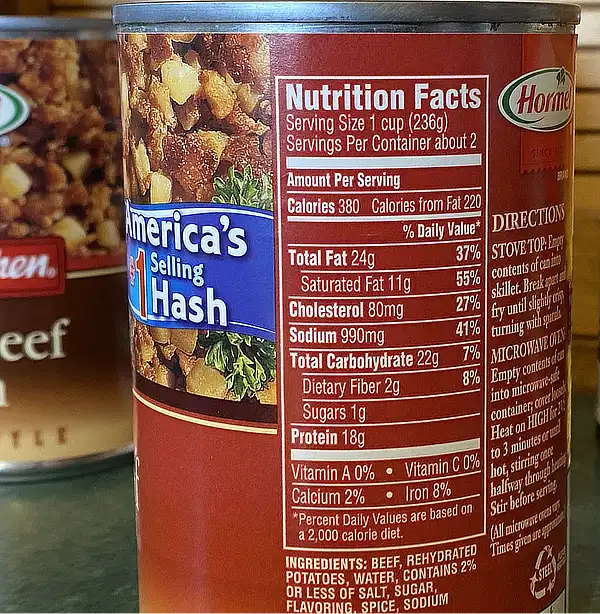 Spam is another canned food that's among the best for survival storage
Spam. It's very calorie dense, and packed with protein. Here's a photo I took of the nutrition label. We're looking at 1,080 calories and 96 grams of protein! Now that's what you call, survival in a can..
(Pack of 12)
(amzn)
DAK Ham
Here's another good choice for canned food. A DAK ham (or similar brand).
It has 800 calories and 72 grams of protein in one can.
Do you see where I'm going with this? I'm focusing on canned foods for the purpose of calories (efficient use of survival storage), and protein content.
DAK Ham Nutrition Facts Label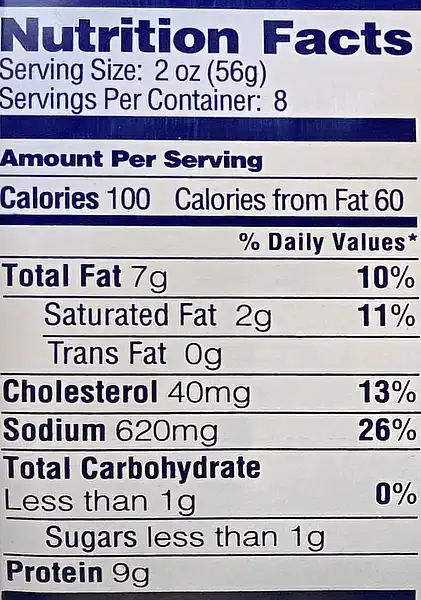 Other Canned Foods For Survival Prepping & Preparedness
Hormel Smoked Ham. In the photo up top, you can see three stacked 5 oz. cans. They equate to about the same volume as say, canned corned beef hash. The three combined cans have 675 calories and 68 grams of protein. A bit more expensive though, but it sure tastes good..
(Pack of 12)
(amzn)
Chef Boyardee Ravioli. I grabbed a can of it and read the label. The mini ravioli can shown above has about 440 calories and 14 grams of protein. There's not as much protein as others listed above (or quite as many calories), but again, you see where I'm going..
(10 Cans)
(amzn)
Baked Beans. I pulled out a can of Bush's chili beans (red beans) to see what it had. And it's likely similar to other cans of baked beans (just read the label). This one has 420 calories and 21 grams of protein in a 16 oz. can.
(per can)
(amzn)
Canned Food Diversification
Food Diversification. Your own may include a quantity of various grocery store canned foods. That's one thing that I do… It's fast, easy, available, and will store well for several years (actually quite longer than that – see link below).
Note that this is not a recommendation to use ONLY canned food in your food storage, but it is advisable to include them in your overall inventory for diversification and variety.
Note that anything with tomato sauce, which is highly acidic, generally should be consumed within 3 years. Also, low acidic canned food items like corn and beans will last a very long time, but still advisable to consume under 5 years. Canned meats are about the same. But again, my experience has clearly indicated longer shelf life than they say.
[ Read: Use-by, Best-by, Sell-by | Food Expiration Dates ]
When you are considering what foods to store, and other food or cooking staples to go along with your food storage plan, don't ignore the possibility of appetite fatigue — which is where a variety of foods are important — including canned foods.
Diversified Grocery Store Canned Foods For Prepping
Here are a few ordinary grocery store canned food categories – ideas to get you thinking about the possibilities. Some of these are low in calories, but obviously serve well for a more 'well rounded' canned food storage.
CANNED…
Vegetables, Beans, Carrots, Corn, etc. (low calories)
Soups (fairly low in calories)
Meats, Chicken, Beef, Ham, Spam (excellent)
Tuna, Salmon, Shellfish (good)
Canned Stews (medium to high calories)
Chili (pretty good)
Canned Pasta, Ravioli, Spaghetti'Os (medium calories)
Tomatoes, Tomato Paste, Sauce (low calories)
Fruits (low to medium, but diversified)
Potatoes, Hash-browns (medium)
Personally, what I have done in this category of grocery store canned foods – is having primarily focused on a variety that are both high in calories and protein (some I've shown you above). Also various canned meats – chicken, some canned beef, some pork/ham products. Spam too – which is technically meat, right? Seafood related too, such as canned tuna, salmon, sardines. I've not forgotten canned veggies either, since I do have the space for it all.
Speaking of grocery store canned foods, what are your recommendations for canned food-related assets for storing back in your food storage?
[ Read:
Canned Meats For Survival Protein
Spam Shelf Life, and What It's Made Of
FOOD STORAGE – Date and Rotate ]