Cold Weather Boot Socks Need Wiggle Room | Size Boots Accordingly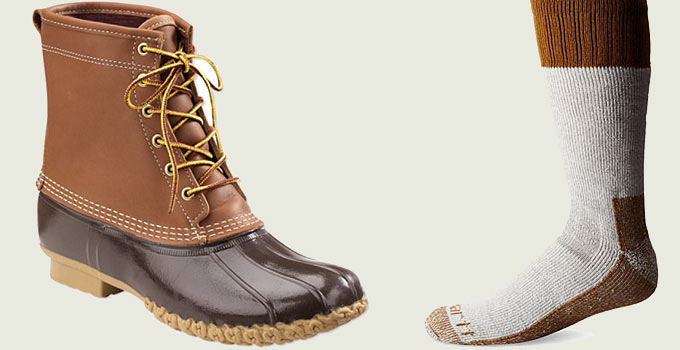 Having good cold weather boot socks is important! However those socks won't help much if the boots don't fit right.
One tip to keep feet and toes warm in your boots is largely about how your boots fit!
Have you ever put on winter boot socks and then crammed your feet into boots only to discover that your feet and toes get cold? Doesn't make sense, right? You figure that those nice thick socks combined with your insulated winter boots ought to keep your feet nice and warm!
Here's the secret:
Wiggle Room For Your Socks
It's important that your boots don't fit too tight. When you add heavy cold-weather socks, there should still be wiggle room at your toes and all around. And the boots shouldn't feel uncomfortably tight.
The secret is allowing enough air to circulate in your boot to naturally fill the sock's insulating fibers!
If the sock is compressed tightly in the boot, the natural warmth from your feet will be more readily transferred out and away from your feet.
When there's enough wiggle room in the boot for the sock fibers to hold air, the warmth from your feet will more readily stay in your boot!
Plus, if the fit is too tight, the insulating fibers in the boot itself will be compacted, which further reduces effectiveness of those fibers.
If your foot is constricted by boots that are too small to accommodate heavy or multiple socks your feet will be colder than otherwise.
Buy Boots 1/2 Size Larger
Therefore if you plan to wear heavy thick socks (or multiple socks) ALWAYS buy boots at least a half size larger than you would normally wear. Sometimes you have to go a full size bigger depending on the boot or shoe.
For even better results when wearing winter socks, you should wear a sock liner under your winter socks. These are specially made to wear under heavy socks. They are very thin and usually made of a polyester material to wick away any sweat from your feet.
Cold Weather Boot Socks
I did some research and the following cold weather boot socks are excellent. They're made in the USA by Carhartt and designed specifically of materials for cold weather.
Carhartt Men's Extremes Winter Weather Boot Socks
(potential amzn commission at no extra cost to you)
Carhartt Women's Extremes All-Season Boot Socks
 
Continue reading: 5 Steps To Buy Boots That Fit
Keep Boots & Feet Warmer With DIY Insulating Foil Sole Inserts