Cold Weather Winter Boot Socks – Tight or Loose Fit?
Having good cold weather boot socks is important! However those socks won't help as much if the boots don't fit right.
One tip to keep feet and toes warm in your boots is partially about how your boots fit.
Have you ever put on winter boot socks and then crammed your feet into boots only to discover that your feet and toes get cold? Doesn't make sense, right? You figure that those nice thick socks combined with your insulated winter boots ought to keep your feet nice and warm!
Here's the secret:
Wiggle Room For Your Winter Boot Socks
It's important that your winter boots don't fit too tight. That means you should consider extra size when you buy them – for some thick winter boot socks. When you add heavy cold-weather socks, there should still be wiggle room at your toes and all around. And the boots shouldn't feel uncomfortably tight.
The secret is allowing enough air to circulate in your boot to naturally fill the sock's insulating fibers.
If the sock is compressed tightly in the boot, the natural warmth from your feet will be more readily transferred out and away from your feet. (Rather than filling the micro-spaces within the fibers of the sock material).
When there's enough wiggle room in the boot for the sock fibers to hold air, the warmth from your feet will more readily stay in your boot!
Plus, if the fit is too tight, the insulating fibers in the boot itself will be compacted, which further reduces effectiveness of those fibers.
If your foot is constricted by boots that are too small to accommodate heavy or multiple socks your, feet will get colder than they should.
Buy Boots 1/2 Size Larger (or 1 Size larger)
Therefore if you plan to wear heavy thick winter boot socks (or multiple socks) ALWAYS buy boots at least a half size larger than you would normally wear. Sometimes you have to go a full size bigger depending on the boot or shoe. Me? My winter boots are usually 1 whole size larger than my shoe size.
For even better results when wearing winter socks, you might wear a sock liner under your winter socks. These are specially made to wear under heavy socks. They are very thin and usually made of a polyester material to wick away any sweat from your feet.
Cold Weather Winter Boot Socks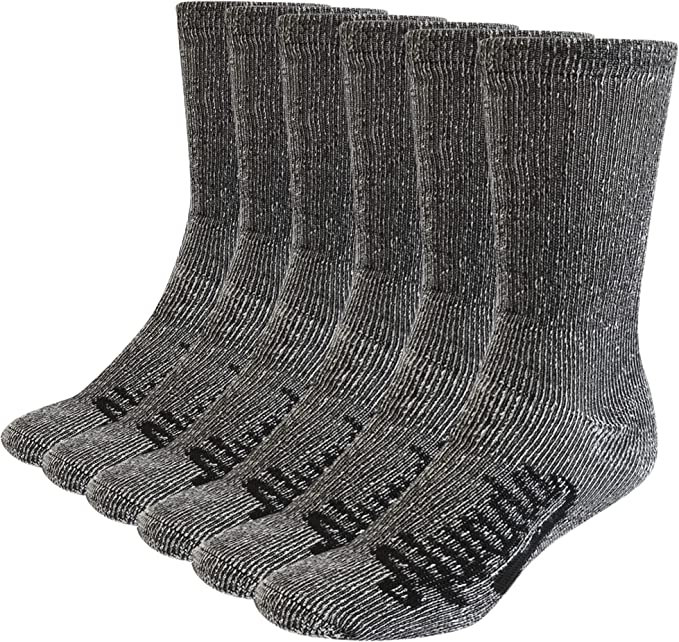 If you haven't already, invest in several good pairs of winter boot socks. I've always like Merino Wool (they don't itch). Given where I live, our winters can be long and cold. So I've collected lots and lots of boot socks over the years! Next thing I'm going to look into, are those battery-powered heated socks!
Here's a great choice for Merino Wool boot socks:
Best Selling high-rated on amzn (men & women)
Ultra lightweight liner crew socks
(amzn)
[ Read: 5 Steps To Buy Boots That Fit ]