Folding Shovel for Survival, Camping, Kits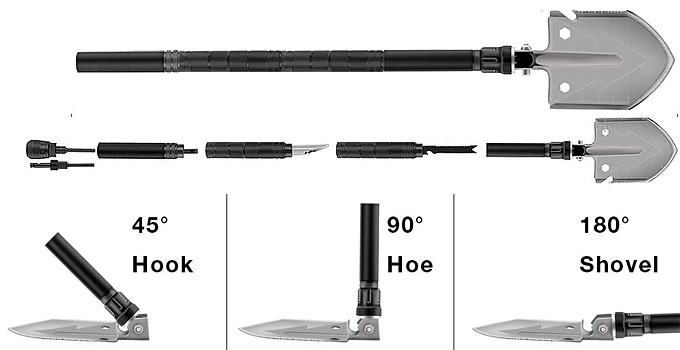 Guest article, by 'NRP'…
I'm setting up another Vehicle-Bag/Stuff for a Jeep I just got.
Among all the normal items, a million lists out there, I needed a new "Folding Shovel". One of the old military style shovels that can be stored in a small area (jeep is a small vehicle).
Ok, the item is a "Military Portable Folding Survival Shovel" with waist pack for Camping, Hiking, Backpacking, Fishing, Tactical, Trench Entrenching Tool, Car Emergency Snow Removal… on Amazon for right around $30.
Military Portable Folding Survival Shovel
I was skeptical when I ordered it, and said sure; here we go with a cheap hunk of Chinese JUNK! So if I did not like it, I would send it back. Gotta love Amazon for that.
I'm not going into all the stuff it has and can do (go to the link and look see). But I really REALLY like this puppy (I mean, folding shovel).
And what's really nice is it disassembles down into a small (approx.) 2"x10"x8" case; absolutely perfect for the Jeep.
I mean this thing has everything from a Magnesium Rod (fire starter) to a Beer Bottle Opener (MOST IMPORTANT). AND is very well built, well machined and everything actually "Fits".
Check these out, tis very nice to have, I was extremely impressed.
Ok, done, a short review. If you're in need of a folding shovel, this sucker is Sharp, literally SHARP. Don't cut yourself it really has many Sharp Edges for cutting!
---
[Ken adds: ] A folding shovel is a nice piece of survival gear to have. There are LOTS to pick from. Some are designed multi functional. Some are just plain folding shovels (which is what I currently have).
It's a pretty basic tool (a shovel!). But it can be an important one for all sorts of tasks – or ordinary camping (tent trench!) – or whatever else.
It reminds me of a short story from a long time ago (but vivid memories)…
Mrs.J and I, and another couple (neighbor friends) planned a weekend camping trip to a state park that we liked. As it turned out, when we got there that afternoon it was POURING RAIN. And I mean buckets… However we were not going to let that ruin our fun. We put on our rain gear and set up the tents, a canopy for the picnic table, and other tarps strung to trees for further protection.
It rained and rained and rained. "Rivers" of water were flowing through the campground! I had a simple folding shovel (which I still have today – pictured below) and you wouldn't believe the engineered trenches that we dug that evening! It became quite a network of 'canals' which ultimately kept us from floating away that night! (It rained all night long)
We were all soaked to the core the first evening during setup and till wee hours of the morning. We had the greatest time during that storm (thunder & lightning too). Maybe it was the Brandy ;) but we'll never forget that weekend.
P.S. I keep a folding shovel in my truck kit, and one in my ATV kit.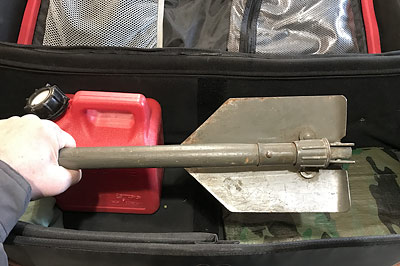 P.S.S. (This particular Entrenching Shovel) is very popular.

Other uses for a folding shovel?
Read more: Tools For The Woods –