Food Grade Buckets That Are Safe For Long Term Food Storage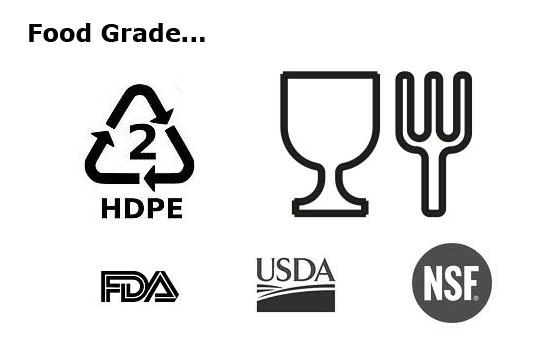 How To Identify Food Grade Buckets

"I know that for many, saving every penny possible is paramount, but when it comes to food grade buckets I think that going around begging for them at businesses that discard them is cost ineffective."
That comment from one of our readers is prudent. I believe that the reference was towards the required efforts of thoroughly cleaning and sanitizing them for use, coupled with the risk of contamination if they are not entirely rendered "safe".
Consider this: "Rendering a food grade bucket that has had food products in contact with the surfaces safe from bacterial growth can be iffy."
While I am not discrediting those who seek out "used" food grade buckets from restaurants, grocery stores, bakery's or other sources to be used for their own food storage preparedness, I do want to point out how to identify a bucket as "food grade"…
A food grade bucket will be clearly marked or branded as food grade. If the bucket is considered 'food grade' it will typically be marketed as such and / or labeled "Food Grade", "Food Safe", etc.. some wording to that effect.
Some food grade buckets or containers will be marked with a cup-and-fork symbol as an indicator. The symbol may be located on the bottom of the bucket-pail.
A food grade bucket may also be specifically marked as USDA approved, or FDA or NSF approved.
It's best if they are opaque or mostly opaque (can't see light through them) which is beneficial for long term food storage.
If you will be storing food directly in a plastic bucket or container, or if you will be using the container for drinking water, it is best to verify that the material is food-safe before you purchase.
Note: All food grade buckets are made of HDPE #2 (high density polyethylene), but apparently not all HDPE #2 buckets are food grade.
Years ago I discovered this information from JWR's site:
Buckets that are not food grade may out-gas and leach into the container, as well as into the contents held within the container.
HDPE #2 buckets that are not food grade may have been manufactured with a non-food-grade "mold release agent".
In some processes, a mold release agent is what is used to help get the newly shaped plastic off of the hard mold that it was shaped from during the manufacturing process. Without the release agent, the new plastic shape will likely stick to the mold. Some mold release agents enable much faster production than others, but may be toxic to your health if later used with food.
Other processes apparently do not use a mold release agent and only use high pressure compressed air to blow the bottles into shape on the inside. No mold release agent of any kind is used inside the bottles of this process.
If you are unsure, you might simply contact the supplier or manufacturer to confirm.

Okay, with all that said, if you will be storing foods in these containers, simply check the container bucket, pail, etc.. for a markup that indicates that it is a food grade food safe product.
Related article: Safe Plastics For Food And Drink

If you have further information in this regard, comment below: