How to Charge Your Phone When the Power is Out
It happens. Power outage. Sometimes briefly, other times it may be out for longer. You've got a phone. The battery is going to last only so long… So, you're wondering how to charge your phone when the power is out…
(Updated to reflect the latest technology solutions and products as of this date)
Cell phone communication is always in demand during emergency, disaster, and often during disruptive events – all of which excite people to call others. In any event, if the power is out, your ability to charge that phone is out too. At least or unless you have other ways to charge it!
Today's smart phone is integral to our modern way of life. It makes good sense to have other ways to charge your phone if the power is out – when your wall charger no longer works.
Or, maybe you're looking for ways to charge your phone when the grid is simply not available. Perhaps a remote location. Camping. A remote cabin. Wilderness hunting or fishing or hiking expedition. Any extended period when you're not near "the grid".
I will recommend two ways how to charge your phone when the power is out.
Portable Phone Charger When Power Is Out
This is my Number One recommendation:
It's an ANKER (brand) portable charger. It's actually a battery 'power bank' designed with the right USB voltage and power output to charge your phone and other USB devices without grid power access. Things like rechargeable headphones (e.g. bluetooth ear buds), portable speakers, tablets, phones, Kindle-type devices, things like that…
I have a similar Anker brand portable battery. Had it for years (10,000 mAh capacity), and it has been excellent. It still works perfectly. But the following is one of their latest and greatest, with a 20,000 mAh capacity…
ANKER ULTRA-HIGH CAPACITY POWER BANK 20,000 mAh
(view on amzn)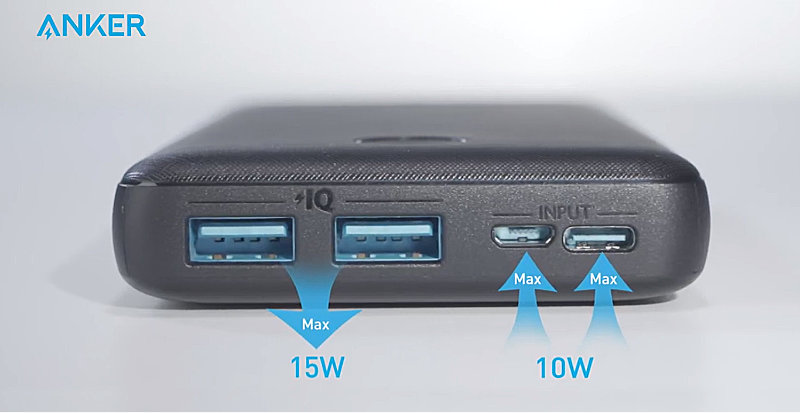 What's so great bout it?
"I have owned an Anker portable charger for 5 years and I couldn't be happier with it. I have used it countless times to charge phones, my handheld GPS, and other USB devices. It will hold "a ton" of charges!" – Ken J.
1. Anker brand is THE best for portable cell phone chargers (and other USB devices), in my opinion. They've been making these for many years, and by far they have the best ratings and reviews over their competition.
2. Their portable chargers use a smart charging technique (PowerIQ) which recognizes what type of device you're charging and will adjust accordingly to charge at the maximum rate for your specific device.
3. There are different capacity sizes. The one I recommend above is the most popular and has a tremendous capacity (20,000 mAh). With this capacity, you can easily keep all of your mobile devices charged up for days on end.
Compatibility
Compatible with iPhone 13 / 12 / 11 / XS series, iPad Mini 5, Android smartphones and tablets (including the Nexus 7), and other USB devices.
How Does It Work?
Basically it's a smart battery pack. It's designed to output the proper voltage and power in order to charge your phone when the power is out or unavailable (and other USB devices such as portable GPS units, for example).
You might first charge the battery pack with a wall charger (ANKER makes the best). Or, you can charge it with a compatible solar charger with USB output (see example solar panel below). And then it's ready to go!
Here's an example of one of their wall chargers that I own (actually, I have several). It's really nice. "Patented PowerIQ and VoltageBoost technologies charge any device at its fastest possible speed." It can be used to charge the portable battery, or most any USB device.
ANKER DUAL USB 24 WATT CHARGER
(amzn)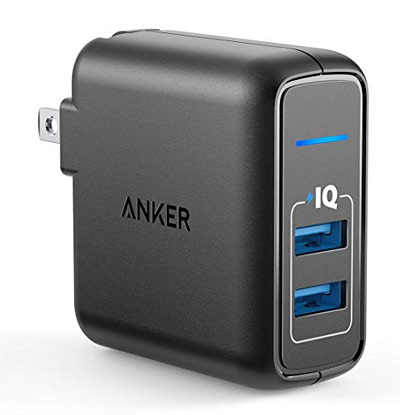 Solar Charger For Cell Phones
The other recommended method how to charge your phone when the power is out, is a solar charger. A portable solar panel which outputs the proper USB voltage and power to charge directly to your phone.
It can also be used to power a battery pack as exemplified above. This is actually a preferred way (using both a battery pack and a solar charger), because it provides a 'always ready-available' source of power when you need it to charge your cell phone (because the sun is not always shining!).
The following is my current recommendation. A great choice, 28 watt folding solar panel:
(Upgraded)
Big Blue – 28 Watt Folding Solar Panel Charger
(amzn)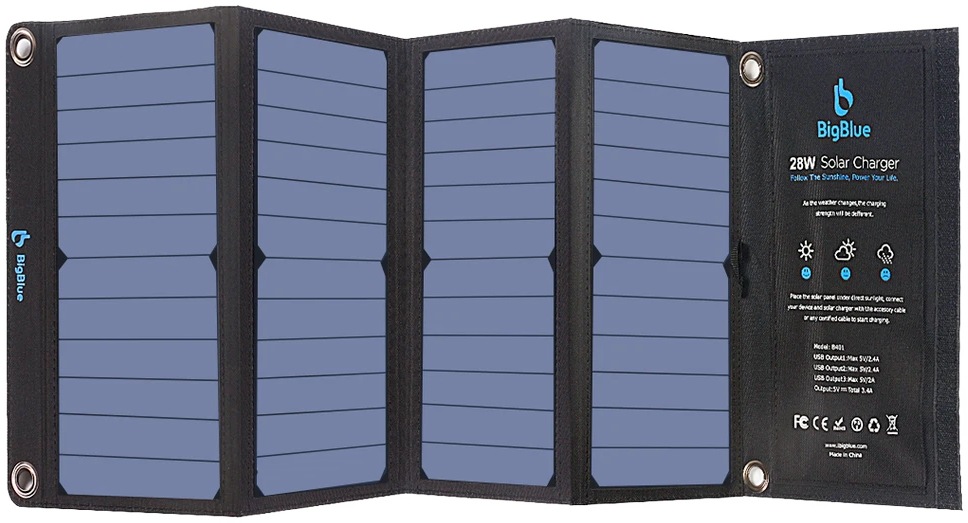 The BigBlue 28w solar charger allows you to charge multiple devices at once (including your battery pack). It comes with smart charge technology which can recognize your device smartly – providing optimal charging speed that varies with different devices.
[ Read: Charge AA Batteries – And More – With A Portable Solar Panel ]
The best of both worlds, so to speak, is to have both methods to charge a cell phone if the power goes out.
A portable battery, such as the Anker brand listed above, and a solar panel charger of sufficient power like what I've also listed above.
If you are looking for a long term way to charge a mobile cell phone (or other USB devices), a solar charger will essentially last 'forever'. All you need is sunlight! You could even use it to charge your portable battery.