2 Great Ways How to Charge Your Phone When the Power is Out
A power outage is going to happen at a time when your cell phone is low on battery charge. Right? At least sometimes it may seem that way.
How can I charge my phone when the power is out?!
Cell phone communication is always in demand during emergency, disaster, and often during disruptive events – all of which excite people to call others.
A typical problem though is the power going out. And that means your ability to charge that phone is out too. At least or unless you have other ways to charge it.
Today's smart phone is integral to our modern way of life. It makes good sense to have other ways to charge your phone if the electricity is off and your charger is dead. So I wanted to recommend two ways to do it.
Best Portable Phone Charger When Power Is Out
This is my Number One recommendation:
It's an ANKER (brand) portable charger. It's actually a battery power bank designed with the right USB voltage and power output for your phone and other USB devices.
ANKER ULTRA-HIGH CAPACITY POWER BANK

What's so great bout it?
"I have owned an Anker portable charger for 5 years and I couldn't be happier with it. I have used it countless times to charge phones, my handheld GPS, and other USB devices. It will hold "a ton" of charges!" – Ken J.
1. Anker brand is THE best. They've been making these for many years and by far they have the best ratings and reviews over their competition.
2. Their portable chargers use a smart charging technique (PowerIQ) which recognizes what type of device you're charging and will adjust accordingly.
3. There are different capacity sizes. The one I recommend above is the most popular and has a tremendous capacity (20,100 mAh).
Here are a few examples to give you an idea what that particular charger will do:
| DEVICE | # CHARGES |
| --- | --- |
| No. of iPhone 6s charges | 7 |
| No. of Samsung S6 charges | 5 |
| No. of iPad mini 4 charges | 2 |
Of course it will charge any iPhone or Android phone. The examples listed are for reference.
How Does It Work?
Basically it is a battery. But it's designed to output the proper voltage and power to charge devices such as today's cell phones.
You first charge it up with their charger, and then it's ready to go!
ANKER DUAL USB 24 WATT CHARGER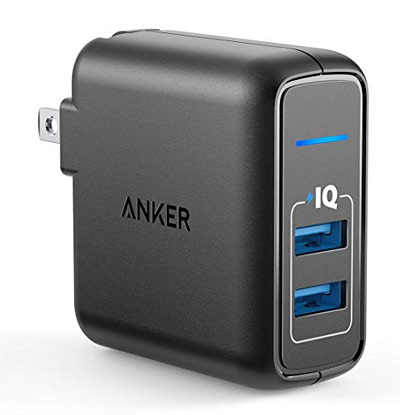 It will hold it's charge seemingly forever. There are indicator lights to let you know how much is left.
Solar Charger For Cell Phones
The other recommended method is the solar charger. There are two types of solar chargers to consider for charging your phone:
1. One is simply a solar panel which outputs the proper USB voltage and power to charge directly to your phone. The following is a great choice, 24 watt panel:
24 Watt RAVPower Solar Charger 3 USB ports

2. The other is a solar panel with built-in battery (typically smaller and less powerful panel). This type includes a battery  which stores the charge for later use.
10,000 mAh Battery with Solar Charging

The best of both worlds is to have the first type (a good strong solar panel with USB output like the 24 watt example above) AND the Anker battery listed initially. You could charge that battery directly from the strong solar panel (a quicker charge) or of course you could simply charge your cell phone directly by simply plugging it into the panel's USB output.
The second type of solar charger (the one with the built-in battery) is fine, except that it will take A LOT longer to charge up the battery because the solar panel is small and less than 2 watts. Once it's charged though, you're good to go. You just have to plan ahead and allow for several days to charge it up. The one listed (#2) will take about 7 days to full charge from zero.
If you are looking for a long term way to charge a mobile phone (or other USB charge devices), a solar charger will  last 'forever'.
What I mean is that you will never have to initially charge it up from a wall outlet or other power source. All you need is sunlight! Eventually a battery phone charger will use up its cycles and need to be recharged. If your power is out for a long time, then you're SOL unless you have a equivalent solar panel charger.