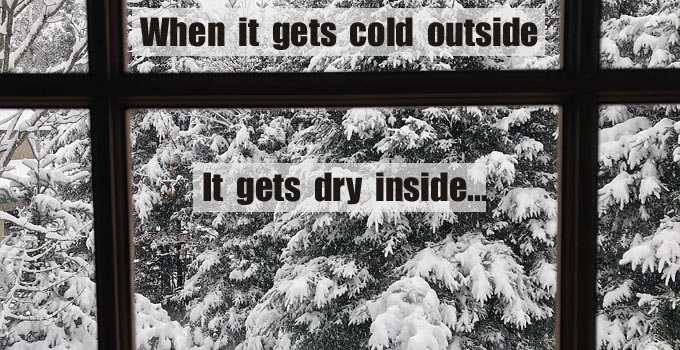 Have you noticed how dry it gets inside your house during the winter?
Do you know what's the best indoor humidity level during the winter?
During winter months, the colder it gets outside, the drier the air gets inside!
To solve that problem get a humidifier!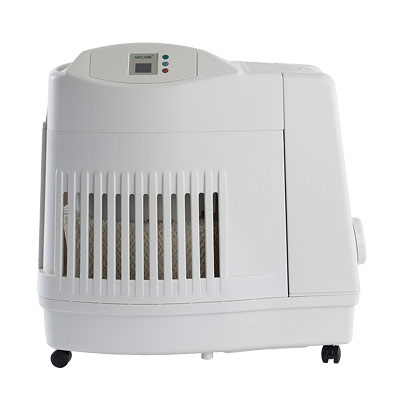 This is the one I have. I've had it for years and it has performed quite well:
Whole-House Console-Style Evaporative Humidifier
(view on amzn)
( jump to humidity recommendations )
Why does it get so dry in the winter?
It's just the way the science works. When it's cold outside and the heating system in your home warms up that air, the indoor humidity level drops. It gets drier.
When cold humid outdoor air is supplied and heated in a building – the relative humidity of the air is decreased.
And often it gets A LOT DRIER! To the point of being uncomfortable!
Here's an example of what happens:
If the outdoor temperature during the winter is 20 degrees (F) and outdoor humidity is 60%, when heated indoors to 70 degrees (F) the indoor humidity level will drop to just 6% !
Your real world experience (from the example above) may result in slightly higher humidity levels in the home due to other factors.
– taking a shower generates humidity
– boiling water, cooking
– breathing
However the humidity level will still be low and dry!
As I type this, the outdoor temperature is currently 32 degrees (F) and outdoor humidity is 93% (it just snowed).
My humidifier is not on. The indoor temperature is 70 degrees (F) and the indoor humidity level is 35%.
The math indicates it should be 25%, however indoor activities have raised it a bit. Still, it's fairly dry. Not terrible, but when it gets colder outside it will drop more.
What happens when it gets too dry inside the house?
When the indoor humidity level drops below 40%, you begin to notice.
But first, here's what you don't notice and you should pay attention to:
You begin to become dehydrated! Our natural perspiration quickly drys out. You probably won't even feel thirsty at first. However be aware of this. It could lead to issues. Here's an article I wrote about it:
We Don't Drink Enough Water During The Winter
DRY SKIN
That's probably the first thing you notice during winter. For me, it's my hands. They seemingly dry out first. But it's everything. All your skin dries out. It even cracks when it gets real bad.
DRY NOSE (BOOGIES)
Then goes the nose. The mucus membranes dry out. That gets uncomfortable and annoying. Worst case you might even get a bloody nose…
CHAPPED LIPS
No explanation necessary.
ITCHY SKIN
Yep, dry skin leads to itchy skin…
DRY EYES
Wear contact lenses? Say hello to lots of re-wetting drops.
STATIC ELECTRICITY
Zap! Handle a fleece blanket and you're gonna get zapped! Another effect is your hair standing out. Or you go to pick up your pet and he yelps as he gets shocked (followed by the nasty eye like you hurt him on purpose)! Oh, when you go to open that door and grab the door handle… ZAP!
OUR BODIES NEED MOISTURE!
We are about 75% water! Water is crucial to all of our internals. Very dry conditions (very low humidity) will essentially suck out the moisture from our bodies.
BEST INDOOR HUMIDITY LEVEL DURING WINTER
Okay, I've emphasized how it gets too dry indoors during the winter.
But what humidity level is a good one?
Here's the rule of thumb: 40% – 60%
What's my preferred humidity during winter? 45%
(see update below for very cold weather)
Why 45%? Because if I set the humidifier between 50% and 60%, the edges of my window panes become excessively damp, and even frosty when the outdoor temperatures get really cold. I'm talking wicked cold… especially below 0.
My windows are dual-pane Anderson 'high performance'. But they will still develop moisture around the edges when it's extremely cold outside. So even though 45% humidity will still result with some of this problem (when it's insanely cold outside), it's a good balance for me.
UPDATE
From one of our comments, the following looks like a good guideline to follow for indoor humidity level settings during winter:
The guidelines that I have followed in order to limit the maximum humidity indoors based on the outdoor temperatures are as follows:

Outdoor Temp, 20 degrees to 40 degrees—->Indoor Humidity Maximum, 40%

Outdoor Temp, 10 degrees to 20 degrees—–>Indoor Humidity Maximum, 35%

Outdoor Temp, 0 degrees to 10 degrees——>Indoor Humidity Maximum, 30%

Outdoor Temp, -10 degrees to 0 Degrees—->Indoor Humidity Maximum, 25%

This is to limit the problem with condensation in the house.

CONCLUSION
A whole-house or large room humidifier placed in the main living area of your home will result in better health and well being during the winter.
Like I said earlier, I have THIS ONE and simply replace the wicking element each year. It's that time again!
Continue reading: Carbon Monoxide Poisoning During Winter