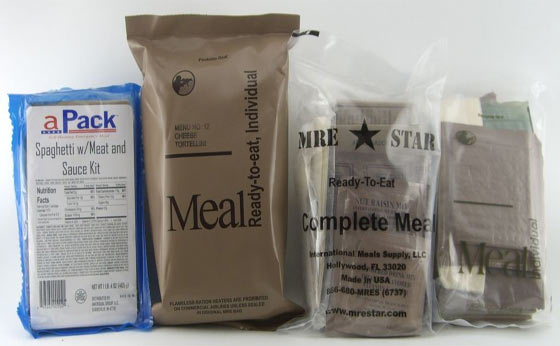 A MRE (Meal Ready to Eat) is a US military precooked ration pack designed to feed soldiers who are currently engaged in ongoing missions. Just like regular meals, these military MREs are fortified with vitamins and minerals enough to nourish and replenish the body.
Today's MREs are a lot better than when they first came out, and are made with a very wide variety of foods and flavors – and are available for civilian use.
Here's more about MREs and why they are a good addition to part of one's overall food storage preparedness – particularly for portability and ease of use.


To preserve the quality and freshness of these specially designed meals, MREs are sealed inside airtight containment-pouches. They are compact and lightweight, which makes them easier to bring and can easily fit into the pockets of a backpack, survival kit, or even cargo pants.
Generally, these meals (not just one packet, but a prescribed meal) contain an average of 1,250 calories. Typically, the MRE meal is comprised of about half carbohydrates, a third fats, and a bit more than 10 percent proteins.
MREs do not require refrigeration.
The shelf life of a military MRE is specified to be 3 years at a temperature of 81 degrees F, but in reality MREs will store well for 5 years (or longer) in good conditions.
MREs can be purchased by civilians directly from the contractors who supply MREs to the United States Government. These MREs are very similar to genuine US Government MREs, differing only in minor details (i.e. design of case and bag or type of spoon).
Although MREs can be eaten cold, the main-course packets are designed to be heated using a flameless heater – which is an additional pouch designed to accept an MRE. Simply add a bit of water into the heater pouch (there's a reference line), slip the MRE packet into the heater pouch and wait for several minutes (typically 10 – 15) for a heated meal.
MREs themselves do not require water to be added in order to eat. Water is simply for the heater if you choose to use it.
From a survival preparedness standpoint, MREs have their place in one's overall food storage or survival plan. They are well purposed for travel. For example I typically keep several in my 72-hour vehicle survival kit along with other types of foods. They are very convenient for a pack trip, since this was their intent in the first place for military personnel in the field.
When you are considering emergency food for portability and travel, you might consider some MREs as one of your choices.
The following distributor has a long time track record to the preparedness community:
MREs at Camping Survival.com

NOTE: MRE's are not intended for long term regular consumption, week after week.
NOTE: You need to (should) drink lots of water when you're consuming MRE's, to avoid 'binding'. They may plug you up after longer term consumption.
NOTE: MREs are generally very high in sodium

What are your experiences (stories, etc.) with MREs?