Storage Containers for Emergency Preparedness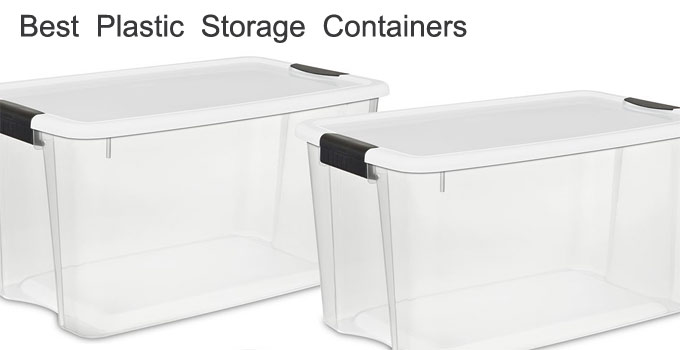 Storage Containers go hand in hand with emergency preparedness. Preppers collect all sorts of survival gear and survival food, and they (we) need storage solutions. Storage containers fulfill that need!
We use all of these:
70 Quart Ultra Latch by Sterlite
30 Quart Ultra Latch by Sterlite
18 Quart Ultra Latch by Sterlite
Why? They're heavy duty compared to many others. They've held up well over the years!
I have settled upon a variety of methods for storage of extra food and survival supplies. For the most part, we use plastic storage containers of one size or another.
Some containers are see-through while others are opaque. Some are large 70-quart containers while others are small 18-quart containers.
We also use lots of smaller storage containers for day-to-day use of various foods so that we can keep them air-tight and fresh. Rubbermaid makes lots of these.
Look for heavy-duty plastic. That means plastic that is thick compared to the cheap ones. The thin, soft, pliable plastic will not support much weight when stacked on top of each-other, especially if they contain canned foods and other heavy items. Thin plastic will deteriorate quicker and will become brittle over time, especially when cold.
Containers with flip-over latches that snap over on top of the cover (see picture). Many containers do not have this style latch and the covers will annoyingly fall off when handled or twisted in any way.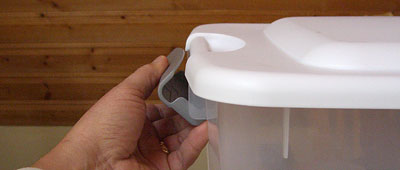 Storage containers that are rugged enough to stack well (up to a point). The cover needs a unique design to not only hold the container above it, but also to secure it if the stack is jostled or tipped. Some styles are better than others in this area.
Whether or not to use see-through containers (or opaque – non-see-through). For much of our food storage and gear, we now use see-through because it just makes it so much quicker and easier to know what's inside when we're looking for something. Some may wish to use only opaque (out-of-sight, out-of-mind), but you should think that through… You may realize that the advantages of see-through outweigh the desire for privacy.
Another advantage of storage containers over other methods, including shelving, etc. is that it makes for easy and quick mobility. You can easily move your 'stuff' or rearrange it. Moving or packing individual items on shelves is tedious at best.
So, in summary, when considering storage solutions, give some thought to the the notion of storage containers for your food storage, survival gear, or other emergency supplies.