The Best Pocket Knife Is The One You Are Carrying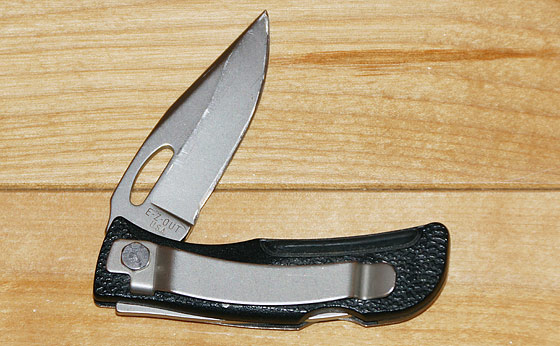 (my little pocket folding knife)
I ALWAYS carry a pocket knife in my front right pocket, and although I have a variety of folding knives to choose from, the best pocket knife is the one I happen to slip in my pocket each morning (whichever knife that may be).
You may be surprised to find out which one I carry more often…

Now don't laugh. It's not a 'Rambo' knife! It's a small folder with a blade just shy of 2.5″.
I've had it for many years and it's certainly 'not new' anymore… In fact it's getting a bit beat up. But you know what? As long as the blade is sharp and the blade remains solid and firm when opened, it's good enough… gets the job done. I use it every single day (often many times) for one thing or another.
Despite the choices I have of all the pocket knives I happen to own, the one that I put in my pocket more often is the 'Gerber E-Z Out JR Knife'.
Gerber E-Z Out JR Knife
My particular model has the fine edge blade whereas I know lots of people like the serrated or partial serrated edge too.

Just because this particular knife is what I often carry does not mean that there are lots (and I mean lots) of other pocket knives that are good or better! It just so happens to be what I've carried for so many years – and sharpened so many times – that it's like an old friend. I'm sure you feel the same about yours…
Note: I vary what I carry based on my plans. Ordinarily I carry the small folder, but if I'm going on any 'expeditions' I carry bigger, or even a full tang in it's sheath.
One of my other favorite folding knives that I might carry bigger than my every-day-carry Gerber is the 'Cold Steel Recon 1'.
Cold Steel Recon 1
Why has this been the best pocket knife for me?
The answer is simple.
Small size
It's small! The little Gerber EZ Out Jr (like many others) is small and lightweight. But it's big enough for ordinary uses – those which occur most often. Because it's small (barely 3.25″ folded) I don't even notice it in my pocket.
Although this pocket knife (like many others) has a stainless steel pocket clip, I usually just drop this one in my pocket given it's small size. When carrying one of my larger folders I'll clip it.
Fine edge blade
I find more use for it's fine edge blade rather than a serrated blade under ordinary circumstances, however I know that it's just a matter of preference.
'EZ out' feature
It assists while opening – which can be done with one hand – although I usually just use two hands. Many folding knives have this sort of feature, although implemented in their own way.
For this one, when the blade snaps into place, it is rock solid with zero slop at the hinge point. It almost feels solid like a full tang knife when opened (well, maybe that's stretching it a bit…).
For safety, the blade will not fold back unless I press down on the 'unlock' portion of the handle's backbone (with purpose). In other words there's no way I will accidentally press it.
Durability
I suppose the recognizable brand name helps. There are lots of great brands out there and if you go with reputation you'll probably do alright.
It has survived countless tumbles in the washing machine & dryer without issue. Ooops…
Actually, I can't believe I haven't lost it yet! I've misplaced – lost – a number of pocket knives over the years but now I've probably jinxed myself…
Used Pocket Knives
I would like to mention something here… While it's always a warm fuzzy feeling when you buy a brand new knife, the fact is that any decent quality used knife will perform just as well for years and years and years (Sharpening Knives 101).
Related: Knifemaker Reveals Secret For A Sharp Knife Edge

Let's hear what YOU normally carry for a pocket knife?