Corsair Survivor Key Chain Flash Drive | Why I Use This One
I've had a Corsair Survivor key chain flash drive for many years. It's always dangling on my key chain.
It's something that I have been doing for awhile now for preparedness; I keep a high capacity USB 3.0 flash drive on my key chain as backup for some of the personal files from my primary computer (encrypted with VeraCrypt).
I chose the Corsair Survivor 256GB flash drive, given its capacity to hold a-lot of files. And more importantly its rugged and waterproof design.
Corsair Survivor Stealth 256GB USB 3.0 Flash Drive
(view on amzn)
As you can see in the picture, I've had it for awhile. It's nicked and scratched but is 100% protected by way of its design.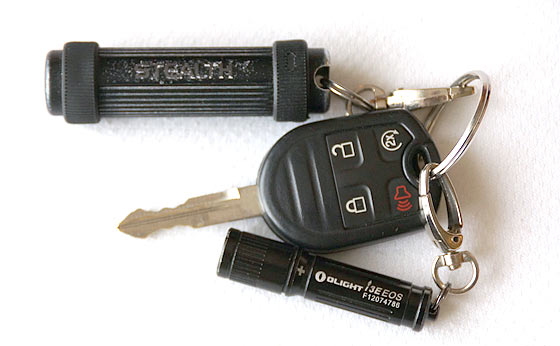 Imagine losing all of your personal data, photos, etc., from your computer? The fact is that eventually it WILL happen. Hard drives fail. Computers fail. There might be a theft, fire, or other damage which results in loss of your personal data.
While some people use "Cloud" services to store and/or backup their personal data, I don't do that. Rather, I prefer to keep all of my data within my personal physical tangible possession and control. Therefore it is wise to back it up on AT LEAST one other device!
What I like about the Corsair Survivor Flash Drive:
1. The outer shell is metal and protects the flash drive itself from physical damage. "Hard-anodized, aircraft-grade aluminum housing".
2. The USB case is waterproof (EPDM Seal). There's an O-ring at the threaded section (see the picture).
3. Shockproof and drop tested with a unique molded shock damping collar.
4. It attaches easily to your key-chain, which means that it is always with you.
5. USB 3.0 (2.0 compatible) technology enables FASTER file transfer speeds
6. It makes a great grip for holding your key chain!
Note: The Corsair Survivor flash drive comes in a variety of storage sizes ranging from 16GB to as much as 512GB! The various options can be found below:
>> All Stealth Survivor USB Flash Drives
I periodically copy and paste files and folders of my choosing from my main PC files to this flash drive. I also encrypt the files (and folders).
Tip: I also keep a flash drive backup copy in my waterproof/fireproof safe. I actually use (this one) for primary backup because of its faster transfer speeds (convenient that way). Though its not designed for a key chain.
CONCLUSION: For "high-tech" preparedness, I recommend that you consider backing up your important files on another storage device such as a USB flash drive. I like this one because it's always on my key chain and therefore stays with you wherever I go.
Note: In case you were wondering, here's an article that I did on the little key chain flashlight pictured in the photo above:
[ Read: The Perfect Little Keychain Flashlight ]
[ Read: Strong Master Password For Your Password Manager ]