Best Keychain Flashlight Ever!
A keychain flashlight. It's an excellent piece of practical gear, not only for the preparedness-minded, but anyone at all! I have had this particular one on my keychain for many years. I believe it's one of the best choices out there.
(jump down to my recommendation)
I can't tell you exactly how many times that I've used my own keychain flashlight (lots!).
Having a flashlight at home is one thing, however most don't have one on their person when they're away from home.
Sure, some of us keep an emergency kit in our vehicle which will include a flashlight. You do have an E-kit in your vehicle, right? (search my survival kit category)
But unless you physically every-day-carry a small flashlight or penlight, chances are that you won't have one when you need it while out and about.
The best keychain flashlight, in my opinion, is the Olight i3e EOS
Years ago I began carrying a small but very nice little flashlight on my keychain (key ring). To this day, I have the same one, and it still works great!
It's a small little Olight brand (I've had great success with Olight flashlight products).
Best little keychain flashlight ever..
Olight i3e EOS
(amzn)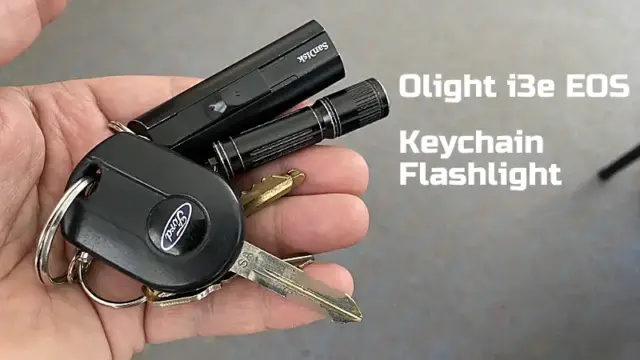 As you can see, this little flashlight is the perfect size in my estimation for a keychain.
Not only that, but it's rugged. Although the barrel is now scratched a bit from 7 years of service (I just looked it up on my amazon orders – 7 years on the keychain so far), it still functions perfectly. That's impressive.
Olight i3e EOS features that stand out for me..
stock photo: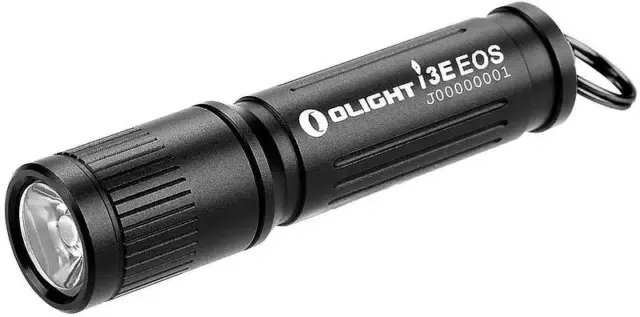 Of course, the fact that it's compact. A keychain flashlight.
I like the fact that it takes a AAA battery, which is easy-peasy. I highly recommend using the Energizer MAX (view on amzn), because they don't leak (article linked below). Rechargeable batteries such as the eneloop will work too (another article about that linked below).
It's easy to turn on and off by simply twisting it. And it has a special lens that delivers 'homogenous light', which simply means uniform light distribution.
90 Lumens of light. It's bright enough for most every ordinary uses for a keychain flashlight.
Additional features include:
LED life 60,000 hours
Aluminum body
Approx. 1 hour(plus) runtime
Only 0.28 ounces weight
Water rating to ~6 feet
Attaching flashlight to a keychain
This flashlight comes with a small ring attached. You could simply do the usual thing – attaching this ring to the larger keychain ring.. Lifting one ring with your fingernail (which will inevitably break your nail edge) and slipping it onto the keychain ring.
And/or, attach it to a clip, so that you could quickly unclip it from your keychain for independent use. You can see it in the photo up top. That's how I do it.
It's called a key ring lobster clasp:
(view on amzn)
Reasons To Have A Keychain Flashlight
Preparedness!
– Walking to your vehicle at night.
– Lighting up the keyhole of any door at night.
– Looking through your purse at night.
– General security & deterrent
– etc… lots of reasons!
[ Read:
Batteries That Don't Leak Or Corrode